April 2, 2018
Lexington leaders including Mayor Jim Gray announced that the annual fireworks display as part of the city's July 4 festival will return to downtown this year, and the display will be elevated - literally! On July 4, 2018, the fireworks will be launched from the top of the Fifth Third Bank Building.
McBrayer's Director of Business Development, Elizabeth Bagby, is serving as Chair of the July 4th Festival in 2018. "I'm thrilled that the DLP team focused on their goal of bringing the fireworks back to downtown, and with the cooperation of Fifth Third Bank who have been top supporters of the event making it happen," she said of the announcement.
Check out more details from Beth Musgrave in the Lexington Herald-Leader here.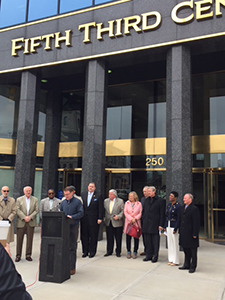 Photo: Mayor Gray and local leaders announce new venue for the fireworks display.