From Our Video Series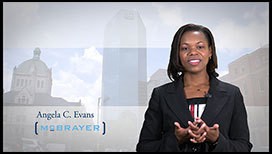 Honors & Awards
Emerge America 2015 Emerging Leader Award
Admissions
Certified Mediator
Kentucky, 2001
U.S. District Court Eastern District of Kentucky, 2008
U.S. District Court Western District of Kentucky, 2008
U.S. Court of Appeals 6th Circuit, 2009
Education
University of Tennessee College of Law, Knoxville, Tennessee, J.D., 2000
Honors: Dean's Citation recipient
Clark Atlanta University, Atlanta, Georgia, B.A., 1997
Overview
Since the beginning of my law practice I have been very focused on government related work. I became a lawyer to help people. I saw that there were issues with the laws and I wanted to be a voice, whether that be working on policy issues or changing the laws for the greater good. My internal drive to make a large impact led me to focus on practice areas that support the community. These include regulatory & licensing, government investigations, criminal defense, boards and commission governance, corporate counsel, nonprofit institutions and associations, business and commercial litigation, affordable housing law, as well as professional liability, and election law. I am also a certified mediator, available to assist people in resolving disputes to avoid litigation or to help resolve litigation already pending.
MORE THAN MCBRAYER
In 2015 I was elected to serve my first term as Council Member of the Lexington-Fayette Urban County Council for the 6th District. The best thing about serving the community as a council member is being the voice of people. I am honored to serve the community and be the connection to government. It is a privilege to lead the city of Lexington and give back to the community that raised me.
BEFORE MCBRAYER
I began my legal career as a Public Defender in Lexington representing adults and juveniles in both District and Circuit Court. Prior to joining McBrayer and being elected as a council member, I was an Assistant Attorney General of Kentucky. As an Assistant Attorney General, I prosecuted licensees for violation of boards' statutes and regulations, interpreted and revised board statutes and regulations, directed and advised administrative staff, ensured board compliance with public records laws, drafted board opinions and correspondence, represented boards and other state agencies in civil litigation cases, trained board members and licensees, and provided legal advice and guidance to various state agencies. I held this role from October 2008 to December 2014.
In addition, I served as the Acting General Counsel for the Kentucky Real Estate Commission from July 2012 to November 2013. I was tasked with supervising and managing the legal department, providing advice and guidance on policy and enforcement matters to all KREC staff, creating and revising policies and procedures affecting the department and KREC, and assisting in the development of long-term planning strategies.
One of the things I've enjoyed most is the wide range of professionals I've worked with over the years. These include private investigators, private security companies, various counselor and therapist professionals, social workers, home inspectors, real estate agents, hearing instrument specialists, prosthetics providers, and proprietary schools. Providing relevant, critical counsel to individuals and groups that have come together around a common purpose is where I thrive.
Kentucky Leader
Community/Civic Leadership
I am proud of my devotion to community service and humanitarian work. In addition to serving as a Council Member of the 6th District for the Lexington-Fayette Urban County Government, my volunteer efforts include mentoring women on spiritual growth and economic stability as well as offering after school activities for orphaned girls at Zion Project in Gulu, Uganda.
I also participated in two Expert Meetings hosted by the United Nations Office on Drugs and Crime in Vienna, Austria, where I have been acknowledged for valuable suggestions and contributions to the following: United Nations Criminal Justice Handbook Series, Introductory Handbook on State Regulation Concerning Civilian Private Security Services and Their Contribution to Crime Prevention and Community Safety (2014), and United Nations Criminal Justice Handbook Series, Introductory Handbook on the Prevention of Recidivism and the Social Reintegration of Offenders (2012).
News & Insights
News
Business Lexington

,

March 22, 2019
Articles
United Nations Criminal Justice Handbook Series, Introductory Handbook on State Regulation Concerning Civilian Private Security Services and Their Contribution to Crime Prevention and Community Safety, May 2014

United Nations Criminal Justice Handbook Series, Introductory Handbook on the Prevention of Recidivism and the Social Reintegration of Offenders, 2012
Multimedia
Multimedia
Angela C. Evans - Attorney Biography

Kentucky Leader - Angela C. Evans - LFUCG Urban County Council
Professional Activities
Councilmember, 6th District, Lexington-Fayette Urban County Council, 2015-Present.

Certified Mediator

Kentucky Blood Center, Board Member, 2014-Present

National Advisory Board, UK College of Communications 2014-Present

Homelessness Prevention & Intervention Board, 2015-Present

Sister Cities Commission, 2015-Present

Active Alumnus, Delta Sigma Theta Sorority, Inc.

Kentucky Bar Association, Member, 2001 - Present

International Association of Security & Investigative Regulators (IASIR), Board of Directors, 2012-2014

National Association Secretary of State, Company Formation Task Force, Member, 2007-2008

Capital Murder training, Kentucky Department of Public Advocacy, 2006