From Our Video Series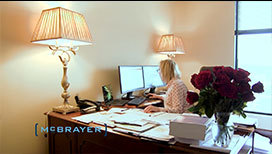 Education
University of Miami School of Law, Coral Gables, FL, LL.M., Taxation, 2001
University of Louisville's Brandeis School of Law, Louisville, KY, J.D., 1998
University of Florida, Gainesville, FL, B.S., Animal Science, 1993
Overview
What truly drives me on both a personal and a professional level are the connections I get to make with people and the opportunity to help them. What I learned early on is how vulnerable we all can be when trouble arises and we aren't certain how to proceed. I decided to arm myself with knowledge of the law and how it applies to everyday situations, and then help others be confident in their own decision-making. I am fulfilled by the notion that I am helping my clients and making a contribution to their lives. Not only that, but I enjoy tackling complex issues that require a great deal of research, contemplation and analysis.
My practice is centered on estate planning and the representation of estates during the probate process, which are topics relevant to all of our lives in some form at some point. I advise and assist my clients in devising and implementing their personal and financial goals, as well as assisting them upon the death of a loved one. My tax experience also allows me to aid my clients in preserving their finances in both their personal lives and businesses, including the resolution of tax disputes and tax litigation.
What my clients should understand is that I'm just like them. I strive to be approachable at all times, and I'm here to help them; I will be honest and forthcoming throughout any endeavor.
BEFORE MCBRAYER
Before coming to McBrayer, I was an Assistant General Counsel and Attorney Manager for the Commonwealth of Kentucky's Finance and Administration Cabinet, where I handled tax issues relating to the administration of the Commonwealth's taxes for the Cabinet's Department of Revenue. I assisted with taxpayer questions and administrative protests, rulings, and hearings. Additionally, I litigated tax cases that could not be resolved administratively, drafted regulations and proposed legislation.
Multimedia
Multimedia
Bethany Atkins Rice - Attorney Biography