From Our Video Series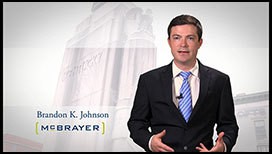 Honors & Awards
A. M. Best Client Recommended, 2018

Admissions
Kentucky, 2013
Indiana, 2013
Education
University of Louisville Brandeis School of Law, Louisville, Kentucky, J.D., 2012
Honors: Duncan T. Boisseau Scholarship Recipient
Honors: Patent Law Moot Court Team, Member
Honors: Awarded externship in Jefferson County Circuit Court, Div. 10
Honors: Deans List
University of Louisville, Louisville, Kentucky, Bachelor of Science, 2009
Major: Political Science
Concentration: Law & Public Policy
Honors: Deans List
Overview
At McBrayer, our team goes the extra mile by having more than just a telephone or e-mail relationship with our clients. We go to our client's place of business and learn how their business operates. We present issues to them in-person and forge those relationships that help us represent our clients moving forward. McBrayer is a full-service firm providing unique perspectives that a smaller firm may not have the resources available to offer, and we are able to do so in a very value oriented manner that our clients appreciate. I enjoy creating relationships with our clients and helping them with their problems. I place a high priority on being available to take the stress away from our clients in order for them to do what they do best, which is run their business.
My practice focuses primarily in civil litigation with a specific concentration in insurance law, employment law and estate litigation. Client representation includes municipalities and commercial entities both in Kentucky and Indiana. A value that I bring to my clients is that I have been admitted to the state bars of both Indiana and Kentucky and can therefore provide continuity in representing their interests on both sides of the Ohio River. In addition, I am admitted to practice in federal court before the Sixth Circuit Court of Appeals, Eastern and Western Districts of Kentucky, and the Southern District of Indiana.
Kentucky Leader
Community/Civic Leadership
When I'm not practicing law, I like to invest back in my community by serving on various non-profit boards. My community service involves roles such as membership with the Young Professionals Association of Louisville, Treasurer of North Oldham Middle School Booster Club, and Associate Board of Directors with The Nativity Academy. I am always looking for additional opportunities to partner with civic organizations in the Louisville area and welcome any new invitations.
News & Insights
Articles
An Employer's Duty Re: Jury Duty, Kentucky Chamber HR Newsletter, November 2013
Multimedia
Multimedia
Brandon K. Johnson - Attorney Biography
Insurance
Within the broad insurance field, I have extensive experience with issues which arise in the course of defending commercial entities and municipalities who have been sued or threatened with suit. I also have experience in resolving coverage disputes and pursuing subrogation interests on behalf of insurance companies directly. I am confident when I say that I am capable of handling all aspects of your defense matters from start to finish. With the changing economic times, more insurers are seeking to separate those cases that should be resolved from those that demand a more aggressive defense, and our skill and experience enable us to help you make that determination. The McBrayer insurance department is comprised of experienced negotiators and can assist in the prompt resolution of claims. My practice offers representation in commonly litigated insurance defense areas such as premises liability, products liability, municipal liability, public sector liability, section 1983 litigation, automobile liability, civil rights liability, professional liability, employment matters, construction defects, coverage, and bad faith.
Employment
The latest trends in employment law regard emerging technologies and increasingly mobile workforces, whether this is a result of employees working from home or working at mobile offices. This is just one of the issues that many employers face in managing a modern workforce. By putting my experience and knowledge of this frequently changing area of the law to work, I am able to help our clients avoid disputes and, more importantly, create strong and lasting relationships with their employees.
Some of the additional services I commonly provide include HR training, creation of employee manuals, non-compete agreements and other employment contracts, and employment litigation.
Our employment team conducts regular seminars on hot topics in the area of human resources and employment policy and procedure to educate clients on changes in the law that will impact them. These seminars are often conducted in our office. We are also available to do on-site seminars, not only for employers and their human resources departments, but for entire staffs, depending on the topic. At any time my clients can visit the McBrayer Employment Law Blog where they will find relevant content published on a weekly basis by myself and the other members of our employment law department.
Estate Litigation
Our probate litigation attorneys represent beneficiaries of the estate or trust in protecting their inheritance. We also represent excluded heirs or prior beneficiaries, such as a sibling or spouse who was unfairly slighted or cut out of the will or trust entirely. We have initiated and defended many will contest and trust scenarios: wills not properly witnessed, signed or submitted to probate; lack of testamentary capacity (dementia); undue influence or fraud; missing or misappropriated assets; claims against the estate by creditors; breach of fiduciary duty; renunciation of interests; and electing statutory share. Many of my clients own real property in other states or even overseas; I am well versed in concluding those estate issues as well. I also represent out-of-state beneficiaries or personal representatives nationwide who need legal representation in a Kentucky probate dispute.