From Our Video Series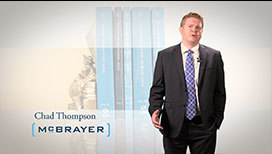 Admissions
Kentucky, 2014
U.S. District Court for the Eastern District of Kentucky, 2014
U.S. District Court for the Western District of Kentucky, 2015
Education
University of Kentucky College of Law, Lexington, Kentucky, J.D., 2014
Member, Moot Court Board, 2011-2014
University of Kentucky, Lexington, Kentucky, B.A., Marketing, 2011
Overview
As an attorney, the passion I have for my work stems directly from the position of advocacy I assume for my clients when representing them. Someone is trusting me to protect their interests, and it drives me to succeed for that person. My practice is primarily focused on civil litigation, and more specifically, professional liability defense. I serve as defense counsel to individuals in the fields of medical malpractice, long-term nursing care malpractice, dental malpractice, legal malpractice, accounting malpractice, engineering and architecture malpractice, and bad-faith insurance defense.
Some of the people I am closest with work in the medical field or a closely related field, so I have seen firsthand how much those individuals care about the ones to whom they provide treatment. Knowing that, while also understanding that the provision of excellent care can nevertheless result in adverse outcomes, helped steer me into my current area of practice.
I enjoy researching the particular issues in each case because I relish the challenge of finding a solution to a complex situation which, without my assistance, might lead to an outcome unfavorable to the client. With my assistance, however, a client is far more likely to find a favorable result, and I take pride in forging a connection between problem and solution.
I always approach a difficult legal issue with both measure and reason. If you allow yourself to become predisposed on an issue too quickly, you sometimes fail to see the entire picture. That is why I take a deliberate approach when tackling tough legal topics, and it is also why I try to work through the logic of every legal position that might be asserted, no matter what I am working on.
Not all clients share the same interests and concerns, and I recognize that some clients may prefer different approaches to the resolution of legal disputes. Therefore, I always take the goals of my client into account when establishing objectives for the representation I will provide. I make sure my clients feel not only that they are informed, but that they are in the most informed position possible, given the circumstances presented.
BEFORE MCBRAYER
Before coming to McBrayer, I worked with a firm that specialized in the defense of professional malpractice claims. Defending professionals, and working with them on a daily basis, instills a sense of professionalism that I believe translates across the full spectrum of the practice of law.
Kentucky Leader
Community/Civic Leadership
I have a passion for animals (dogs, in particular), and adopted a rescue, Simpson, through the Humane Society, after originally finding her abandoned in a parking lot. Whenever I know someone is thinking about bringing a new pet into their home, I always encourage the adoption of a rescue animal that will fit their particular situation, as I have found few things that can bring so much happiness to all involved.
Multimedia
Multimedia
Chad Thompson - Attorney Biography