From Our Video Series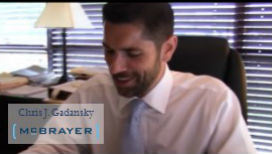 Honors & Awards
The Best Lawyers in America®, 2022 (Appellate Practice)
A. M. Best Client Recommended, 2018

AV Peer Review Rated by Martindale-Hubbell®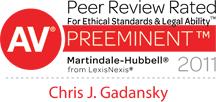 Admissions
Kentucky, 2002
U.S. District Court Eastern District of Kentucky, 2003
U.S. District Court Western District of Kentucky, 2003
U.S. District Court Southern District of Indiana, 2004
U.S. Court of Appeals 6th Circuit, 2003
U.S. Court of Appeals 7th Circuit, 2017
U.S. Supreme Court, 2005
Education
Stetson University College of Law, Gulfport, Florida, J.D., Cum Laude, 2001
Bellarmine University, Louisville, Kentucky, B.A., Cum Laude, 1997
Overview
I provide a wide range of legal services to individuals, businesses, governmental agencies, and private and commercial organizations, with practice areas including insurance defense, commercial/business litigation, public sector defense, municipal litigation, and appellate practice. McBrayer has the resources, knowledge, and experience to undertake even the most complex case. As a trial attorney, I am especially sensitive to the high cost – in terms of both money and time – of litigation. I believe it is my duty as your attorney to not only seek justice, but to counsel preventively as well. Both during litigation and as a preventative measure to prevent future litigation, I have consulted extensively with clients concerning the need to implement effective policies, discussed the forms or types of training employees should be receiving, and advised on best practices as it concerns standard operating procedures, liability prevention, employment discipline or termination, and other matters specifically relevant to their needs. Equal justice is not simply a byproduct of winning dismissal of a case or obtaining a favorable verdict. It runs much deeper than that; before injury or damages occur, and before a lawsuit is filed. My commitment to justice under the law is served every day I represent my clients, working with and for them to prevent the need for litigation in the first place. Or, should such litigation arise, work to vindicate them and protect their rights in the court of law.
BEFORE MCBRAYER
I joined McBrayer's Louisville office in 2010 after practicing for eight years at Landrum & Shouse, LLP. My desire to join the McBrayer team was for the simple fact that this firm is made up of a group of people who strive for excellence, who are responsive to their clients, and who are well connected to the community at the government, corporate and banking levels.
Primary Practice
Additional Practice Experience
Kentucky Leader
Community/Civic Leadership
As a lifelong native of Louisville, I am devoted to serving the community that helped raise me. I am proud to say that I grew up in Louisville, attended high school at Saint Xavier, and went on to attend college at Bellarmine University. I enjoy coaching my son's football and basketball teams, serving on the Board of Directors of Saint Matthews Baseball and Softball, and being a part of the community at Holy Trinity Parish Church alongside my wife and three children. Louisville has seen a lot of growth over the past several years, and I look forward to playing a role in the continued growth of this city through my community involvement.
News & Insights
News
Seminars & Speaking Engagements
Guest Lecturer, Defense Litigation, University of Louisville Louis D. Brandeis School of Law, 2010
Articles
Reasonable Rules and Regulations: The First Amendment and the Public Workplace, Defense Research Institute, For the Defense, June, 2003
Multimedia
Multimedia
Chris J. Gadansky - Attorney Biography
Insurance Law
Since graduating from law school, I have practiced almost exclusively in the area of general insurance defense litigation to include claims of product liability, medical malpractice, bad faith and general liability claims. I am admitted to practice throughout Kentucky in state trial and appellate courts, in federal courts in Kentucky and the Southern District of Indiana, in the 6th and 7th Circuit Court of Appeals, and in the United States Supreme Court. I offer representation in commonly litigated insurance defense areas such as automobile liability, premises liability, products liability, municipal liability, public sector liability, section 1983 litigation, civil rights liability, professional liability, workers' compensation matters, employment matters, construction defects, coverage, and bad faith.
Public Sector Liability
I provide results-oriented representation for cities, county governments, and other public sector entities in liability claims. Over the course of my legal career I have come to understand the many complex immunity issues and how those immunities can be breached in cases involving federal section 1983 claims and state law negligence claims. In every case it is my goal to achieve a favorable resolution and to minimize the potential liability our clients must bear. In addition to defending public sector entities in tort liability cases, I also provide consulting services designed to help public sector clients avoid accident and tort claims.
I provide representation and services to public sector entities throughout Kentucky and in the federal system in Kentucky and Indiana, including cities, counties, school districts, and quasi-governmental organizations such as transit, utility and airport authorities. I handle all types of public sector liability cases, including accidents occurring on public property, roads and highways; police use of excessive force claims; employment law disputes; contract disputes with public sector entities; defense of eminent domain actions; and other civil liability claims.
Public sector liability is an area of the law that allows the chance to meet and work with a lot of government officials such as mayors, city council members, police departments, and officers. It is rewarding work to help the government officials who give their public service to us. I enjoy counseling them and be able to not only defend them, but defend them successfully.
Municipal Liability
I defend municipalities against accident claims and alleged torts by public employees, where I represent cities in cases involving discrimination and wrongful termination claims. I conduct litigation involving contract disputes and workers' compensation and defend eminent domain actions and valuations. I'm experienced in courts throughout Kentucky and in the federal court system in Kentucky and Indiana.
The law regarding municipal liability is constantly changing. Our team of trial lawyers stay abreast of developments at the legislature and appellate courts.
Professional Activities
Kentucky Bar Association, Member, 2002-Present
Louisville Bar Association, Member , 2002-Present
Defense Research Institute, Member, 2002-Present