From Our Video Series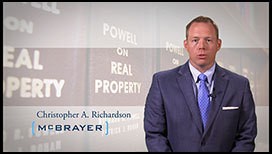 Honors & Awards
Awarded Top Secret Security Clearance, 1994
Army Reserve Component Achievement Medal, 1997
Awarded Certificate of Achievement, 335th Military Intelligence Company (Combat Electronic Warfare and Intelligence), 1996
Awarded of Foreign Language Training by Brigham Young University, 1996
Scored a 3-3 Out of Possible 3-3 on Defense Language Proficiency Test, 1997
Education
University of Dayton School of Law, Dayton, Ohio, J.D., 2001
Indiana University, Bloomington, Indiana, B.A., 1998
Honors: Founders' Day High Scholastic Achievement Award 1996
Major: Political Science
Defense Language Institute, Monterey, California, Diploma, 1995
Overview
The real estate attorneys at McBrayer have a reputation for understanding the developmental needs of our clients and not only what it is that they need now, but what they will need in the future. We understand a broad area of the legal field and how those things interact with the needs of our clients. The McBrayer firm has built one of the largest real estate practices in the state. Our clients come to us for our experience and our ability to achieve results quickly and cost-effectively. Our clients can expect hands-on representation from experienced attorneys, and that is what our real estate team provides.
My practice has been concentrated primarily in real estate, with particular focus in residential and commercial closing transactions, landlord/tenant relations, and mortgage lien enforcement/foreclosure. I have closed innumerable secondary market and portfolio residential real estate transactions, and my commercial practice ranges from short-term collateralized financing and construction lending to development revolving lines of credit.
The real estate practice is a lot more involved than signing documentation. It begins with the title exam, where we look at the public record to determine what interests exist, who has those interests, and how to deal with those. With regards to commercial transactions, we are often times dealing with document negotiations right up to execution.
By helping our clients stay competitive, we are able to get them through market fluctuations. We are committed to doing everything we can to make the closing as simple and consumer friendly as possible for all parties involved.
BEFORE MCBRAYER
I joined McBrayer in 2006, having been a sole practitioner for two years with an office in St. Matthews. In a past life, I was a Russian linguist for the U.S. Army, where I worked in signals interception and translation.
Additional Practice Experience
Kentucky Leader
Community/Civic Leadership
When I'm not practicing law, I enjoy watching Indiana basketball and professional soccer and coaching my daughter's soccer team. There is nothing greater than being a father and seeing your kids change. It has helped me grow as a person to know that all those years when I thought my parents had it all sketched out, they were actually just playing it by ear.
News & Insights
Seminars & Speaking Engagements
2015 KBA Convention

Lexington, KY

,

June 18, 2015

Mortgage Brokers' Loan College, First Bank, Inc., 2003 - 2004
Multimedia
Multimedia
Christopher A. Richardson - Attorney Biography
Professional Activities
Kentucky Bar Association, Member, 2002-Present
Louisville Bar Association, Member, 2006-Present
Home Builders Association, Member, 2004-2005
Foxboro Neighborhood Association, President, 2010-2011