From Our Video Series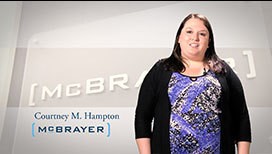 Honors & Awards
The Best Lawyers in America®, "Ones to Watch," 2021, 2022 (Family Law)
Kentucky Super Lawyers®, "Rising Stars", 2022 (Family Law)
Education
Thomas M. Cooley Law School, Lansing, MI, J.D., Cum Laude, 2011
Law Review, Senior Associate Editor

John D. Voelker Award recipient, Editor of the Year

Dean's List & Honor Roll
University of Kentucky, Lexington, KY, B.A., Political Science, 2007
B.A., Spanish, Cum Laude, 2008
Overview
My practice is focused on all aspects of family law. I like practicing family law because it is about people and their lives. We really have to take into consideration how the outcome is going to affect the family as a whole at every level, now and into the future, and we are dealing with people who are going through some pretty difficult and scary points in their lives. The legal process can be intimidating at the best of times, but when relationships and families are going through massive shifts, the result can be overwhelming. I take every opportunity to make it a little less scary for them, and I'm passionate about helping people.
I also support clients in preparing wills and other documents that allow them to guide and protect their families through thoughtful future planning. This can include a will, power of attorney and advance directives, as well as assistance with probate and estate administration. Advance planning gives individuals and families peace of mind.
I knew I wanted to be a lawyer for as long as I can remember. I enjoy helping people, I am an incredibly detail-oriented person, and I enjoy solving problems, so I always knew it would be a good fit for me. I like to get all the information and then form an outline of the issue in my head, evaluating the most logical approach for a judge to see. There is a story behind every issue in family law that is usually relevant to the big picture, and I try to bring that story to the forefront.
My experience as an Assistant County Attorney has given me the tools and experience to be a steady hand through what can be a difficult process. For me, the primary objective is that I want my clients to see the light at the end of the tunnel and have a guide along the way. I want to make them feel comfortable and trust me, knowing that I have the skills and the resources to bring the best possible resolution to their case.
BEFORE MCBRAYER
I worked as Assistant County Attorney in the office of the Fayette County Attorney in the division of child support from April 2013 until July 2016. I worked in the circuit court division, where I handled two divisions of Fayette family court and carried a weekly docket of about 80 cases. The majority of my time was spent prosecuting men and women who do not pay their child support and pursuing enforcement of existing orders, while another important part was handling all the ancillary aspects of child support cases, such as establishing orders for child support, modification of orders, registration of out of state orders in Kentucky so they could be enforced here, and more.
Kentucky Leader
Community/Civic Leadership
In April 2017, I joined the board of Girl Scouts of America, Kentucky's Wilderness Road Council and am now serving as Secretary. The Girl Scouts taught me so much about leadership and empowerment in my childhood, I'm thrilled to be able to support this group. If you want to inspire future leaders and have fun while doing it, I would encourage any individual or organization to support the Girl Scouts - there are so many ways to get involved.
I volunteer every year at the Grandparents As Parents Conference (along with about 10 other local family law attorneys) to give free consultations to the attendees with legal questions about custody, adoption, legal process and implications of raising their grandchildren.
Multimedia
Multimedia
Courtney M. Hampton - Attorney Biography
Child Support
Divorce is a contentious enough proceeding, but when children are part of the scenario, the complications increase exponentially. When I practiced with the County Attorney's office, the majority of time was spent in Circuit Court, establishing, enforcing and modifying child support orders and medical support orders. I learned how to navigate the often confusing process of how the Cabinet for Health and Family Services works in relation to these cases. Sometimes you have to be a little imaginative in order to get that order paid if they are unwilling, and I enjoy looking for creative solutions to difficult problems.
While my focus as an Assistant County Attorney was on child support, that legal area manages to implicate just about every other area of domestic relations law as well, so my experience there truly prepared me to handle a vast amount of family law issues. I did prosecute people for failure to comply with orders, but I spent a great deal of time in establishing and managing orders as well. All in all, my experience with child support enforcement issues informs my practice, giving me a well-rounded background in family law.
Professional Activities
Kentucky Bar Association, Member, 2012-Present
Fayette County Bar Association, Member, 2013-Present