From Our Video Series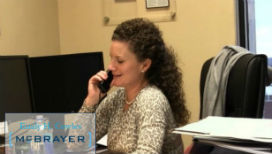 Honors & Awards
Kentucky Super Lawyers®: Recognized as Top 50 Attorney in Kentucky, 2018-2020
Kentucky Super Lawyers®: Recognized as in Top 25 Women Attorneys in Kentucky, 2018
Kentucky Super Lawyers® 2013-2020 (Creditor Debtor Rights)

The Best Lawyers in America®, 2017-2020 (Mortgage Banking Foreclosure Law)

The Best Lawyers in America®, 2020 (Real Estate Law)
2016 Continuing Legal Education Award from the Kentucky Bar Association

2014 Top Women in Business,

The Lane Report
Admissions
Kentucky, 2003
U.S. District Court Eastern District of Kentucky, 2005
U.S. District Court Western District of Kentucky, 2005
Education
Capital University Law School, Columbus, Ohio, J.D., 2003

University of Kentucky, Lexington, Kentucky, B.A., Cum Laude, 2000
Overview
I am proud of the experience, expertise and business insight that I bring to my clients. I am a respected leader in my area of practice, and I am frequently called upon to speak, write and comment on current legal and industry issues. Responsiveness is the number one goal for me to achieve with each client. In this fast-paced world of business, legal counsel must be nimble and responsive. I promise to answer my phone, emails and texts, and provide my various contact information for urgent access. Moreover, I, along with our knowledgeable team of attorneys, have the in-house legal depth to deliver advice and advocacy without delay on virtually any legal issue that arises.
My law practice primarily focuses in all areas of civil litigation, business and corporate law, real estate, employment law, equine law and creditors' rights; specifically including defense of lender liability issues and commercial and consumer litigation, residential and commercial real estate and foreclosures, bankruptcy, and overall banking matters throughout Kentucky. These areas transcend into transactional documents such as complex loan documents, leases, landlord-tenant law and all aspects of loan work such as work-outs, construction loans, development, collections, and issues dealing with Articles 2, 3, 4 and 9 under the Uniform Commercial Code. My clientele includes lenders, purchasers, sellers and numerous businesses. I also have vast experience with employment law issues and handling general day-to-day questions for many of the small businesses I represent in various capacities. Whether negotiating a lease agreement, documenting a complex loan transaction, forming a complex business, or horse venture, or enforcing a loan in court, my clients are more at ease knowing that I will find a solution and exceed their expectations.
BEFORE MCBRAYER

I joined McBrayer after serving as staff attorney in the Fayette Circuit Court and in the Kentucky Court of Appeals for the Hon. Laurance B. VanMeter. Subsequent to working for Justice VanMeter, I moved into the private sector with Morgan & Pottinger, PSC, where I was a shareholder for five years, and served on the firm's executive committee and as managing director of the Lexington office for two years. My practice was rapidly growing and I needed more of a full-service law firm such as McBrayer, which has met or surpassed all of my clients' needs. The McBrayer firm is a family, and we work very well with all the attorneys and staff members throughout the various practice areas.
Kentucky Leader
Community/Civic Leadership
As revealed in my "Kentucky Leader" video, I bring value above my competitor equine lawyers because I have first-hand experience and knowledge in the horse business and culture, which stems from my personal involvement and management of my family's thoroughbred breeding operation located in Lexington. I can certainly speak the language and I am not afraid to wear muck boots when necessary. One could say that I am a steady hand for horsemen, no matter how rocky the ride gets! I also use my leadership skills by donating time to various service projects in Central Kentucky, and particularly with Commerce Lexington. It is because of my passion for the continued growth of Lexington and Central Kentucky that I chose to partner with Commerce Lexington and work to improve our community through economic development in local businesses and surrounding neighborhoods.
I recently began volunteering with CASA of Lexington and in 2017, I was sworn in by the Fayette County Circuit Court as a CASA Advocate. CASA stands for Court Appointed Child Advocates, and the mission of the organization is to provide advocates for abused and neglected children in the court system right here in Lexington. With two young boys of my own, I was compelled to support the children of Lexington so that their voices are heard.
I also have been appointed by the Kentucky Supreme Court to the Inquiry Commission of the Kentucky Bar Association, which receives allegations of professional misconduct by attorneys. I am honored to hold a position that helps preserve the integrity of the legal profession.
In the summer of 2019, I was asked to join the Board of Directors for Women Leading Kentucky, a statewide network of outstanding business professionals.
News & Insights
News
Super Lawyers

,

December 2, 2019

U.S. News – Best Lawyers® in America

,

September 4, 2019

Attorneys from McBrayer law offices in Lexington and Louisville achieved a 2018 listing in U.S. News Best Lawyers in America

Business Lexington

,

April 15, 2017
Seminars & Speaking Engagements
UK Gatton Student Center, Lexington, KY

,

March 2019

UK Law Real Estate & Practice Institute, "Foreclosure and Insolvency Issues in Real Estate," Lexington, KY

UK Law Collection Law Conference, "Post Default Remedies for Creditors," Lexington, KY, 

National Business Institute

Louisville, KY

,

December 2015

National Business Institute, Equine Law: "Drafting, Contracts and Agreements," "Boarding Issues Generally," "Special Topics in Equine Law," "Ethics for the Equine Lawyer," 2014

Fayette County Bar, Uniform Commercial Code Update: "Attachment, Perfection and Enforcement," 2010

University of Kentucky National Equine Law Conference: "Unique Breeding Practices," 2009
Multimedia
Multimedia
Kentucky Leader - Emily H. Cowles - Gunston Hall Farm

Emily H. Cowles - Attorney Biography
Creditors' Rights
My creditors' rights practice encompasses all aspects of banking, finance, litigation, leases and real estate, as well as bankruptcy and corporate matters. Current clients range from large financial institutions to Kentucky's community banks, as well as every type of business entity. Over the years I have developed a deep understanding of the banking and finance industry, and how I can service my client in the most efficient and cost effective manner. I have far-reaching experience in representing borrowers purchasing a business or acquiring real property, and banks, trust companies, savings institutions, special asset-based lenders, commercial and consumer finance lenders, conduit lenders, consumer start-ups, leasing companies, public accounting firms, special servicers, and other financial service providers. Each year my practice involves documenting, restructuring and judicial enforcement of hundreds of millions of dollars of commercial, consumer, real estate, and special asset secured loans. I also have vast experience defending financing institutions with lender liability issues and handling the demands of litigation that arise. With more than nearly two decades of experience in this (both commercial and consumer) area, I understand how the judicial process has changed and how the costs associated with litigation may not be the most effective option for my client, and, thus, I can easily manage the circumstances of any type of issue on a case-by-case basis and find a resolution through valuable negotiations, work-outs, or mediation.
Bankruptcy
My expertise in creditor's rights often carries into bankruptcy court, wherein I routinely represent financial institutions, landlords, contractors, vendors, suppliers, and other corporate clients in Chapter 11, Chapter 7, Chapter 13 and Chapter 12 bankruptcy proceedings, including filing of claims, acquisition of adequate protection or relief from the automatic stay, protection of my client's cash collateral, preservation of contract rights and unexpired leases, and all types of bankruptcy litigation. In particular, I economically assist our creditor clients with the evaluation, assessment and, if merited, litigation of non-dischargeability actions when fraud, embezzlement, conversion of collateral, or other willful and malicious conduct has occurred.
Equine
Equine law is held in especially high esteem at our firm because many of our attorneys, including myself, not only practice equine law, but we participate in the equine industry on a personal level as race horse owners, breeders, sport horse owners participants, and as farm owners. These industry ties and personal experience give myself the unique firsthand knowledge necessary to provide clients with the finest and most comprehensive representation available. I offer representation in equine law issues relating to sales and syndication, partnership formation and dissolution, equine litigation, administrative law, equine financing and loan documentation, enforcement of loans secured by horses or interests therein, taxation, marketing and advertising. I can certainly speak the language and I am not afraid to wear muck boots when necessary. One could say that I am a steady hand for horsemen, no matter how rocky the ride gets!
Real Estate
McBrayer has a diverse real estate practice which enables our attorneys to provide a high level of service to all our clients regardless of how large or small the transaction may be. We also have a competent team of title examiners and title agents that are licensed to issue policies by various title agencies. My real estate practice encompasses representation of the creditor on commercial or residential loan documentation and review, complex hotel financing, and construction and development projects, as well as commercial and residential landlords, buyers and sellers in all phases of real estate transactions. The commitment and value I bring to my clients is to provide high-quality, cost effective, prompt and responsive service, regardless of the size of the real estate transaction. I offer counsel in all aspects of residential and commercial real estate:
Complex loan documentation
Purchase and Sale of Residential and Commercial Properties
Hotel, Consolidation and Development Projects
Leasing
Shopping centers, hotels, industrial buildings, apartments and residential real estate development and construction
Like-kind 1031 exchanges of real estate
EB-5 Financing
McBrayer has the benefit of a team of business lawyers who are skilled at drafting and interpreting contracts and leases, and providing proactive guidance every step of the way through our client's real estate deal. We also have a solid understanding of all facets of real estate matters including title issues, land use planning zoning, covenants, insurance, easements and other property rights issues. I strive to provide insightful solutions to problems which achieve my clients' goals and financial benefits for every real estate deal.
Professional Activities
Board of Directors, Women Leading Kentucky, 2019
Attorney Member, Inquiry Commission of the Kentucky Bar Association, Term from 2017-2020
Member, Board of Trustees, Sayre School, Term from 2017-2022.
Advocate for CASA, Court Appointed Special Advocates, 2017
Fayette County Bar Association
Kentucky Bar Association
Kentucky Equine Law Association
Thoroughbred Owners and Breeders Association
Kentucky Horse Council
Kentucky Equine Education Project
International Women's Insolvency & Restructuring Confederation (IWIRC)