From Our Video Series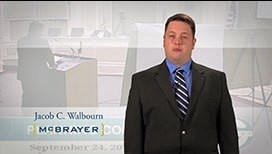 Honors & Awards
Kentucky Super Lawyers®, Rising Star, 2019-2020 (Land Use/Zoning)
Admissions
Kentucky, 2010
U.S. District Court Eastern District of Kentucky, 2012
U.S. District Court Western District of Kentucky, 2013
U.S. Court of Appeals 6th Circuit, 2013
Education
University of Tennessee College of Law, Knoxville, Tennessee, J.D., 2010, Cum Laude
Honors: Recipient of Art Stolnitz Scholarship
Honors: Outstanding Achievement in Trial Practice, Fall 2008
Activities: UT Criminal Law Society
Activities: Student Bar Association
Activities: VITA Certified Volunteer
Activities: Jenkins Mock Trial Competition Participant
Activities: Student Host Program
Activities: Student Mentor Program
University of Kentucky, Lexington, Kentucky, B.B.A., 2006, Summa Cum Laude
Major: Management, Marketing
Activities: UK Students Today Alumni Tomorrow
Activities: UK Honors Program
Activities: UK Sports Marketing Academy
Overview
I have a true passion for justice, which is what drew me to the practice of law. I believe everyone should have the ability to navigate the legal process. Throughout my career I have tried to achieve this for my clients through a myriad of ways. Prior to joining McBrayer, I would achieve this belief by helping people get through the litigation process, and now I help people navigate government regulations. The government should work for its people, not against its people, and I help government work for my clients. I chose to practice with McBrayer simply because I think it is an example of an excellent Kentucky firm. Our firm has a very proud history, it is large enough to serve its clients' interests in every regard, but still small enough that it brings a personal touch and long lasting relationship with each client that we represent.
Before McBrayer
Immediately after law school, I was hired by the Office of Attorney General, Commonwealth of Kentucky as a special attorney. The duties as special attorney included serving as Assistant Project Director for the eWarrants Rural Implementation Grant, which implemented an electronic criminal warrant database in rural jurisdictions across the state.
In 2012, I was hired as an attorney for the Lexington-Fayette Urban County Government, where I served as attorney for the local government both in litigation and corporate counsel capacities. The duties as corporate counsel included evaluation of legal issues, preparation of legal memoranda, contract interpretation and evaluation, representation of various boards and commissions (including Board of Architectural Review, Infrastructure Hearing Board, and Arboretum Advisory Board), ensuring compliance with state and federal statutory obligations, preparation and approval of legislation, and assistance with open records and open meetings issues.
Immediately preceding my current position at McBrayer, I served as Assistant Attorney General for Office of the Attorney General, Commonwealth of Kentucky. My position was specifically within the Office of Civil and Environmental Law, focusing on litigation. My primary practice areas included automobile negligence/insurance defense, civil rights defense, and Constitutional challenges.
Practice Areas
Kentucky Leader
Community/Civic Leadership
Bluegrass Greensource: Non-profit focusing on environmental sustainability. Board Member 2016-Present; Board Secretary 2018
Downtown Lexington Partnership, Advisory Board Member, 2017-Present
Active with Commerce Lexington, Lexington's Chamber of Commerce
News & Insights
News
Super Lawyers

,

December 2, 2019

Lexington Herald Leader

,

August 9, 2019

Lexington Herald Leader

,

May 23, 2019

Lexington Herald Leader

,

February 1, 2019

The Lane Report

,

April 7, 2017

Lexington Herald-Leader

,

December 2016

McBrayer attorney Jacob Walbourn represents opponents of the transfer station

Lexington Herald-Leader

,

April 29, 2016

Commonwealth of Kentucky, Court of Appeals

,

February 19, 2016

Commonwealth of Kentucky, Court of Appeals

,

February 16, 2016
Seminars & Speaking Engagements
PLS 425 - Trial Practice

Legal Studies

Morehead State University

,

February 7, 2015
Multimedia
Multimedia
Jacob C. Walbourn - Attorney Biography

Our Clients - Nicol Development Company

Video Blog - Zone Change and Conditional Use Permit Applications: Initial Considerations and Case Study
Client Successes
City planning board votes "no" to garbage transfer station on Lisle Industrial McBrayer attorney Jacob Walbourn represents opponents of the transfer station. (Lexington Herald-Leader, April 29, 2016)
Taylor v. Maxson (Commonwealth of Kentucky, Court of Appeals, February 19, 2016)
Williams v. Blackwell, et al (Commonwealth of Kentucky, Court of Appeals, February 16, 2016)
Received approval for the construction of two cellular towers (February 11, 2016 – minutes)
Received approval of a downtown conditional use permit for a bank drive-thru (January 29, 2016)
Received approval of a setback variance for a horse farm (December 11, 2015)
Received development plan approval for a downtown apartment project (November 19, 2015 – minutes)
Defeated a zoning proposal that would have negatively impacted client property (September 24, 2015 – minutes)
Received approval for a fence variance for a condo development (July 31, 2015)
Amending the LFUCG Zoning Ordinance to allow project identification signs (July 23, 2015 – minutes)
Amending the LFUCG Zoning Ordinance to allow construction screening signs (June 25, 2015 – minutes)
Land Use Law
I practice within the firm's real estate department, where I focus specifically in the area of planning and zoning law, handling a wide variety of land use matters for clients in the private sector. My responsibilities include attending Planning Commission and Board of Adjustment hearings and working with developers, business owners, and government agencies on land use applications and development proposals.
Land use law is very interesting as it is one of few areas in the law where you can actually see tangible results. I work with clients who want to build things, start businesses, and shape the face of Lexington. I think it's very interesting to play a role in that and the results that it brings to the community at large. I help our clients navigate a potentially confusing and difficult government process to get appropriate approvals and together we build something, which I think is one of the most rewarding things about planning and zoning law. I have done everything from helping clients amend local law to permit new and unique signage to advertise a coming development to petitioning the city government to designate a street as one way to address traffic safety concerns. I work with clients from ideation to fruition, helping make sure projects stay on track. Because of my past experience serving in government, I know how to navigate sometimes complex regulatory environments and get answers and results for my clients.
One of the most rewarding projects I have had the opportunity to participate in was a mixed-use affordable housing development. There were numerous legal issues, including zoning and development plan approvals, administration of a government-issued grant, property transfer, negotiation of easements, and construction related matters. This important project, which will bring vitally needed affordable housing to Lexington, enabled me to utilize my entire skill set in order to work towards a favorable outcome for my client.
Procurement
Today, more than ever, businesses and their owners are finding themselves in need of legal counsel that is knowledgeable, experienced and highly skilled in navigating through and around the seemingly endless complexities of state, county and local governments. My legal background at various state and local government agencies has afforded me the opportunity to become well versed in government procedures and operations. This governmental leadership experience allows me to aggressively protect and advance my clients' business and political interests within the various government structures across the Commonwealth.
I have extensive knowledge and experience in advising clients regarding issues surrounding government procurement law and regulation at the state, county and local level. I use this knowledge and experience to assist the firm's clients in drafting and organizing bid responses to requests for proposals and formulating and drafting contract award protests, and to defend clients cited by a government entity for an alleged failure to comply with existing federal, state or local law, statute or ordinance. I also help our clients acquire disadvantaged business certification from certifying government entities.
Following are more details on my capabilities to help businesses in matters concerning procurement.
Advising and formulating bid and contract award protests
Defending clients faced with suspension or debarment
Formulating responses to requests for proposal and qualifications
Government procurement laws and procedures
Government Facilitator
My knowledge, experience and expertise as a government facilitator translates into direct savings of time and money to my clients because I am skilled in determining the path of least resistance in resolving issues faced by our clients in the areas of regulatory compliance, permitting, licensure, and the open records/open meetings act. Following are some of the activities as to which we help businesses in this area.
Open Records
Open Meetings
Licensure
Permitting procedures and acquisition
Certification application review, organization and submittal
Certification eligibility audits
Defending clients faced with suspension or debarment as a vendor in "good standing"
Trying to work with the government can be intimidating. Thanks to my connections to the government which I have gained over the course of my legal career through various past employment positions, interactions while representing my clients and relationship building as a community leader, I provide my clients value by making government work for my clients instead of against. A lot of clients find themselves in need of documents, forms, approvals from the government in order to succeed with their project. However, the bureaucratic process can be complex. I am able to help my clients navigate this complex and often times overwhelming process. When you do not know where to start or need someone to weigh in on your side, I can help.
Professional Activities
Kentucky Bar Association, Member, 2010-Present
Fayette County Bar Association, Member, 2013-Present
Commerce Lexington, EMERGE, Planning Committee Member, 2015-Present