From Our Video Series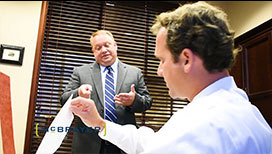 Admissions
Kentucky, 2014
U.S. District Court Western District of Kentucky, 2015
U.S. Court of Appeals 6th Circuit, 2015
United States Bankruptcy Court, 2017
U.S. District Court Eastern District of Kentucky, 2018
U.S. District Court Southern District of Indiana, 2018
Education
The University of Louisville Brandeis School of Law, J.D. – May 2014

The University of Louisville, M.A. Political Science – May 2011

The University of Louisville, B.A. English – August 2000
Overview
I am a problem solver by nature and I wanted to use this innate passion in my career; the practice of law allows me the ability to harness it and direct it toward a greater goal. I love learning and reading case law. I appreciate being introduced to new theories, and I am intrigued by the idea that law is not stagnant, but rather always evolving. This makes law difficult to master, yet enjoyable to practice while I continue to pursue greater knowledge and understanding.
What is funny is that I never thought I would be a litigator. When I started law school, I thought I would be a transactional lawyer; I never pictured myself in the courtroom regularly. I was lucky to have the opportunity at the Jefferson County Attorney's Office to jump into litigation and I didn't hesitate. I relish the competitiveness of litigation; at the end of the day one side prevails and there are rules to the game. Additionally, I enjoy the motion practice aspect of litigation. I embrace the challenge of dueling against formidable attorneys arguing with words and research.
My goal for all my clients is to give them the best legal advice and strategy available. If litigation is the best route to reach their objective, I will prosecute the case fully. However, sometimes litigation is not the best avenue for a particular client. It may be that there is a more efficient way to reach the client's ideal resolution. In these cases, I will investigate all alternatives that would be conducive to the client's goals, and I will thoroughly research what may be required to advise the client the best way to meet these goals.
BEFORE MCBRAYER
Before becoming an attorney, I worked as a chef in both Chicago and Louisville. In Chicago, I worked my way up from serving coffee to running a multimillion-dollar kitchen. The kitchen training prepared me for a career working hard, diligently, and with precision.
After starting law school, I was hired at the Jefferson County Attorney's Office ("JCAO") as a clerk. Upon graduation I was offered a position in the litigation department, a coveted position at the JCAO. I believe I am the only person to date that was hired into the department straight from being a clerk.
My time at the JCAO was an incredible opportunity to garner knowledge. In my first week I was given cases to litigate as first chair. I had the opportunity to work with some seasoned trial attorneys and learn the ins and outs of motion practice. Within the first month I was practicing in state and federal court. The JCAO gave me the opportunity to jump head first into all aspects of litigation – motion practice, hearings, and all other pretrial procedures – right away.
Primary Practice
Additional Practice Experience
Kentucky Leader
Community/Civic Leadership
I am an active member at the Elks Lodge #8. I am on the scholarship board and I am the presiding justice of the Lodge. My family and I are active parishioners of St. Agnes, where our four daughters attend or will attend. My wife and I volunteer as coaches, in concessions, for carnival booths, and during fish fries.
News & Insights
News
Louisville Business First

,

March 29, 2019
Multimedia
Multimedia
James E. McKiernan, III - Attorney Biography