From Our Video Series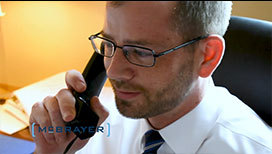 Admissions
Kentucky, 2018
Ohio, 2013
Education
The Ohio State University Moritz College of Law, J.D., 2011
Executive Editor of Ohio State's Business Law Journal
University of Kentucky, Lexington, KY, B.A., 2007
English with Honors, Summa Cum Laude
Overview
I became a lawyer because I wanted a challenging career that would allow me to serve others by solving problems and utilizing my knowledge as a resource. My career channels my passion for working with people and businesses who need help facing today's complex legal landscape, be it an entrepreneur starting a new company, a growing business reorganizing in the face of a transition, or an established company navigating today's intricate regulatory landscape. I enjoy assisting with the growth of my clients and knowing that I played a small part in setting them up for success.
I approach every legal issue by focusing on understanding my client's needs and circumstances so that I can better tailor my efforts towards achieving that client's goals. This is one of my favorite aspects of my work, as I enjoy the process of learning about my clients and their fields, businesses and even families, which grows my knowledge and satisfies my natural curiosity to explore new issues and take up new challenges.
Regardless of whether a new client is starting a first business or seeking to acquire the operations of a major competitor, I stand ready to serve with my legal knowledge and experience.
Before McBrayer:
I had roles in both the oil and gas industry, and in the law firm context, I've handled real estate matters, title issues, complex transactions, business matters and more. My prior experience includes mergers and acquisitions involving multimillion-dollar business interests, management of a large attorney staff conducting due diligence review on a $300 million leasehold acquisition, negotiation of commercial leases on behalf of a growing restaurant chain, and work with entrepreneurs to establish and grow their businesses.
Additional Practice Experience
Kentucky Leader
Community/Civic Leadership
One of my weekend activities involves Meals on Wheels, which is a great program that coordinates teams of volunteers who prepare food for economically-disadvantaged families and individuals. It's a fun way to meet some great people doing good things in the world.
Multimedia
Multimedia
Corporate Law Practice Area - Advertisement

John-Paul W. Volk - Attorney Biography