From Our Video Series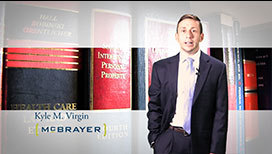 Admissions
Kentucky, 2012
U.S. District Court for the Eastern District of Kentucky, 2012
U.S. District Court for the Western District of Kentucky, 2012
West Virginia, 2019
Education
University of Kentucky College of Law, Lexington, Kentucky, J.D., 2012
Member, Moot Court Board, 2010-2012
Best Overall Oral Argument, Moot Court Competition
CALI award for Litigation Skills, 2011
University of Kentucky, Lexington, Kentucky, B.S., Accounting, 2009
Overview
As a native Kentuckian, I have dedicated my practice to advocating for folks across the Commonwealth who serve their communities. I have handled, and continue to handle, matters involving medical malpractice, products liability, nursing home liability and professional liability. Although I currently spend the majority of my time in the medical malpractice realm, I continue to represent other professionals such as accountants, architects, realtors and attorneys.
It may sound overly simplistic, but I try to approach every case and every issue with an open mind. I believe that the client is better served by an advocate who gathers the initial facts from an objective point of view noting the strengths, and often more importantly the weaknesses, of the case from that vantage point. This ultimately allows me to provide the guidance and defense that my clients have come to expect.
Coming from a family of professionals, the most rewarding part of my practice is getting to know the clients that I am defending. I have an intimate understanding of the great pride these individuals take in their trade and, oftentimes, the case we are discussing is the first time that they have been exposed to the justice system. Taking the time to understand where each client comes from, what drives them professionally and what their expectations are allows the information gathering process to be so much more comprehensive and fruitful. It is amazing the different directions a case can go if you take the time to sit down and listen to the client from the beginning of the representation, and I make it a point to give every client that dedicated, one-on-one attention.
My practice is unique and fulfilling because it presents me with the opportunity to make an impact in communities across the state – from Pikeville to Paducah – and this drives me to zealously advocate for the professionals that I am defending each and every day.
BEFORE MCBRAYER
Prior to joining McBrayer, I practiced with a focus on medical malpractice, products liability, nursing home liability and professional liability for the law firm of Fulkerson, Kinkel & Marrs, PLLC.
Kentucky Leader
Community/Civic Leadership
I remain active with the University of Kentucky tennis team where I was a letter winner and team captain during my undergraduate career. I am also a volunteer instructor for many of the Georgetown College tennis camps where my sister and brother-in-law are the coaches.
Multimedia
Multimedia
Kyle M. Virgin - Attorney Biography