From Our Video Series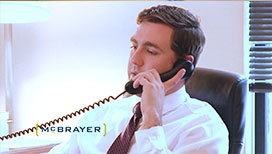 Admissions
Kentucky, 2018
U.S. District Court Western District of Kentucky, 2018
U.S. District Court Eastern District of Kentucky, 2018
Education
University of Kentucky College of Law, May 2018
Cull Fellowship, 2015-2016
Chancellor Scholarship, 2016-2018
University of Kentucky SOA Leadership Legacy Award, 2018
Student Government Supreme Court, Chief Justice, 2017-2018
Kentucky Journal of Equine, Agriculture, and Natural Resources Law, Executive Development Editor
Trial Advocacy Board, Member
Student Bar Association, Class Representative
Central Kentucky American Inns of Court, Pupil
CALI Award for Criminal Procedure, 2017
University of Kentucky, May 2015
Major: B.A. Psychology, cum laude
Minor: Cognitive Science
Minor: Sociology
Honors: Senator, College of Arts and Sciences
Overview
I practice in several areas of litigation because it is challenging, fast-paced, and provides an opportunity to advocate in the most direct form for my clients. Every day I search for the answers to questions that no one has asked before, in response to a circumstance that is totally unique. I use the intricacies of each case to the advantage of my clients, and to argue on their behalf in a way that is novel and persuasive.
For a litigator, the introduction of just one fact can completely change the way a case is analyzed. I take the time with my clients to meet with them personally, discuss the ideal outcome of their issue, and develop a step-by-step plan to achieve their goals. Successful litigation requires this type of team effort, and it is extremely important that I keep an open line of communication so that my clients and I may work together to determine every fact at issue. I investigate each detail to minimize potential risk and to introduce options that best support my clients' needs.
Whether I am representing a plaintiff in a civil action whose life has been dramatically changed due to a bodily injury, or a criminal defendant who has been wrongfully accused, I firmly believe that each person is entitled to due process, a fair trial, and an opportunity to be heard. As a lawyer, I am able to facilitate this process for my clients and properly advocate on their behalf.
I choose to practice at McBrayer because of the experience, dedication, and integrity of its attorneys. For over half a century this firm has committed itself to serving the people of Kentucky and providing every service that a client may need. Because of the diversity in our areas of practice, there is truly no legal problem that we cannot address. I wanted to practice at a firm where I could not only provide value, but also where I could practice alongside some of the best lawyers in the state.
Kentucky Leader
Community/Civic Leadership
I volunteer each week with Big Brothers Big Sisters of the Bluegrass. Through this experience I have the opportunity to serve as a mentor and role model to children in the Lexington Community. I visit my little brother at school, enjoy baseball games and other activities with him, and continuously keep contact to encourage every day learning. Because of my involvement, I have grown both personally and professionally, and I encourage everyone who is able to volunteer as a Big Brother or Big Sister in their local community.
Multimedia
Multimedia
Trevor M. Nichols - Attorney Biography