From Our Video Series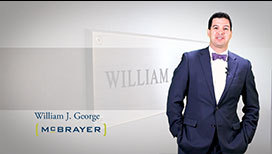 Admissions
Kentucky, 2008
U. S. District Court Western District of Kentucky, 2009
U. S. District Court Eastern District of Kentucky, 2012
Education
Valparaiso University of Law, Valparaiso, Indiana J.D., 2007
Purdue University, West Lafayette, Indiana, B.A. Political Science, 2003
Overview
In my nearly twenty years as a firefighter, I have learned to appreciate healthcare professionals and corporations who are many times the last line of defense in time-sensitive life and death matters. As the brother of an Emergency Room physician whose wife is a nurse, I have a personal stake in focusing on healthcare regulatory and compliance matters.
As a result of their professions, healthcare providers seem to never get the congratulatory communications, instead they get the 2 a.m. phone calls when there is no one else to help. That is my responsibility, to be the person healthcare providers can call on when something happens.
Like all members of the fire service, our instinct is to go towards trouble, not away. Any time I respond with our nation's finest police officers, firefighters or paramedics, I approach an incident taking into consideration the many different situations that may occur on scene. This is how I approach my clients' issues, examining both the potentially damaging legal issues facing a client, and also how it may impact their business and livelihood. My experience is that clients appreciate having a lawyer who understands that they have to, many times, take into consideration that each decision made in defense of an individual or organization has financial, professional and reputational repercussions.
In addition to healthcare law, I have experience in insurance regulation, equine law and criminal law. I believe that I bring a unique approach because of my past experiences – in that I have both represented corporations and injured individuals – and therefore I can appreciate the multiple attacks and defenses from both sides of the fence. I also understand that the best result for my clients is not always an all-out victory, sometimes it is when a client can continue and improve their business operations with minimal interruption, then that is a win for them.
Throughout my life, I've had to work harder, longer and with more effort than others. That has created a work ethic that drives me to do the best job possible, no matter what the cost – and ultimately provides my clients with the best services possible.
BEFORE MCBRAYER
My legal career began at the Fayette County Attorney's Office in 2007 as a prosecutor. After working as a medical malpractice Plaintiff's attorney with Stephen M. O'Brien, III, I spent almost six years assisting national and international insurance carriers with Frost Brown Todd, LLC as a Managing Associate. In this role, I learned the meaning of teamwork, assisting clients with insurance regulatory and compliance operations, market conduct examinations, insurance product development and insolvency proceedings while coordinating and conducting multiple regulatory and administrative hearings across the United States. I received valuable practical insight in providing clients with essential regulatory services, which I feel gives me a unique advantage to provide guidance to both healthcare clients and insurance entities.
Kentucky Leader
Community/Civic Leadership
I have served as a volunteer firefighter for the Versailles Fire Department since 2008, after beginning my firefighting career with the Lake Bluff Fire Department in 1999. I am also a Board Member of the Lexington Hearing and Speech Center and former President of the Board of Directors for the Children's Advocacy Center of the Bluegrass, a former Hearing Examiner for the Lexington Parking Authority, and a current member of Fayette Alliance of Lexington.
Multimedia
Multimedia
William J. George - Attorney Biography