June 16, 2022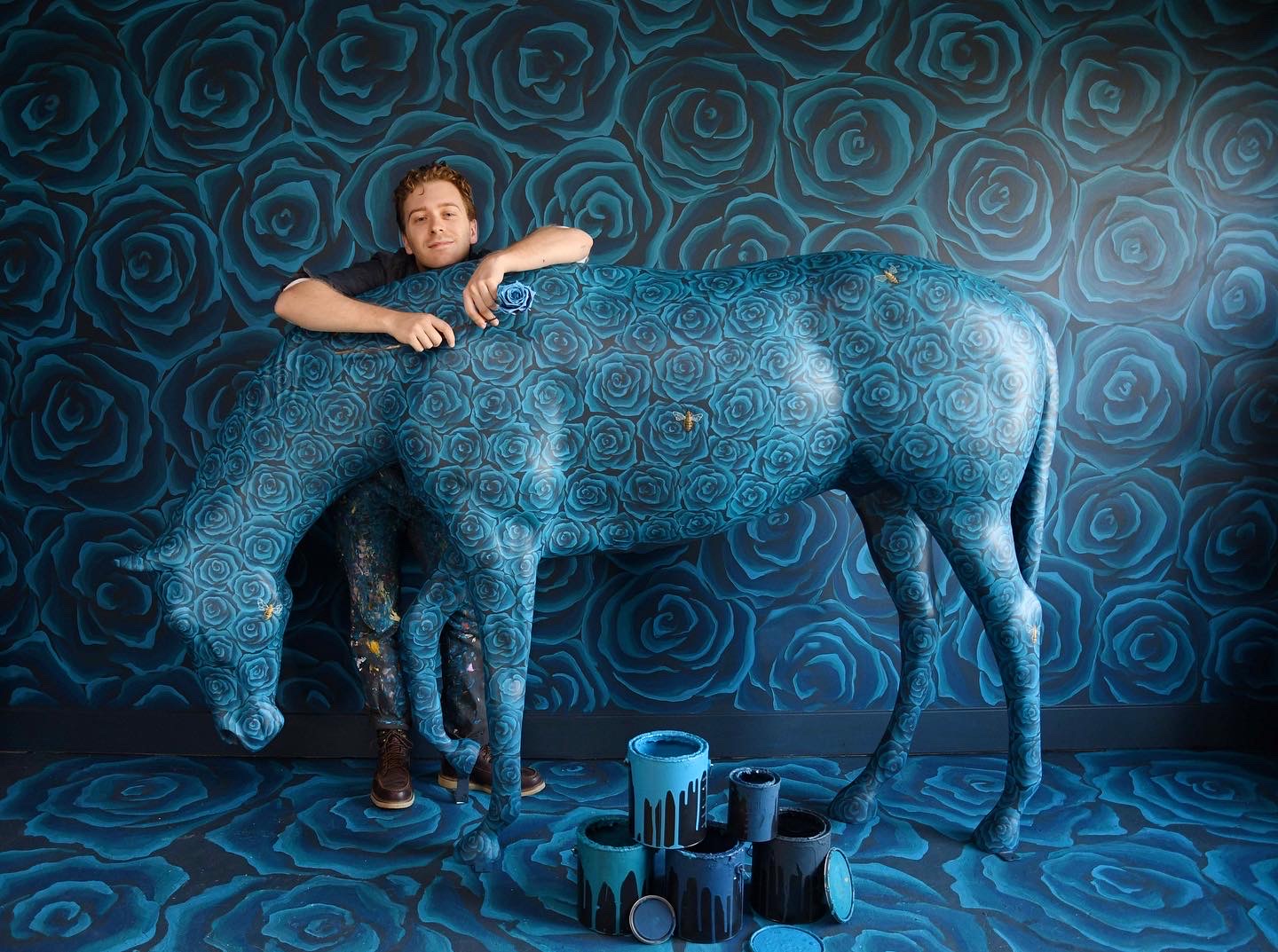 Photograph courtesy of Wylie Caudill.
Before LexArts had even broken news of Horse Mania 2022, Wylie Caudill had visions of fiberglass horses dancing in his head. "I thought it would be a cool canvas," said the Lexington-based artist, originally from Cynthiana, Kentucky. He was about to purchase a fiberglass horse from an antique store when LexArts announced that 2022 would bring the long-awaited return of Horse Mania, a city-wide public arts project in which a variety of artists transform fiberglass horse sculptures into unique works of art to be displayed throughout the city. The timing couldn't have been more perfect—Caudill began to work on submitting designs as soon as he heard about the project.
When two of Caudill's proposed designs were chosen by Horse Mania sponsors, he was thrilled. "I still feel like a very new young artist here, so to be selected in an event that only happens every ten years is a huge honor," he said. "I'm beside myself excited and very humbled that I was selected."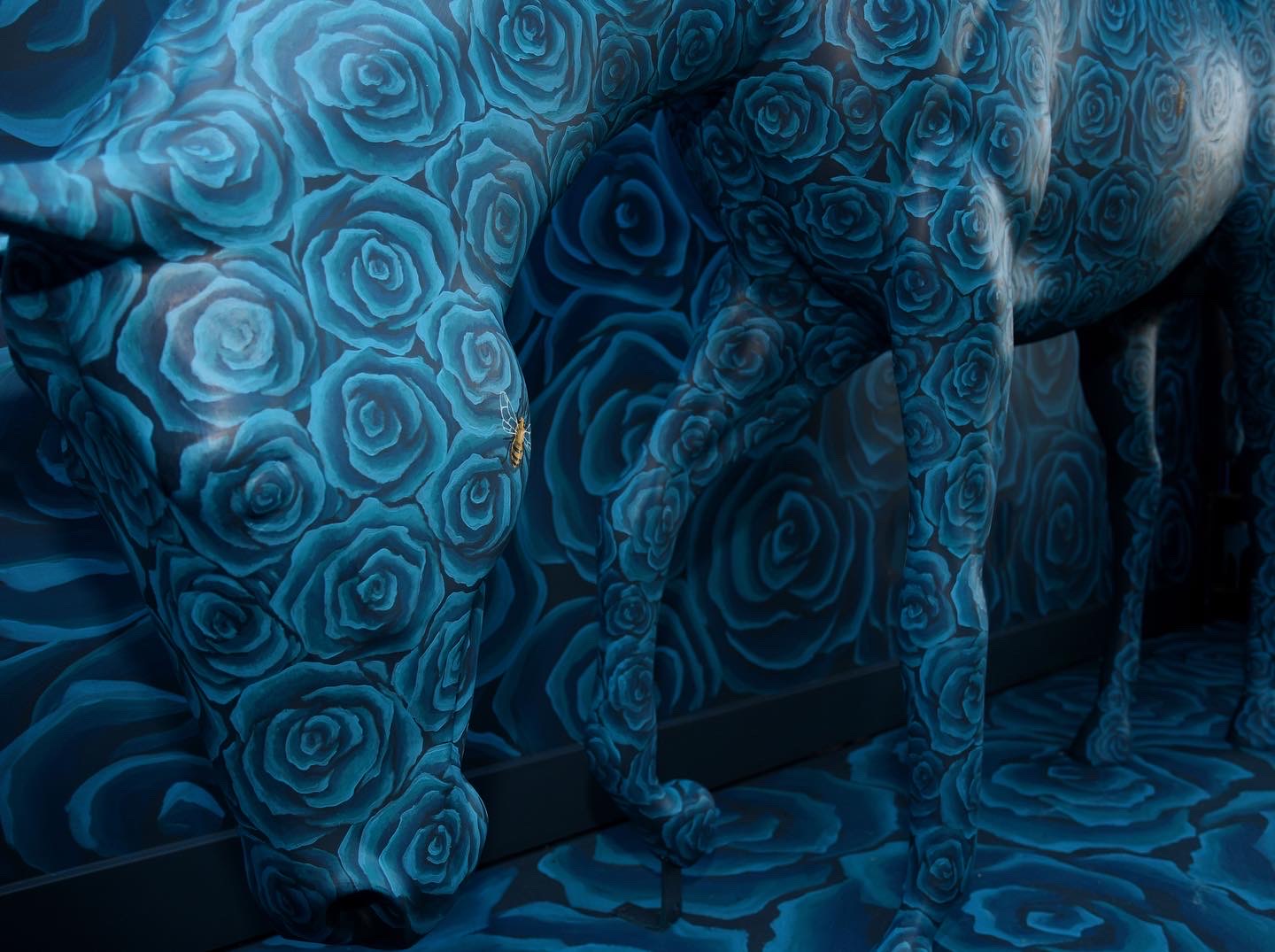 One of Caudill's selected horses is "Sweet Cerulean," sponsored by McBrayer, a horse blanketed in deep blue roses and accented with bright gold honeybees. The intricate pattern of blue roses is a frequent motif in Caudill's work—inspired by Meryl Streep's "cerulean" monologue in The Devil Wears Prada, he posted a video of the process of creating his first cerulean rose mural on Tik Tok to the tune of six million views.
After that viral success, the flowers began appearing more and more in Caudill's work. To him, the design seemed like the perfect fit for the unique challenges presented by a three-dimensional horse-shaped canvas. "I thought it would be so neat to overwhelm the horse in those roses. With that 3-D aspect, they distort as they wrap around. I just thought it would look really cool repeated everywhere on an interesting shape rather than a flat wall," he said.
Walls are where most Lexingtonians see Caudill's work, but there's nothing uninteresting about them. Caudill's colorful murals can be seen at spots around town such as Soundbar, Crank & Boom Ice Cream, the Grove, and the Futile Bakery. These pieces have emerged as collaborations with local businesses, and Caudill sees Horse Mania as a unique opportunity for more businesses to discover the value of working with artists.
"It's such a good way to get artists and Lexington companies together and acquainted, to then hopefully allow artists of Lexington and Kentucky to flourish, because once you work with an artist, you start to realize the power of art." Caudill hopes that the popularity of Horse Mania, especially in the era of social media sharing, will inspire more businesses to find creative ways to bring art into their workplaces.
Caudill has more projects in the works in the coming months, so you can keep an eye out for more of his work and follow him on Facebook, Instagram, and TikTok @wyliecaudillart for updates.
All completed Horse Mania pieces will be available for viewing around the grounds of Ashland, the Henry Clay Estate, in a free public preview from 10 am to 7 pm on Friday, June 17 and Saturday, June 18. The horses will be installed in their respective locations around Lexington beginning Sunday, June 19. Caudill's McBrayer-sponsored horse Sweet Cerulean will be displayed at the corner of East Main Street and Martin Luther King, Jr. Boulevard in front of McBrayer's offices at 201 East Main.