March 30, 2018
Morehead State University Newsletter
Morehead State University President Jay Morgan announced at the Board of Regents meeting on March 29th the creation of the W. Terry McBrayer Presidential Lecture Series in Government and Leadership.
A 1959 graduate of Morehead State, McBrayer wanted to support his alma mater. "I am very proud of the education that Morehead State University provided me; I wanted to pay MSU and the students back. With the lecture series and scholarship, I think we will do just that," said McBrayer.
Community support is a pillar of the businesses that Terry McBrayer founded, and one that has continued to resonate with our team and the clients we serve.
Read more about the Lecture Series announcement here.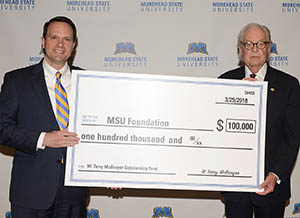 Credit Morehead State University