December 15, 2011
By Janet Patton - jpatton1@herald-leader.com
Thursday, December 15, 2011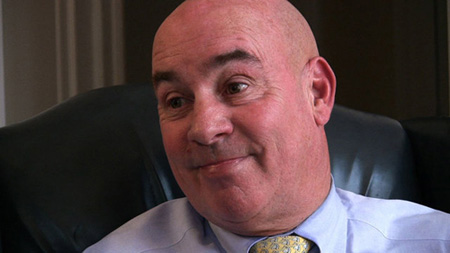 Alydar trainer John Veitch talked about the horse's rivalry with Triple Crown winner Affirmed in Lexington on March 6, 2008. Photo by David Stephenson | Staff 5269 This is a photo from video. DAVID STEPHENSON - LEXINGTON HERALD-LEADER
Former Kentucky chief state racing steward John Veitch failed in his duties in his handling of Life At Ten at the November 2010 Breeders' Cup at Churchill Downs, according to a hearing officer's 31-page report that was released Wednesday.
Hearing officer Robert Layton agreed with the Kentucky Horse Racing Commission's vote that Veitch probably violated state rules in five instances; Layton recommended a one-year suspension of Veitch's steward's license. Such a suspension could prevent him from working as a steward in other racing jurisdictions.
Layton said Veitch's refusal before the race to contact veterinarians about a potential problem with the horse "was gross negligence. ... The post-race conduct dramatically compounded the error, and greatly increased the harm to the integrity of racing."
Life At Ten went off as second-favorite in the betting, but she was eased to finish last. The stewards, headed by Veitch, did not send her to the test barn to give samples for drug testing.
Veitch was fired two weeks ago; the state Public Protection Cabinet did not give a reason for dismissing him. Veitch, 66, of Lexington appealed on the grounds that he cannot be fired without cause, and he alleged age discrimination. He was the Hall of Fame trainer of Alydar before becoming a steward.
Attorney Tom Miller said Veitch was disappointed in the report, which he said had some "vitriolic" statements.
"It's a personal insult, so he's taking it that way," Miller said.
Layton's report does not affect Veitch's firing. The commission, which met Wednesday afternoon, must vote to accept, reject or amend the recommendation on the penalty.
The commission did not address the report Wednesday. Public Protection Cabinet Secretary Bob Vance, a non-voting member of the commission, said he had not seen it.
"We don't comment on personnel matters," Vance said. He said the firing was his decision and was "totally separate" from the Life At Ten investigation.
In the Life At Ten case, jockey John Velazquez told ESPN that the horse wasn't warming up well before the race. She was not checked by vets beforehand, although stewards and vets knew about Velazquez's comments.
Later testing of a pre-race blood sample did not reveal prohibited substances, but Layton's report said the controversy can never be resolved now. Life At Ten, owned by Candy DeBartolo, was trained by Todd Pletcher. He said later she suffered no apparent injury but might have had an allergic reaction to a medication.
"Because Veitch failed in his duty to designate Life At Ten for sampling (and failed to alert the veterinarians before the race), the public and racing participants will never be assured of what the true answer is to that question," the report said. "The public will never know if there were any acts surrounding this race which violated racing's integrity."
After a four-month inquiry, the commission voted 9-1 in March that there was probable cause that Veitch had violated rules by not investigating potential infractions, failing to scratch a horse not in "sound racing condition" and failing to collect a post-race sample.
Velazquez was charged for failing to ride out the horse and for failing to act in the best interest of racing by not taking the horse to be checked.
Velazquez paid a $10,000 fine without admitting fault. Half the fine was sent to the Disabled Jockeys Fund as part of the settlement.
Velazquez stipulated that he might have violated the rules, but he has said he did nothing wrong. Wednesday's report, however, said he "breached his statutory and regulatory duties."
Veitch challenged the commission's March ruling.
That led to a three-day hearing last summer that delved into the circumstances surrounding the race. Veitch contended that he acted properly and within the steward's regulatory authority.
The hearing officer's report disagreed.
"Veitch has shown gross negligence in his pre-race oversight duties, and has shown gross negligence in his post-race failure to direct Life At Ten for sampling and failure to properly investigate," Layton wrote. "Veitch also has been repeatedly deceptive and contradictory in his statements during the investigation, and steadfastly refused to acknowledge his mistake or responsibility." Layton said Veitch's actions had not been "proven to be intentional."
Miller, Veitch's attorney, said he would file an exception to the report, and he expects the matter to end in a lawsuit. He said the report did not take into account testimony that contradicts the commission's positions.
"We knew we were going to lose with the commission because they're the ones who indicted him," Miller said.