March 3, 2021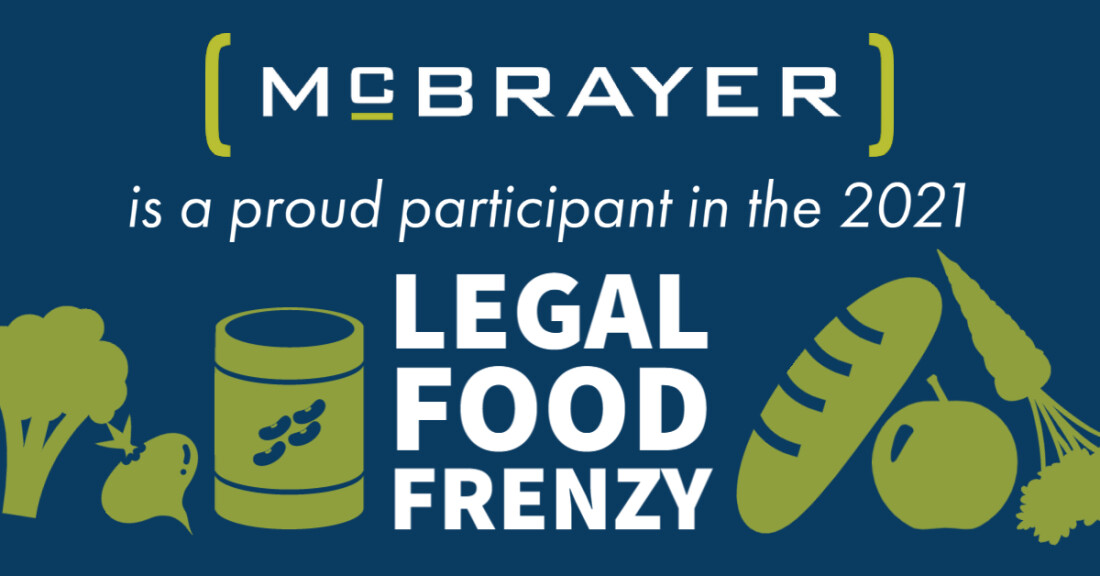 McBrayer is excited to announce its participation in the 2021 Kentucky Legal Food Frenzy. This statewide tradition allows law firms throughout the Commonwealth to compete to see who can raise the most pounds of food for Feeding Kentucky, an organization devoted to ending hunger.
"700,000 Kentuckians, including nearly 200,000 children, struggle with hunger," said Feeding Kentucky Executive Director Tamara Sandberg. "The Legal Food Frenzy will provide a much-needed supply of resources to Kentucky's food bank network to meet increased demand during the summer months when schools are closed."
The campaign is organized by the Office of the Attorney General David Cameron in collaboration with the Kentucky Bar Association Young Lawyers Division. Over 1,800 Kentucky attorneys participated in the competition last year.
"This competition provides an opportunity to give back to our community in a concrete way," said McBrayer Managing Member James H. Frazier, III. "Contributing to food equity initiatives locally and statewide is a pillar of the McBrayer's community engagement efforts and we are honored to be a part of this important project."
McBrayer will be collecting donations of both food and funds, and funds donated in the name of the firm will be matched by the firm up to a set amount. Each donated dollar is equal to eight pounds of food. Financial donations may be made at KyFoodFrenzy.com/donate in the name of McBrayer PLLC Lexington or McBrayer PLLC Louisville. The competition lasts until March 15.