From Our Video Series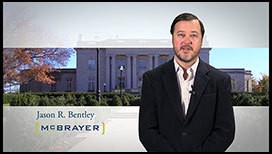 Honors & Awards
KY Single Point of Contact to U.S. Trade Representative, 2005-2010
Admissions
Kentucky, 2002
U.S. District Court Eastern District of Kentucky, 2004
Education
Vermont Law School, South Royalton, Vermont, J.D., 1999
Law Review: Vermont Law Review, Member, 1997 - 1999
Vermont Law School, South Royalton, Vermont, M.S.E.L., 1999
Environmental Scholar Award
University of Kentucky, Lexington, Kentucky
Graduate Research Assistant - 1996
Honors: Dean's List
Major: Evolutionary Ecology
Centre College of Kentucky, Danville, Kentucky, B.S., December, 1994
Overview
My practice is unique in that I am both an attorney and registered lobbyist for McBrayer. I predominately work in Frankfort, Kentucky with McBrayer's government relations branch, MML&K Government Solutions. Our team is strengthened by the diverse backgrounds of our members. With over 120 years of cumulative experience in government and lobbying, MML&K Government Solutions is the firm to navigate the complex bureaucracy of local, state and federal government. My law and government relations practices focuses on commercial and regulatory energy and environmental issues on behalf of some of the largest companies in the United States and the world, including Peabody Energy, PJM Interconnection, EQT, Kinder Morgan, Nucor, Kentucky investor owned utilities, and others. I've managed government relations for clients in Kentucky, regionally in the Southeast and Midwest, and before various national political groups.
BEFORE MCBRAYER
Following a clerkship in the Environmental Enforcement branch of the US Department of Justice, Environment & Natural Resources Division, I served as majority counsel to the U.S. House of Representatives Committee on Energy & Commerce from 1999-2004 for three successive Chairmen (Bliley (VA), Tauzin (LA) and Barton (TX)). In addition to investigating the California energy crisis and organizing numerous hearings on comprehensive energy policy, I was responsible for developing significant provisions of the Barton-Domenici Energy Policy Act of 2005. As Committee counsel I traveled extensively both in the United States and abroad, conducting hearings, negotiations, and fact-finding missions, including trips to Great Britain and Japan. I returned to Kentucky as part of Governor Ernie Fletcher's Administration, first as General Counsel and Policy Advisor to the Kentucky Public Service Commission, and then as Executive Director of the Kentucky Office of Energy Policy. In law school, I had the honor of serving as a visiting scholar with the Development Law Service of the United Nations Food and Agriculture Organization (FAO) in Rome, Italy; and I am currently designated as Kentucky's Single Point of Contact to the U.S. Trade Representative.
Primary Practice
Professional Activities
Professional Activities
Kentucky Bar Association, Member
Energy Bar Association, Member
Vermont Law Review, Member
U.S. Trade Representative, Kentucky Point of Contact, 2006-Present
Bluegrass Soccer Club, Board President
News & Insights
Articles
Examining the Role of Potentially Responsible Parties in Natural Resources Damages Claims, Vermont Law Review, 23 VT. L. REV. 431, 1998
Multimedia
Multimedia
Jason R. Bentley - Attorney Biography
Energy & Environmental
I believe there is a lot of momentum right now against energy project development. Having been on both sides of that equation I understand the challenges that project developers face. I use both my legal and government relations experience to bridge those differences and find areas of common ground that can be a win-win for everybody. I think I bring a lot of value to our clients because like government, we are on call 24/7, we do not take breaks for holidays and weekends. If there is an issue or crisis that needs our attention you can rely upon us. We are always here for our clients and are diligently working the ground floors of Frankfort. We are dealing with all facets of the government year-round and a value we have over competitors is that we are committed to keeping strong interaction with the top decision makers that have the ability to impact our clients' ultimate economic successes at the state level.
Companies hit with fines by state or federal environmental agencies, or those that have had environmental enforcement actions brought against them, may find that a combined government relations and legal approach is the best strategy. Using both approaches in tandem with one another I have brought about many successes for my clients; including but not limited to, energy projects development and siting; transportation and transmission; permitting and regulatory compliance; property rights; energy contracts and supply; commercial developments; recycling issues; water and air quality issues.
To stay on the cutting edge of technological and policy innovation, I frequently attend and present at regional and national policy workshops on behalf of our clients, including the Southern State Regional Energy Board, where our energy and environmental experts share their knowledge with policy makers across the nation.