From Our Video Series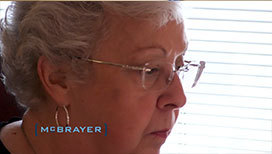 Honors & Awards
AV Peer Review Rated by Martindale-Hubbell®
The Best Lawyers in America®, 2023 (Real Estate Law)
Recognized as One of the Nations Top Rated Lawyers in 2016 by The National Law Journal
Nat Sanders Educator of the Year, 2010, Kentucky Association of REALTORS®
Distinguished Service Award, 2003-2009, Bluegrass Chapter of the American Red Cross
Life Fellow 2001, Kentucky Bar Association
Best Political Float in the Lexington-Fayette Urban County Government 4th of July parade, 1999
Outstanding Alumnus Award, 1993, Lexington Community College
Admissions
Kentucky, 1984
Supreme Court of Kentucky, 1984
U.S. District Court Eastern District of Kentucky, 1985
U.S. Court of Appeals 6th Circuit, 2016
Clerkships
Judicial Internship, Jefferson County Circuit Court, 1984
Legal Internship, Louisville Legal Aid Society, Inc., 1984
Law Clerk, Mapother & Mapother Attorneys, Lexington, KY, 1982-1983
Education
University of Louisville Brandeis School of Law, Louisville, KY, J.D., 1984
Eastern Kentucky University, Richmond, KY, BBA, 1981
Lexington Community College, A.A.S. in Management Technology, 1973
Overview
I grew up in a very supportive family with modest means, and I saw a lot of people taken advantage of because they didn't understand the law and didn't have access to lawyers to help them. I didn't want to always be afraid of the law; I wanted to understand it, and help my family and friends. I always thought being an attorney would be a good profession to accomplish that and support myself while doing so, but as I was growing up, women had limited professional opportunities. I didn't want to work in any of those "acceptable" areas, but I was told going to law school was for the guys. When being a real estate agent proved a bad idea because of the economy, I decided finally to go for it, and I'm still going all these many years later.
I find the law fascinating and dangerous at the same time, and I approach it as professionally as I can. My goal for my clients is to get them what they want within the law, even if I don't always see eye to eye with their goals; I sincerely believe that each person has a right to what s/he is entitled to under the law. I have not won all of my cases, but I've always given it my best. I'm driven by the task I've taken on, and I will always bring that drive on behalf of my clients - going the extra mile has never been a problem for me. For example, there was the time I was on the back of a cruise ship in the Mediterranean Sea handling a problem for one of my real estate brokers! I recently woke up one morning with texts from 17 clients – real estate professionals work all of the time and I'm right there with them.
Before MCBRAYER
I've been in private practice since November 1984. That practice has been mainly as a solo practitioner, as an occasional partner, as a partner in small firms, and an associate in two larger firms, including a time at McBrayer years ago. I use all I've learned along the way to support my clients today.
Primary Practice
Additional Practice Experience
Kentucky Leader
Community/Civic Leadership
Over the years I've volunteered for many good causes and charitable organizations, such as the American Red Cross and Housing Equality for All Lexington, Inc., and I've acted in varying roles, including president, in many of them. I continue to support most of these, although I am not as active as I used to be on many boards.
The one nonprofit that my husband, George P. Weick, and I wholeheartedly support is the Woodstock Animal Foundation, where we have two funds in memory of two of our toy poodles: the "Brinkley Rainbow Fund" to pay vet bills for animals whose families cannot afford the treatment they need, and the "Sweet Shellie Fund" to be used for animals that are rescued and need treatment to survive.
Other community activities include:
Past President, Lexington Community College Alumni Association

American Red Cross, Bluegrass Chapter:

Former Board Member (27 years)

Current Member of Volunteer Services Committee

Past Board Member and Vice Chair for Administration

Former Member, Finance Development and Human Resources Committees

Board Member, Housing Equality for All Lexington, Inc.
Past President, Lexington Bluegrass Business & Professional Women's Organization
Former Board Member, Altrusa International, Lexington
Former Member, Professional Women's Forum, Lexington
Former Member, National Association of Women Business Owners, Lexington Chapter
Former Member and Past President, Xi Delta Nu, Beta Sigma Phi, Lexington
Former Secretary, Rabbit Run Neighborhood Association Board, Lexington
News & Insights
News
Seminars & Speaking Engagements
Sign up for Real Estate Law Alerts
Multimedia
Multimedia
Virginia Lawson - Attorney Biography
Professional Activities
Chair, Center for Real Estate Studies at Eastern Kentucky University.
Licensed Real Estate Broker (Escrow), Commonwealth of Kentucky.
Member, Former Director and Secretary, National Real Estate Educators Association.
Former President, Treasurer and Board Member, Kentucky Real Estate Educators Association.
Former Trustee, Kentucky Real Estate Education Foundation.
Affiliate member, member of MLS committee, former member of Education Committee, and former corporate counsel, Lexington-Bluegrass Association of Realtors®.
Member, American Bar Association
Member, Kentucky Bar Association. Member and Former Vice Chair, Real Property Section.
Member, Fayette County Bar Association.
Co-founder and Steering Committee member, Fayette County Bar Women Lawyers Organization.
Former member, Kentucky Academy of Trial Attorneys.
Publications
Kentucky Real Estate License Law Handbook, 1st Edition, Copyright 2015 by Virginia L.
Lawson Seminars, Inc.
Kentucky Real Estate License Law Handbook, 2nd Edition, Copyright 2017 by Virginia L.
Lawson Seminars, Inc.
Kentucky Real Estate License Law Handbook, 3rd Edition, Copyright 2018 by Virginia L.
Lawson Seminars, Inc.
Don't Let Wills, Estates, and Trusts Be The Death of You, Copyright 2017 by Virginia L.
Lawson Seminars, Inc.
AMP Real Estate Exam Guide, Copyright 2007 by South-Western, a division of Thomson
Learning
Kentucky Real Estate Law, Copyright 2004 by South-Western, a division of Thomson
Learning
Sales Contracts for the Real Estate Professional, Copyright 2002 by South-Western, a division of Thomson Learning
Kentucky Real Estate License Law Tutorial, Copyright 2001-2002, The Kentucky Real Estate Commission, Donald E. Bodley (Delivery System) and Virginia L. Lawson (Test Annotation)
Law of Agency, Copyright 1996 by Northern Kentucky Association of Realtors
Real Estate
My practice is "everything real estate," except for planning and zoning. I represent real estate licensees, real estate appraisers, auctioneers, and home inspectors in professional liability defense cases in court, before administrative agencies, and professional trade associations. I represent numerous real estate brokerages around the state with their day-to-day legal issues relating to their licensing laws and regulations as well as their standards of practice. I have performed thousands of real estate closings, and I have handled thousands of real estate foreclosure cases, representing both plaintiffs and defendants. Contract drafting, negotiations, and enforcement are included in my practice. All aspects of landlord and tenant law play a part in my practice as well.