October 29, 2020, 11:00 a.m. EST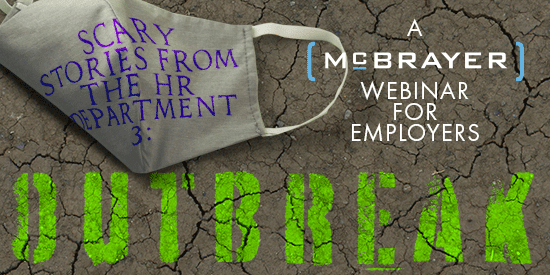 Join us at McBrayer PLLC for our annual "Scary Stories from the HR Department" webinar, now in its third – and scariest – incarnation. Attorneys Cindy Effinger and Claire Vujanovic will guide employers through hypotheticals of horror and ripped-from-the-headlines issues from this year, from COVID-19 issues in the workplace to social and political division among employees. They will calm your fears by providing best practices advice to keep the darkest nightmares from becoming your reality.
2020 has been one of the roughest years for everyone in recent memory. Just as the world is dealing with a novel coronavirus, employers are dealing with novel workplace issues, and it can be difficult to navigate this new world of COVID-19 and social unrest. This webinar will address many of those issues, helping employers and HR personnel see their way through turbulent times in an informative and accessible way.
Issues addressed include:
Employee temperature and wellness checks
Leave Issues under the Families First Coronavirus Response Act
Social and political division in the workplace
Telework reconsidered
…and more.
This webinar will take place on Thursday, October 29th at 11 a.m. Please click the RSVP button at the top of this post or click here to register for this complimentary event.