From Our Video Series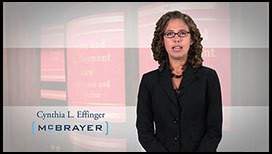 Honors & Awards
Kentucky Super Lawyers®, 2018-2022 (Employment & Labor)
The Best Lawyers in America®, 2016-2022 (Litigation - Labor & Employment)
The Best Lawyers in America®, 2019-2022 (Employment Law - Management)
The Best Lawyers in America®, 2020-2022 (Labor Law: Management)
The Best Lawyers in America®, 2021, 2022 (Employment Law - Individuals)
The Best Lawyers in America®, "Lawyer of the Year", 2019, 2022 (Litigation: Labor and Employment)
A. M. Best Client Recommended, 2018

Admissions
Kentucky, 1998
U.S. District Court Eastern District of Kentucky, 2003
U.S. District Court Western District of Kentucky, 1998
U.S. Court of Appeals 6th Circuit, 2000
Education
University of Louisville School of Law, Louisville, Kentucky, J.D., 1998
University of Georgia, Athens, Georgia, B.A., 1994
Overview
The value I bring to my clients is that when the dispute cannot be resolved I have trial experience and can best prepare the client for the courtroom. I have chosen to practice at McBrayer because its employment law department is constantly evolving and expanding, which is a resource that our clients are not able to receive from our competitors. We take a team approach to solving our clients' problems and when necessary we will bring in attorneys from different practice areas to offer a new perspective.
My main practice area is focused in employment and commercial litigation where I help clients with business disputes, claims of discrimination and harassment, non-compete and other restrictive covenant agreements, wage and hour issues, and contract disputes. Most recently, I have assisted clients in resolving U.S. Department of Labor and Kentucky Labor Cabinet investigations and audits.
In addition to litigation work, I work with clients to develop employee handbooks including social media policies, and am involved in employee relations issues. My background lends itself well to consulting with businesses with regard to client and competitor issues as well as disputes among business owners themselves.
BEFORE MCBRAYER
Prior to joining McBrayer's Louisville office, I practiced at Seiller Waterman, LLC from 1997-2011.
Primary Practice
Additional Practice Experience
Professional Activities
Professional Activities
Kentucky Bar Association, Member, 2007-Present
Louisville Bar Association, (Law Day in the Schools Program), 2007-Present
Lawyers Mutual Insurance Company of Kentucky, Board of Directors, 2007-2009
Better Business Bureau of Louisville, Board of Directors, 2017
News & Insights
News
Super Lawyers

,

December 10, 2020

The Lane Report

,

October 19, 2020

Business Lexington

,

December 19, 2019

Super Lawyers

,

December 2, 2019

U.S. News – Best Lawyers® in America

,

September 4, 2019

Louisville Business First

,

August 18, 2017

Attorneys from McBrayer law offices in Lexington and Louisville achieved a 2018 listing in U.S. News Best Lawyers in America
Seminars & Speaking Engagements
More Advice for the Continuing Workplace Challenges of COVID-19

Webinar

,

September 15, 2021

A Webinar for Employers - How to Handle the Newest Set of Workplace Challenges from COVID-19

A McBrayer Webinar

Tricks and Treats for HR Professionals

On-Site Supervisor Training on Issues of Harassment, Discrimination, Retaliation and Medical Leave

Human Resources Consulting

The Current State of Reasonable Accommodation: Attorney Cindy Effinger speaks at Kentucky Society for Human Resource Management (KySHRM) Annual Conference 2018

Kentucky Society for Human Resource Management (KySHRM) 34th Annual Conference 2018

University of Kentucky Office of Continuing Legal Education

Lexington, KY

,

June 7, 2018

Employment Law for Employers

Kentucky Chamber

Louisville, Kentucky

,

May 23-24, 2017

Kentucky Society of Human Resource Managers (KYSHRM) 32nd Annnual Conference

What HR Professionals Should Know About the Recent Trends in NLRB Decisions and Guidance

Louisville, Kentucky

,

August 30-September 2, 2016

Kentucky Chamber Conference

Lexington, KY

,

May 3-4, 2016

Kentucky Chamber

Louisville, Kentucky

,

May 24-25, 2016

Kentucky Chamber

Lexington, KY

,

May 9-10, 2017

The EEOC Strikes Back: New Guidance on Retaliation

Lexington, KY

,

January 26, 2017

Same-sex Marriage, EEOC Interpretations of Title VII and other LGBT Issues in Employment

Lexington, KY

,

November 5, 2015

Mental Health Issues in the Workplace: Don't Let Them Drive You Crazy

Lexington, KY

,

November 5, 2015

Harassment and Discrimination Update

Lexington, KY

,

November 5, 2015

Mental Health Issues in the Workplace, and Possible Effects of Expanded Insurance Coverage for Mental Health Treatment

Louisville, KY

,

September 23, 2015

27th Annual Kentucky HR Update

Lexington, KY

,

May 26, 2015

27th Annual Kentucky HR Update

Louisville, KY

,

May 12, 2015

Getting It "Write": A McBrayer Employment Law Seminar, Louisville, KY

Getting It "Write": A McBrayer Employment Law Seminar, Lexington, KY

The HR Deposition Demystified, KY SHRM Conference, September 24, 2014

Lessons in Workplace Liability, Business First, June 10, 2014

EEOC Update, 26th Annual Kentucky HR Update, Lexington, KY, May 28, 2014

EEOC Update, 26th Annual Kentucky HR Update, Louisville, KY , May 21, 2014

Two Trending Issues in Employee Relations, ADP, April 17, 2014

Social Media: Strategy and Implementation Are you protected?, Kentuckiana Chapter of Information Systems Audit and Control Association (ISACA), June 21, 2013

Legal Issues for Restaurants, Bars and Hotels - A Critical Update, McBrayer law, February 2013

Kentucky Pharmacists Association annual meeting, Employment Law, 2012

Fayette County Bar Association, Bench & Bar, Employment Law, June 26, 2012

Employment Policies and Procedures: A Critical Legal Update for Employers, McBrayer, 2009 - Present
Articles
Business First of Louisville 

,

February 26, 2016

HRKentucky.com Newsletter, Kentucky Chamber of Commerce

,

July 10, 2015

The EEOC in 2014, Kentucky Chamber, HR Newsletter, July 2014

Facebook Friends & Workplace Enemies, Kentucky Chamber HR Newsletter, November 2013

Inclement Weather and Time Off Issues: To Pay or Not to Pay, Kentucky Chamber Human Resource, November Newsletter, 2012
Multimedia
Multimedia
Cynthia L. Effinger - Attorney Biography

Our Clients - ARGI

Employment Law - Keep Your Terminations from Being Terminal
Employment Law
The number one issue employers face today with respect to employee issues is the fact that the laws are ever changing and the laws are now more employee friendly. In order to keep my clients up to date on the ever-changing nature of employment law, I am committed to staying in constant communication so as to keep them in compliance, offering educational training seminars, and updating policies that should alleviate litigation down the road. I have seen significant change with respect to the integration of technology and the Internet with social media policies and social media in the workplace.
The in-depth knowledge I have developed over the years in this area of the law has benefited employers ranging in size from small, family-owned businesses to Fortune 500 companies. My goal as a lawyer is to work with our clients to assess and eliminate litigation risk. By putting my experience and knowledge of this frequently changing area of the law to work, I am able to help our clients avoid disputes and, more importantly, create strong and lasting relationships with their employees. This is as important for locally owned restaurants and their chefs and wait staff as it is for large health care businesses and their doctors and CEOs.
Our employment team conducts regular seminars on hot topics in the area of human resources and employment policy and procedure. We conduct seminars to educate clients on changes in the law that will impact them. These seminars are often conducted in our office. We are also available to do on-site seminars, not only for employers and their human resources departments, but for entire staffs, depending on the topic. At any time my clients can visit the McBrayer Employment Law Blog where they will find relevant content published on a weekly basis by myself and the other members of our employment law department.
Recent Client Success
Crawford v. EKU
I was able to obtain summary judgment in favor of the employer on a race discrimination claim pending in federal court. Plaintiff alleged she was treated differently because of her race in the terms and conditions of her employment and that she suffered retaliation for complaining about discrimination.