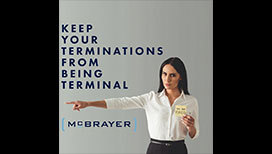 Employment Law - Keep Your Terminations from Being Terminal
Related Areas
Overview
It is the considered opinion of McBrayer employment law attorneys that an ounce of prevention is worth ten pounds of cure when it comes to relations between the businesses we represent and their employees. To that end, one of the services that we provide to our business clients is training for the businesses' HR staff, managers and owners. Either on-site, or together in a group of other clients, our attorneys regularly produce seminars aimed at keeping our clients current on big trends, changes in the law and key suggested policy updates. This not only keeps our clients ahead of the curve, but participation in such training itself can be a useful defense when claims arise from time to time. The law requires employers to be educated about their obligations and to advise employees of their rights, and the seminars produced by our team of employment law attorneys can be a vital source of that education for managers and HR staff alike.
HR Staff Training Attorneys

For comprehensive advice on creating effective human resources policies and procedures, contact the experienced legal team at McBrayer. With law offices in Lexington and Louisville and a government relations practice in Frankfort, we serve clients throughout Kentucky and the United States.
News & Insights
Seminars & Speaking Engagements
A Seminar for Employers

The Mane on Main, 201 East Main Street, 15th Floor, Lexington, Kentucky

,

March 22, 2023

A Seminar for Employers

500W Training Center, 500 West Jefferson Street, 4th Floor, Louisville, Kentucky

,

March 21, 2023

A Webinar for Employers - How to Handle the Newest Set of Workplace Challenges from COVID-19

A McBrayer Webinar

Tricks and Treats for HR Professionals

Louisville, Kentucky

,

January 29, 2018

Employment Law for Employers

Kentucky Chamber

Louisville, Kentucky

,

May 24-25, 2016

Mental Health Issues in the Workplace: Don't Let Them Drive You Crazy

Lexington, KY

,

November 5, 2015

Harassment and Discrimination Update

Lexington, KY

,

November 5, 2015

The Expanding NLRA: Recent Holdings and Guidance from the NLRB

Lexington, KY

,

November 5, 2015

Same-sex Marriage, EEOC Interpretations of Title VII and other LGBT Issues in Employment

Lexington, KY

,

November 5, 2015

27th Annual Kentucky HR Update

Lexington, KY

,

May 26, 2015

27th Annual Kentucky HR Update

Louisville, KY

,

May 12, 2015
Articles
HRKentucky.com Newsletter, Kentucky Chamber of Commerce

,

July 10, 2015
Multimedia
Multimedia
Webinar - The Employee Mandate and You: How the ACA Will Affect Your Business in 2016

Employment Law - Keep Your Terminations from Being Terminal
Who We Serve
With offices throughout the Commonwealth of Kentucky, McBrayer PLLC, has been the region's preeminent law firm for Employment Law for the past fifty years. Our attorneys work with employers of all types and sizes to reduce the risk of litigation. To that end, we handle all matters that touch on the employment relationship, including development of hiring and firing policies and practices, including severance agreements and unemployment insurance benefits; creation of employee policy manuals; drafting and enforcement of non-compete agreements; non-solicitation and non-disclosure agreements; guidance on human resources issues; drafting of executive and employee contracts and compensation packages; and employee training regarding discrimination, harassment and retaliation.
During our representation, we make an effort to understand our clients' businesses in order to better meet their legal needs. This becomes important when our clients are involved in litigation. Our team of lawyers has vast experience and success in litigating harassment, discrimination and retaliation claims, non-compete agreements and a variety of other issues that relate to the employment relationship in both federal and state courts as well as in the arbitration arena. We will assist our clients in aggressively defending frivolous claims and by compromise or resolution of others. In any litigation case, we work with our clients as a partner to meet their expectations and reduce their risks.
Who do we serve? Our attorneys represent clients involved in every industry whether it be a small family owned business or a business on the Fortune 500 list. Our clients operate within many fields, including: health care, hospitality financial services, education, commercial real estate, manufacturing, physical therapy, retail establishments, agriculture, telecommunications, and construction. The common thread amongst all of them is employment relationships. Our experience in this area is unparalleled. Whether you have five employees or five hundred, our lawyers can address the full spectrum of your employment law questions and needs.