From Our Video Series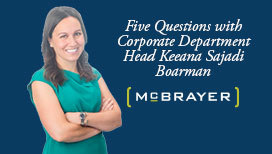 Honors & Awards
The Best Lawyers in America®, 2023 (International Mergers and Acquisitions)
Education
University of Kentucky College of Law, Lexington, Kentucky, J.D., 2008
Duke University, Durham, North Carolina, B.S., 2003
Overview
MY PRACTICE
My practice area includes all facets of business and corporate law. I advise owners, executives and in-house counsel on a variety of issues related to business creation, entity governance, business operations, and business succession planning, including purchase agreements, technology agreements, supply agreements, real property transactions, operating agreements and shareholder agreements. I advise companies and investors in connection with capital-raising activities and investments, and I'm experienced with complex transactions, including acquisitions, divestitures and financing transactions from all angles – as counsel to buyers, sellers, borrowers and lenders.
WHY MCBRAYER
As a native Lexingtonian who is committed to the Lexington community, I am excited to join a local firm that is focused on helping our citizens and business community succeed and flourish. After working for years for clients that I never met in person because they were located throughout the United States and sometimes abroad, I wanted to work with my friends and neighbors as well. McBrayer provides that intersection of being large enough to tackle matters throughout the state, country and beyond, but it retains a sense of place and remains focused on providing service to and lifting up the community around it.
HOW I'M DIFFERENT
I approach all matters with a level-headed, results-oriented mindset, and I view each client relationship as a collaboration to produce these desirable results. I want to understand the client's goals and risk tolerance from the outset and frame a transaction accordingly. It's important to me to earn my client's trust so that he or she will call me at the beginning stages of a transaction or issue, rather than on the tail end. If we strategize together at the beginning, a lot of complexities and heartache can be avoided, and we can find a way to reach an outcome through a more refined and elegant solution.
BEFORE MCBRAYER
I practiced at Frost Brown Todd LLC for 12 years, where I honed my skills in the Business Combinations practice group. While there, I worked with such industries as energy, banking, manufacturing, hemp and hospitality, gaining broad experience across a wide spectrum of corporate issues and needs. This intense focus on meeting the needs of businesses of all shapes prepared me to tailor solutions for all clients, no matter the size or circumstances.
Additional Practice Experience
Affiliations
Professional Activities
Kentucky Bar Association, 2008
Fayette County Bar Association, 2008
Community/Civic Leadership
Commerce Lexington Board of Directors, 2019 – present
Leadership Lexington, Class of 2012
Commerce Lexington Ambassador Committee, 2017
FBI Citizens Academy, 2018 Graduate
Junior League of Lexington, 2007 – 2019
Girls on the Run Central Kentucky Board of Directors, 2010 – 2018
Duke University Alumni Admissions Committee, 2008-2019
Bluegrass Runners Club, Inc., 2010 - present
Multimedia
Multimedia
Five Questions with Keeana Sajadi Boarman