From Our Video Series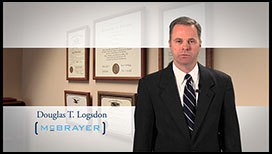 Honors & Awards
The Best Lawyers in America®, 2012-2022 (Bankruptcy and Creditor Debtor Rights / Insolvency and Reorganization Law, Bankruptcy Litigation, Commercial Litigation)

Kentucky Super Lawyers®, 2020, 2021, 2022 (Civil Litigation: Defense)
Young Trial Lawyer of the Year, Colorado Trial Lawyers Association, 1999-Present
American Jurisprudence Award, Administrative Law
Admissions
Kentucky, 1999
Colorado, 1992
U.S. District Court Eastern District of Kentucky, 1999
U.S. District Court Western District of Kentucky, 1999
U.S. District Court District of Colorado, 1993
Education
University of Colorado School of Law, Boulder, Colorado, J.D., 1992
Law Review: Colorado Journal of International Environmental Law and Policy, Note and Comment Editor, 1991-1992
Western Kentucky University, Bowling Green, Kentucky, B.A., 1986
Overview
My practice encompasses a range of civil litigation matters, with particular concentration in the areas of creditor's rights, debt workouts, collection and foreclosure litigation, real estate title defense and litigation, and general civil litigation. I often represent creditors in bankruptcy proceedings, including automatic stay matters, preference litigation, lien avoidance actions, and other litigation and negotiation matters.
I gained trial experience before numerous Colorado courts and juries from 1992 to 1999. To this day, I continue to try cases before judges, juries, and arbitrators, and to pursue and defend appeals. I have argued before the Colorado Court of Appeals, the Kentucky Court of Appeals, the U.S. Court of Appeals for the Sixth Circuit, and the Bankruptcy Appellate Panel for the Sixth Circuit.
Kentucky Leader
Community/Civic Leadership
I am honored to have served as a former President and Board member of the Fayette County Bar Association (FCBA). I was proud to serve on the Board during the creation of the Fayette County Bar Foundation. In 2006, a complex legal case related to a tragic accident resulted in a substantial settlement for the victims' families and a sizeable payment to the FCBA's lawyer referral service. The FCBA polled its membership and decided to create a lasting legacy with its share of the proceeds. The Fayette County Bar Foundation was born. The FCBA's initial investment was buoyed by contributions from local attorneys and law firms, creating an endowment to fund a variety of law-related philanthropic efforts in Fayette County. Grants to community organizations are awarded annually based on recommendations from the Grants Committee. This is a one-of-a-kind asset that our local bar established for the benefit of Fayette County. I am proud to be a part of a bar association that used this opportunity to help its community.
News & Insights
News
Super Lawyers

,

December 10, 2020

Super Lawyers

,

December 2, 2019

U.S. News – Best Lawyers® in America

,

September 4, 2019

Attorneys from McBrayer law offices in Lexington and Louisville achieved a 2018 listing in U.S. News Best Lawyers in America
Multimedia
Multimedia
Douglas T. Logsdon - Attorney Biography
Creditors' Rights and Foreclosures
Within the area of creditors' rights and foreclosures, I represent numerous lending institutions, business creditors and individuals in commercial collection and foreclosure matters, ranging from a simple demand letter to highly complex litigation.
I strive to efficiently handle collection and foreclosure cases in accordance with Kentucky law and the local procedures of each Kentucky county. In many cases, with effort and attention to detail, such matters can be brought to a conclusion quickly and inexpensively. Where novel or complex issues arise in a seemingly routine case, I am prepared to identify and deal with them. The McBrayer firm takes a team approach to the more challenging cases we handle. Drawing on our attorneys' focused knowledge in diverse areas of practice, we can assemble the right team to provide effective solutions. In contested cases, we prepare for the likelihood of trial, which often facilitates settlement before trial on terms favorable for our clients.
I represent creditors throughout the full range of collection challenges:
Collection of consumer and commercial accounts
Residential and commercial mortgage foreclosure
Commercial lease enforcement
Enforcement of security interests under consumer or commercial loan transactions; exercise of remedies against collateral
Protection of junior interests in collateral covered under second mortgages or subordinated security interests
Enforcement of personal guaranties or pledges related to business indebtedness
Resolution of perfection or priority disputes between competing creditors
Negotiation and workout of troubled commercial loans and mortgages
Defense of lender liability counterclaims
Bankruptcy
My bankruptcy practice includes representation of financial institutions, landlords, contractors, vendors, suppliers, guarantors, and other related or interested parties in Chapter 7, Chapter 11, Chapter 12 and Chapter 13 bankruptcy proceedings, including filing of claims, acquisition of adequate protection or relief from the automatic stay, protection and preservation of contract rights and unexpired leases, and bankruptcy litigation. I am experienced in the evaluation, assessment and litigation of non-dischargeability actions when fraud, embezzlement, conversion, or other willful conduct has occurred. I am also experienced at evaluating, defending and economically settling bankruptcy preference, fraudulent conveyance, lien avoidance, and stay violation claims brought, or threatened, by debtors or bankruptcy trustees.
Civil Litigation
In addition to business, collections, real estate, and bankruptcy matters, my civil practice ranges from pursuit and defense of injury, wrongful death, and employment claims to commercial and contract cases, in which I represent individuals, businesses, and governmental entities. As a trial lawyer, I have a depth of experience in the trenches, preparing cases for trial and taking cases before juries and judges. The McBrayer firm uses a client-centric approach to help clients resolve their disputes as smoothly and as quickly as possible, but also in a way that is unique to each client's issues and needs. Clients contact us to handle all forms of general civil litigation.
I attempt to settle civil disputes at the earliest opportunity consistent with the client's goals. Some matters can be resolved before a lawsuit is filed. If not, the lawsuit process begins when one party files a complaint and the opposing party receives notification of the complaint and is required to answer. Once filed, the discovery process begins, during which the parties have the opportunity to gather and assess evidence, including document discovery and depositions. Often, the issues in dispute can be narrowed with targeted motion practice. When fully prepared, the case is scheduled for trial before a judge or jury. Settlement is often possible during the litigation process, either through mediation or old-fashioned negotiation. However, if a settlement is not possible or does not attain your goals, I am fully prepared to take your case to trial. I strive to always recommend the best course of action for your circumstances and, based on experience, give you an honest assessment of your case. My clients' goals have first priority.
Professional Activities
Community Action Council, Board of Directors, 2009-Present
Fayette County Bar Association, President, 2008-2009
Fayette County Bar Association, Board of Directors, 2003-2010
Colorado Trial Lawyers Association, Board of Directors, 1998-1999