From Our Video Series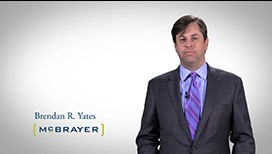 Honors & Awards
The Best Lawyers in America®, 2023 (Construction Law)
Kentucky Super Lawyers®, 2013-2014

Lexington Chapter of the Leukemia and Lymphoma Society - Man of the Year, 2005
Admissions
Kentucky, 2002
U.S. District Court Eastern District of Kentucky, 2003
U.S. District Court Western District of Kentucky, 2003
U.S. Court of Appeals 6th Circuit, 2003
Education
Louis D. Brandeis School of Law, University of Louisville, Louisville, Kentucky, J.D., 2002
Honors: Member, Moot Court Board, 2000-2001
Law Journal: Journal of Law Education, Member, 2001-2002
University of Kentucky, Lexington, Kentucky, B.A., 1998
Major: Political Science
Minor: Business
Overview
The value I bring to the client and the McBrayer firm is that I am willing to work hard to obtain the goals/objectives that the client wants to achieve with his or her particular case. Oftentimes, after lawyers have been involved in a case for some time, they lose sight of what the client seeks to resolve/accomplish through their representation. This is something I believe can be alleviated by maintaining an open dialogue with the client throughout my representation and by listening to their particular concerns and needs. Ultimately, the reason that we are here is to represent our clients' best interests and to help them achieve their goals/objectives through our representation.
As a member of the firm's litigation department, I practice in a variety of areas involving civil litigation. However, a large part of my practice involves real estate litigation, contract litigation, construction litigation, and landlord-tenant law. These areas stretch across a wide spectrum that includes negotiating and preparing contract and lien documents, lease negotiations (both commercial and residential), litigation of lease disputes, construction and/or real estate contract disputes, and a variety of other issues that arise during the course of a construction project, a real estate transaction, or the term of the commercial or residential lease.
Kentucky Leader
Community/Civic Leadership
My family, friends, community, and career are of the utmost importance to me. When I am not practicing law, I enjoy being involved in my community through either direct service on civic boards or charitable organizations and by participating in local community events. I believe it is important to know and be able to relate to the other members of my community. People are not defined by the jobs or titles they hold; rather, every person plays an important role in his or her community by participating and being involved in community events and/or causes. Since 2014 I've served as a Board Member for the Lexington Public Library Foundation where I help raise money and awareness for the numerous programs and benefits offered by the library to the local community. The Lexington Public Library Foundation is the fundraising arm of the Lexington Public Library. Foundation funding helps the Library create innovative new programs, expand services, make capital improvements, and keep up with the latest – and ever changing – technologies.
News & Insights
News
The Court's rulings regarding the enforceability of these statues will likely have far-reaching effects on how construction defect and design cases are litigated in Kentucky in the future.
Multimedia
Multimedia
Brendan R. Yates - Attorney Biography
Construction
Serving clients in Kentucky and throughout the United States, I handle negotiations and disputes on behalf of owners, developers, contractors, suppliers, engineers, and architects in all facets of the construction project, from procurement to contract negotiations to dispute resolution.
Our firm routinely handles construction law issues that arise on all types of projects — public and private, large and small. I understand the roles of the participants, as well as emerging trends in the construction and real estate industry.
I represent clients in the negotiation and preparation of all necessary contract documents, lien documents, and lease-related issues. While my firm and I view litigation as a last resort for resolving construction disputes, we understand that litigation is sometimes unavoidable. As such, I also have extensive experience prosecuting and defending claims involving construction defects, design defects, bid protests, lien filings and enforcement, change orders, architectural errors, surety issues, payment and performance bonds, insurance and much more.
Lease Disputes
A tenant that does not pay or will not adhere to the terms of the lease is not only a nuisance, but a liability. As a real estate litigation attorney, I have extensive experience handling lease disputes, both commercial and residential. My practice includes not only the negotiation and preparation of the lease documents, but dispute resolution and litigation, including, without limitation, addressing issues involving the nonpayment of rent and/or other financial obligations under the lease, material noncompliance or default by the tenant under the lease, unauthorized use of and/or renovations to the subject property, wrongful encumbrance of the subject property resulting from the tenant's acts or omissions, assignment or subleasing pursuant to the lease, and the exercising of various options provided for in the lease.
Landlord Tenant
I represent small and large commercial and residential property owners, including corporate leasing companies, residential management companies, individual owners of multiple properties, and individual tenants. My practice focuses on the negotiation and preparation of lease agreements, enforcement of those agreements, and, if necessary, eviction.
Professional Activities
Kentucky Bar Association, Member, 2002-Present
Fayette County Bar Association, Member, 2002-Present
Rotary Club of Lexington, Member, 2012-Present
Bluegrass Conservancy, Young Friends of the Bluegrass, Member, 2008-2010
University of Kentucky Fellows Society, Henry Stites Barker Fellow, 1998-Present