From Our Video Series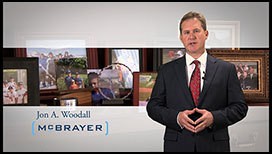 Honors & Awards
The Best Lawyers in America®, 2013-2022 (Construction Law, Land Use and Zoning Law)

AV Peer Review Rated by Martindale-Hubbell®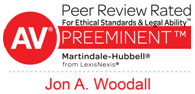 Admissions
Kentucky, 1994
U.S. District Court Eastern District of Kentucky, 1994
U.S. District Court Western District of Kentucky, 1994
U.S. Court of Appeals 6th Circuit, 1994
Education
Northern Kentucky University, Salmon P. Chase College of Law, Highland Heights, Kentucky, J.D., 1994
University of Kentucky, Lexington, Kentucky, B.A., 1990
Overview
I understand that urgent legal issues can crop up at any time. The McBrayer team responds with prompt service and timely solutions when our clients need us. Our clients come to us with significant legal problems and specific needs. They want to know that their case is in good hands at all times. At McBrayer, our clients know their legal problems will be addressed directly by experienced lawyers, a key reason they come to our law firm.
In the fast-paced world of business, legal counsel must be nimble and responsive. It is my commitment to my clients that I am accessible to them day or night and on weekends. Moreover, our firm has the in-house legal depth to deliver advice and advocacy without delay on virtually any legal issue that arises..
My practice is concentrated in the areas of construction law, non-compete enforcement, and land use law (including eminent domain defense). I counsel clients on issues relating to contract formation and performance as well as the litigation of complex construction and commercial disputes (including water intrusion/mold claims) at the state, federal, and administrative levels. Client representation includes contractors, developers, builders, owners and their insurers in construction related disputes before administrative bodies such as OSHA, various environmental protection agencies, and labor oversight divisions.
In addition, I counsel tobacco wholesalers and distributors on issues specific to Master Settlement Agreement compliance. I have handled litigation relating to MSA compliance in the states of Missouri, Nebraska, North Carolina, Michigan, West Virginia, Tennessee, and Kentucky. Also, my legal practice affords me with the privilege of representing a number of entertainers and Division One basketball coaches in the course of contract and endorsement negotiations.
Primary Practice
Additional Practice Experience
Kentucky Leader
Community/Civic Leadership
At the McBrayer law firm, we care about the communities where we live and work, and strive to give back through community leadership, sponsorship, and support of many community causes. I am proud to be extremely active in civic affairs at the state and local level, especially those involving the conservation of our natural resources and the protection and personal development of Kentucky's children. I am past Chairman of the Board of the High Street YMCA. As a father of three boys, I immensely enjoy coaching Little League baseball and am a past president of Eastern Little League. I also currently serve as President of the Kentucky Fish and Wildlife Foundation, an organization that supports conservation and youth education efforts throughout Kentucky. I am an avid outdoorsman and enjoy cycling, snow skiing, hunting, and fishing with my family when time allows.
News & Insights
News
U.S. News – Best Lawyers® in America

,

September 4, 2019

The Court's rulings regarding the enforceability of these statues will likely have far-reaching effects on how construction defect and design cases are litigated in Kentucky in the future.

Attorneys from McBrayer law offices in Lexington and Louisville achieved a 2018 listing in U.S. News Best Lawyers in America
Seminars & Speaking Engagements
Getting It "Write": A McBrayer Employment Law Seminar, Louisville, KY

Getting It "Write": A McBrayer Employment Law Seminar, Lexington, KY

The Basics Land Use, Planning & Zoning, University of Kentucky CLE, Technological Presentation, September 2013
Multimedia
Multimedia
Jon A. Woodall - Attorney Biography

Kentucky Leader - Jon A. Woodall - Kentucky Fish and Wildlife Foundation
Construction
Serving clients in Kentucky and throughout the United States, I handle all facets of construction law on behalf of owners, developers, contractors, suppliers, engineers, architects, and governmental entities. Our firm is equipped to handle every stage of a construction project, from procurement to development to dispute resolution. I routinely handle construction law issues that arise on all types of projects — public and private, large and small.
I chose to focus my practice on construction law because of my family's construction and real estate background. I grew up digging ditches, hammering nails, driving heavy trucks, and operating heavy equipment. Construction is an industry where you must be able to speak the language. Over the years, I have earned my knowledge and experience from the ground up.
My construction law practice encompasses all phases of a project, including procurement, contracts, and dispute resolution.
The following are examples of some of the types of contracts I help our clients develop:
Master contracts for use in several projects
Modifications to industry standard contracts such as AIA (The American Institute of Architects), AGC (Associated General Contractors of America) and DBIA (The Design-Build Institute of America)
Subcontractor agreements
Contracts for complex or unique projects
Real estate development agreements
Easement agreements
Joint bid agreements
Construction management agreements
Lump sum, cost-plus fee, guaranteed maximum price and design-bid-build contracts
Litigation is a last resort for resolving construction disputes. Unfortunately, litigation may be unavoidable in some cases. When litigation is unavoidable, I have the experience and resources necessary to assist our clients to obtain a favorable outcome. If litigation should arise, my knowledge and expertise of defending a wide range of construction claims, including:
Construction defects
Material defects
Design defects
Bid protests
Change orders
Architectural errors
Easement disputes
Contractor and subcontractor disputes
Surety issues
Payment bonds
Commercial General Liability
Premises liability
Regulatory compliance
Prevailing Wage Defense
Our construction law group works collaboratively with attorneys who focus on other areas to address issues that may arise. Whether the issue involves taxation, energy, regulatory compliance, or any other matter, we have the resources and the skill to offer coordinated services for even the most complex needs.
Professional Activities
American Bar Association, Member, 2000-Present
Fayette County Bar Association, Member, 1994-Present
Federal Bar Association, Member 2013-Present
Kentucky Chamber of Commerce, Infrastructure Policy Council, 2020
Kentucky Fish and Wildlife Foundation, President, 2019-2020
Non-Compete Agreements
A non-compete agreement is a contract that prohibits one of the contracting parties from engaging in activities that are competitive with the other contracting party. It can help a company protect its trade secrets, intellectual property competitive advantage, and other confidential information. However, it cannot be used to restrain trade or unreasonably restrict an individual from earning a living.
I have extensive experience helping employers hire and retain the right employees while keeping their company secrets safe. Clients range from small businesses to large Fortune 500 corporations.
McBrayer attorney Brendan Yates and I were instrumental in clarifying Kentucky's laws regarding non-compete contracts. In the landmark case of Creech, Inc. v Brown, we won a victory at the state Supreme Court level and changed how the enforceability of these agreements are determined. We have the legal acumen and knowledge you need to help protect your business interests to the fullest extent possible under the law. Our meticulous, customized approach to contract drafting can also help you proactively avoid potential litigation altogether.
Land Use Law
Within the land use planning area, I have extensive experience in the defense of eminent domain actions instituted by state and local authorities. I have tried numerous cases to favorable verdicts in most of the circuit courts comprising central, eastern, and southeastern Kentucky. In addition, I have successfully handled the presentation of many zone map amendment, variance, and conditional use permit requests before governmental bodies located throughout central Kentucky.
Reported Appellate Opinions
Kentucky Court of Appeals:
D. W. Wilburn, Inc. et al. v. The Painting Company et al. The Kentucky Court of Appeals issued its opinion (to be published) in which it addressed several issues, including the award of attorney fees and costs pursuant to Kentucky's Fairness in Construction Act where the losing party is deemed to have acted in bad faith. After a week-long trial, the Fayette Circuit Court entered a judgment (and post-judgment order) in favor of our client, The Painting Company. D.W. Wilburn, Inc. appealed the lower court's decision. The Court of Appeals affirmed the lower court's award of costs and attorney fees to The Painting Company. The Court of Appeals' holding is significant in that there are few cases or legal precedent interpreting and/or applying the provisions of Kentucky's Fairness in Construction Act. This published opinion will provide guidance to the construction community regarding enforcement of the Act and its costs and attorney fee provision in particular. April 12, 2019
Moore v LFUCG. In a reversal of the trial court's prior Order, McBrayer client Justin Moore won an appeal relating to his property on Deer Haven Lane in the Polo Club neighborhood of Lexington. September 15, 2017.
Breedlove v. Smith Custom Homes, Inc. The Kentucky Court of Appeals issued its opinion in Carolyn Breedlove v. Smith Custom Homes, Inc. The Court affirmed the lower court's enforcement and held that Breedlove's claims against Smith Custom Homes, Inc. and John Smith were time-barred by statute. September 22, 2017.
Griffith v. Flynn, et al. The Kentucky Court of Appeals upheld a trial court verdict in favor of two building inspectors employed by Georgetown and Scott County. They had issued Certificates of Completion and Occupancy on remodeling work for the Griffiths that was later shown to have defects. The court held that a failure to the inspectors to uphold certain building standards does not give rise to liability on the part of the inspectors or the government(s) they worked for, unless they carried out their duties in bad faith. The duty of the inspectors is to protect the public generally, not to protect individuals specifically. June 27, 2003.
Supreme Court of Kentucky:
Barbara Montgomery v. Atlantic Records Corporation and John Michael Montgomery. This suit claimed that John Michael Montgomery violated the statutory right of publicity of decedent Harold Edward Montgomery by using his voice and likeness in a music video. The Kentucky Court of Appeals granted summary judgment in favor of singer John Michael Montgomery, upholding the earlier court's judgment. November 21, 2001.
Creech v. Brown – This landmark case was instrumental in clarifying Kentucky's laws regarding non-compete contracts, and changed how the enforceability of these agreements is determined. The court held that continued employment, standing alone, is no longer sufficient consideration to justify or support enforcement of a non-competition agreement. June 19, 2014