Honors & Awards
Kentucky Super Lawyers®, 2023 (Construction Litigation)
The Best Lawyers in America®, 2013-2024 (Construction Law, Land Use and Zoning Law)

AV Peer Review Rated by Martindale-Hubbell®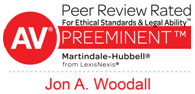 Admissions
Kentucky, 1994
U.S. District Court Eastern District of Kentucky, 1994
U.S. District Court Western District of Kentucky, 1994
U.S. Court of Appeals 6th Circuit, 1994
Education
Northern Kentucky University, Salmon P. Chase College of Law, Highland Heights, Kentucky, J.D., 1994
University of Kentucky, Lexington, Kentucky, B.A., 1990
Overview
Jon Woodall knows that in the fast-paced world of business, especially in construction, legal counsel must be nimble and responsive. Urgent legal issues can crop up at any time, so Jon is committed to providing his clients with prompt service and timely solutions, no matter how big or small the problem may be. He prioritizes being accessible to clients any time they may need him, even on nights and weekends, so he can assist them with finding solutions for problems just as quickly as they present themselves. With nearly thirty years of legal experience, Jon knows how to tackle a wide variety of legal issues—his depth of knowledge, creative problem-solving skills, and connections with other McBrayer attorneys ensure that his clients will be in good hands.
An experienced litigation attorney, Jon is prepared to respond to the specific needs of his clients in Lexington and beyond in the areas of construction law, non-compete enforcement, and land use law, including eminent domain defense. He additionally counsels clients on issues relating to contract formation and performance as well as the litigation of complex construction and commercial disputes, including water intrusion or mold claims, at the state, federal, and administrative levels. His clients include contractors, developers, builders, owners and their insurers in construction related disputes before administrative bodies such as OSHA, various environmental protection agencies, and labor oversight divisions. He also counsels tobacco wholesalers and distributors on issues specific to Master Settlement Agreement compliance and has handled related litigation in the states of Missouri, Nebraska, North Carolina, Michigan, West Virginia, Tennessee, and Kentucky. Jon has also represented a number of entertainers and Division One basketball coaches in the course of contract and endorsement negotiations.
Jon is committed to giving back to our community through leadership, sponsorship, and support of community causes. He is very active in civic affairs at the state and local level, especially those involving the conservation of natural resources and the protection and personal development of Kentucky's children. He has served as Chairman of the Board of the High Street YMCA and is currently the President of the Kentucky Fish and Wildlife Foundation, an organization that supports conservation and youth education efforts throughout Kentucky. He also serves as a member of the Board of Bluegrass Tomorrow, an organization dedicated to promoting economic development that improves the quality of life for Kentuckians and protects Kentucky's natural resources through collaboration, preservation, accountability, and education. A father of three boys, Jon has also immensely enjoyed coaching Little League baseball and is a past president of Eastern Little League. He is an avid outdoorsman and enjoys cycling, snow skiing, hunting, and fishing with his family.
Primary Practice
Additional Practice Experience
News & Insights
News
U.S. News – Best Lawyers® in America

,

September 4, 2019

The Court's rulings regarding the enforceability of these statues will likely have far-reaching effects on how construction defect and design cases are litigated in Kentucky in the future.

Attorneys from McBrayer law offices in Lexington and Louisville achieved a 2018 listing in U.S. News Best Lawyers in America
Seminars & Speaking Engagements
Getting It "Write": A McBrayer Employment Law Seminar, Louisville, KY

Getting It "Write": A McBrayer Employment Law Seminar, Lexington, KY

The Basics Land Use, Planning & Zoning, University of Kentucky CLE, Technological Presentation, September 2013
Professional Activities
American Bar Association, Member, 2000-Present
Fayette County Bar Association, Member, 1994-Present
Federal Bar Association, Member 2013-Present
Kentucky Chamber of Commerce, Infrastructure Policy Council, 2020
Kentucky Fish and Wildlife Foundation, President, 2019-2020
Reported Appellate Opinions
Kentucky Court of Appeals:
D. W. Wilburn, Inc. et al. v. The Painting Company et al. The Kentucky Court of Appeals issued its opinion (to be published) in which it addressed several issues, including the award of attorney fees and costs pursuant to Kentucky's Fairness in Construction Act where the losing party is deemed to have acted in bad faith. After a week-long trial, the Fayette Circuit Court entered a judgment (and post-judgment order) in favor of our client, The Painting Company. D.W. Wilburn, Inc. appealed the lower court's decision. The Court of Appeals affirmed the lower court's award of costs and attorney fees to The Painting Company. The Court of Appeals' holding is significant in that there are few cases or legal precedent interpreting and/or applying the provisions of Kentucky's Fairness in Construction Act. This published opinion will provide guidance to the construction community regarding enforcement of the Act and its costs and attorney fee provision in particular. April 12, 2019
Moore v LFUCG. In a reversal of the trial court's prior Order, McBrayer client Justin Moore won an appeal relating to his property on Deer Haven Lane in the Polo Club neighborhood of Lexington. September 15, 2017.
Breedlove v. Smith Custom Homes, Inc. The Kentucky Court of Appeals issued its opinion in Carolyn Breedlove v. Smith Custom Homes, Inc. The Court affirmed the lower court's enforcement and held that Breedlove's claims against Smith Custom Homes, Inc. and John Smith were time-barred by statute. September 22, 2017.
Griffith v. Flynn, et al. The Kentucky Court of Appeals upheld a trial court verdict in favor of two building inspectors employed by Georgetown and Scott County. They had issued Certificates of Completion and Occupancy on remodeling work for the Griffiths that was later shown to have defects. The court held that a failure to the inspectors to uphold certain building standards does not give rise to liability on the part of the inspectors or the government(s) they worked for, unless they carried out their duties in bad faith. The duty of the inspectors is to protect the public generally, not to protect individuals specifically. June 27, 2003.
Supreme Court of Kentucky:
Barbara Montgomery v. Atlantic Records Corporation and John Michael Montgomery. This suit claimed that John Michael Montgomery violated the statutory right of publicity of decedent Harold Edward Montgomery by using his voice and likeness in a music video. The Kentucky Court of Appeals granted summary judgment in favor of singer John Michael Montgomery, upholding the earlier court's judgment. November 21, 2001.
Creech v. Brown – This landmark case was instrumental in clarifying Kentucky's laws regarding non-compete contracts, and changed how the enforceability of these agreements is determined. The court held that continued employment, standing alone, is no longer sufficient consideration to justify or support enforcement of a non-competition agreement. June 19, 2014