From Our Video Series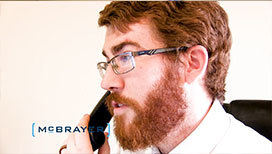 Education
University of Kentucky College of Law, J.D., 2018
Production Editor, Kentucky Journal of Equine, Agriculture & Natural Resources Law
Honors Board, Moot Court
CALI award for Antitrust Law, 2016
University of Louisville, 2015
B.S. Political Science, cum laude
Minor: Economics
Overview
My practice centers on administrative law with a focus on alcoholic beverage regulation, and general litigation with a focus on insurance defense and construction law. I come by my interest in alcoholic beverage regulation honestly; even before I started law school, I worked at Brown-Forman, working a small role in compliance and supply chains. During my time there, I gained firsthand-experience over how complex and confusing alcohol regulation can be. This is due to the heavily-regulated nature of the industry, which are largely from the muddled laws that have been on the books since Prohibition. My experience in seeing the impact of this tangled mess of laws and regulations shaped my interest in the law. Now, I help people navigate these obstacles to help their businesses flourish.
My primary focus for my clients is to be a steady hand to guide them when they are trapped in a web of burdensome laws, regulations, or lawsuits. These moments can be some of the most trying times for individuals and businesses, and I understand that my job is to ease the burden as much as possible and guide them to the most effective outcome. I thrive on untangling legal knots and removing obstacles, and nothing provides me more satisfaction professionally than knowing that I've put my experience and education to work on behalf of someone who is working hard to achieve their dreams. My clients count on me to understand not just their goals, but their concerns, their fears, their hopes and their vision, and by doing that, I can best put them on the path to success.
I clerked at both the Lexington and Louisville offices of McBrayer, where I was given a wide variety of challenges and opportunities to learn more about different parts of the law. When I was given the opportunity to continue on at McBrayer during my last year in law school, I took it without hesitation.
Kentucky Leader
Community/Civic Leadership
I am an active member of the Kentucky Guild of Brewers and an associate member with the National Association of Licensing and Compliance Professionals (NALCP).
News & Insights
Seminars & Speaking Engagements
Louisville, KY

,

June 5, 2019

Lexington, KY

,

June 3, 2019

Kentucky Guild of Brewers, New Brewer Bootcamp, Covington, KY

,

January 28, 2019
Multimedia
Multimedia
T. Neal Morris
Professional Activities
Kentucky Bar Association
Fayette County Bar Association