From Our Video Series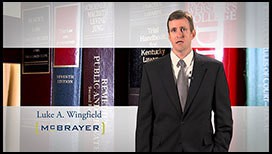 Honors & Awards
Kentucky Super Lawyers®, 2022 (Insurance Coverage)
The Best Lawyers in America®, 2020-2023 (Insurance Law, Litigation - Insurance)
A. M. Best Client Recommended, 2018

Admissions
Kentucky, 2000
U.S. District Court Eastern District of Kentucky, 2002
U.S. District Court Western District of Kentucky, 2003
U.S. Court of Appeals 6th Circuit, 2008
Education
University of Kentucky College of Law, Lexington, Kentucky, J.D., 2000
Honors: UK College of Law Moot Court National Team, 1999-2000
Law Journal: Journal of Natural Resources and Environmental Law, Production Editor, 1999-2000
Western Kentucky University, Bowling Green, Kentucky, B.A., Summa Cum Laude, 1997
Major: History and Government
Overview
Too many times attorneys focus on telling clients what they want to hear rather than providing an honest and frank assessment of the matter at hand, both good and bad. As an attorney, it is my obligation to tell the truth, even if it is hard to hear. My philosophy is that it is better for my clients to be fully informed than surprised later by something that could have and should have been anticipated and prepared for. Being honest and straightforward with my clients is how I practice law, and this allows my clients to make their own informed decisions.
As for being a litigator, the thing I enjoy most is being in the courtroom, having to think on my feet to relay the most persuasive argument I can. With my litigation practice focused predominately on insurance defense, I get this opportunity often. I have represented insurance carriers and their insureds over the years as to essentially any fact pattern imaginable, be it wrongful death claims, car wrecks, premises liability, construction defects, bad faith allegations and nearly everything in between. I have also routinely handled declaratory judgment actions seeking to have courts determine the scope of insurance coverage available.
In addition to my strong insurance practice, I also represent clients on employment and trademark matters. I have successfully obtained registration of numerous trademarks for clients with the USPTO.
Primary Practice
Additional Practice Experience
Professional Activities
Professional Activities
Kentucky Bar Association, 2000-Present
Fayette County Bar Association, 2000-Present
News & Insights
News
U.S. News – Best Lawyers® in America

,

September 4, 2019
Seminars & Speaking Engagements
Employment Policies and Procedures: A Critical Legal Update for Employers, McBrayer law, 2012, 2009

Avoid Mistakes: Hot Topics in Employment and Labor Law for 2009, Kentucky Association of Homes and Services for the Aging Annual Conference
Articles
Second Edition

University of Kentucky Office of Continuing Legal Education

,

February 17, 2015

2014 UM/UIM Insurance Law Compendium

"Do You Want Liability With That?" The NLRB McDonald's Decision that could undermine the Franchise Business Model, KY Chamber, HR Newsletter, September 2014
Multimedia
Multimedia
Luke A. Wingfield - Attorney Biography
Insurance
As a firm, McBrayer is comprised of an experienced team of litigators that is capable of handling all aspects of your defense matters from start to finish. With the changing economic times, more insurers are seeking to separate early on those cases that should be resolved from those that demand a more aggressive defense, and our skill and experience enable us to help you make that determination. We are experienced negotiators and can assist in the prompt resolution of claims. For those cases that merit litigation, I see to it that all applicable legal defenses are asserted and pursued. From discovery, through motion practice, to taking a case through trial, and on through the appeal, I believe I have the skill, knowledge, and experience to best represent my client's interests. I am ready to assist you from the initial pre-litigation assessment to representation before the highest courts of Kentucky on the plethora of matters important to insurance carriers and their insureds in Kentucky while ensuring that costs are kept in mind and never compromising exceptional service and representation.
I actively defend the insurance companies and their insureds as to issues of:
Motor vehicle liability
Contract liability
Products liability
Premises liability
Municipal liability
Civil rights liability
Professional liability
Employment matters
Construction defects
Coverage and bad faith
And I can assist in:
Pre-litigation assessment
Mediation
Arbitration
Administrative hearings
Mock trials
Litigation and jury trials throughout Kentucky and before the Western and Eastern Districts of Kentucky
Appeals practice before the Kentucky Court of Appeals, Supreme Court of Kentucky, and the 6th Circuit Court of Appeals
Employment
My in-depth knowledge of this area of the law has benefited employers ranging from small, family-owned businesses to employers employing hundreds. Clients contact me because they know I am committed to meeting their needs. As a firm, McBrayer handles essentially all legal issues employers may face, and in particular I commonly advise clients as to human resources issues, drafting of employee handbooks, handling unemployment claims of former employees, and defending discrimination claims against employers.
Some of my insurance clients call upon me to evaluate coverage issues arising out of Employment Practices Liability Insurance coverage involving the duty to defend, duty to indemnify, policy limit exposures, punitive damage coverage, additional/omnibus insureds, and as to the multiple exclusions common in EPLI coverage. In addition to providing coverage opinions in this area, I also prosecute declaratory judgment actions and defend contractual and extra-contractual claims.
Trademarks
Though often underestimated, trademarks are extremely valuable. Your business name and logo represents your business and every time your business interacts with a customer, that customer leaves with an impression, which is referred to as good will. Well-recognized products and services have a high level of good will, which correlates with a higher degree of brand recognition, trustworthiness, and customer loyalty. After deciding upon a trademark to be used by your business, I can perform a search to ensure it is available and then pursue registration of that mark with the U.S. Patent and Trademark Office. Then once that registration is obtained I can help you defend your mark from those who would attempt to wrongfully take it or dilute it.