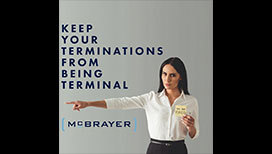 Employment Law - Keep Your Terminations from Being Terminal
Related Areas
Overview
Kentucky Wrongful Termination Attorneys
Employers that require sophisticated defense in disputes with employees can find representation at the law firm of McBrayer. The experience offered by our lawyers allows us to zealously pursue resolutions to disputes of all types, including:
Wrongful termination
Title VII discrimination claims
Wage and hour claims
Employment contract disputes
Intervention During The Investigation Stage
Disputes may begin with an investigation. For example, an investigator from the Department of Labor may show up one day to discuss a wage and hour issue. This is the time to contact an attorney. Employers should not wait until these matters turn into full-blown disputes.
We get involved in these cases immediately. By stepping in early in the process, we can often keep the disputes out of administrative courts and even circuit courts. The time alone that this can save is worth it, not to mention the potential financial savings. We know how to resolve issues before they become major problems.
Employer Defense From Trial Attorneys
We are dedicated to finding solutions, not to the continuation of conflict. The bottom line is that if a dispute can be resolved without the time and cost of going to court, we make certain that our clients know about it. We want to help employers resolve disputes to their satisfaction so they can get back to the day-to-day process of running their business.
In some cases, though, trial is necessary. Clients come to our law firm because they know that our team features experienced trial attorneys. Our experience goes beyond doing the paperwork and handling the negotiation. We have succeeded time and time again in front of a judge and jury.
Take The First Step To Success
If you are faced with an employment law dispute, contact the experienced legal team at McBrayer. With law offices in Lexington and Louisville and a government relations practice in Frankfort, we serve clients throughout Kentucky and the United States.
News & Insights
News
Attorneys from McBrayer law offices in Lexington and Louisville achieved a 2018 listing in U.S. News Best Lawyers in America
Seminars & Speaking Engagements
A Seminar for Employers

The Mane on Main, 201 East Main Street, 15th Floor, Lexington, Kentucky

,

March 22, 2023

A Seminar for Employers

500W Training Center, 500 West Jefferson Street, 4th Floor, Louisville, Kentucky

,

March 21, 2023

A Webinar for Employers - How to Handle the Newest Set of Workplace Challenges from COVID-19

Tricks and Treats for HR Professionals

Louisville, Kentucky

,

January 29, 2018

Employment Law for Employers

Kentucky Chamber

Louisville, Kentucky

,

May 24-25, 2016

Harassment and Discrimination Update

Lexington, KY

,

November 5, 2015

The Expanding NLRA: Recent Holdings and Guidance from the NLRB

Lexington, KY

,

November 5, 2015

Same-sex Marriage, EEOC Interpretations of Title VII and other LGBT Issues in Employment

Lexington, KY

,

November 5, 2015

27th Annual Kentucky HR Update

Lexington, KY

,

May 26, 2015

27th Annual Kentucky HR Update

Louisville, KY

,

May 12, 2015
Multimedia
Multimedia
Employment Law - Keep Your Terminations from Being Terminal
Who We Serve
With offices throughout the Commonwealth of Kentucky, McBrayer PLLC, has been the region's preeminent law firm for Employment Law for the past fifty years. Our attorneys work with employers of all types and sizes to reduce the risk of litigation. To that end, we handle all matters that touch on the employment relationship, including development of hiring and firing policies and practices, including severance agreements and unemployment insurance benefits; creation of employee policy manuals; drafting and enforcement of non-compete agreements; non-solicitation and non-disclosure agreements; guidance on human resources issues; drafting of executive and employee contracts and compensation packages; and employee training regarding discrimination, harassment and retaliation.
During our representation, we make an effort to understand our clients' businesses in order to better meet their legal needs. This becomes important when our clients are involved in litigation. Our team of lawyers has vast experience and success in litigating harassment, discrimination and retaliation claims, non-compete agreements and a variety of other issues that relate to the employment relationship in both federal and state courts as well as in the arbitration arena. We will assist our clients in aggressively defending frivolous claims and by compromise or resolution of others. In any litigation case, we work with our clients as a partner to meet their expectations and reduce their risks.
Who do we serve? Our attorneys represent clients involved in every industry whether it be a small family owned business or a business on the Fortune 500 list. Our clients operate within many fields, including: health care, hospitality financial services, education, commercial real estate, manufacturing, physical therapy, retail establishments, agriculture, telecommunications, and construction. The common thread amongst all of them is employment relationships. Our experience in this area is unparalleled. Whether you have five employees or five hundred, our lawyers can address the full spectrum of your employment law questions and needs.