From Our Video Series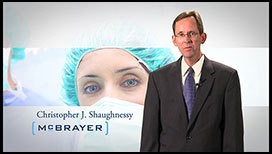 Admissions
Kentucky, 1990
U.S. District Court, for the Eastern District of Kentucky, 1995
U.S. District Court, for the Western District of Kentucky, 1995
U.S. Court of Appeals 6th Circuit, 1994
Education
University of Kentucky College of Law, Lexington, Kentucky, J.D., 1990
Honors: Member, Moot Court Board, 1989-1990
Honors: American Jurisprudence Award for Federal Courts, 1989
Honors: Phi Delta Phi
University of the South, Sewanee, Tennessee, B.A., 1986
Honors: With Honors
Major: History
Overview
Healthcare law is constantly changing and requires you to stay abreast of the changes in the law. There is never a dull moment in the healthcare industry. The government will quickly issue a policy directive, new rule or regulation, often with short notice, that will require you to get up to speed in order to advise your clients in the best possible manner. The McBrayer healthcare department strives to alert our clients of any changes that are on the horizon before they become effective so that our clients can modify their operations and be prepared for any regulatory changes.
The McBrayer firm is a very collegial, sophisticated law firm. Our attorneys enjoy working in tandem with one another to represent our clients in the most efficient and cost effective manner. I am a frequent speaker on health care issues and have authored a number of articles for numerous healthcare publications as well as contributed on a frequent basis to McBrayer's Healthcare Blog.
Since 1990, I have developed extensive experience in the health care law industry. My law practice represents institutions such as hospitals and nursing homes as well as individual medical professionals, including physicians, mid-level practitioners and nurses. I also represent small offices and large offices that are part of large networks. Some of the services I commonly provide are in the following areas: regulatory compliance, Certificate of Need and licensing, survey and certification, health care transactions, physician contracts, professional rights defense, fraud and abuse issues, Medicare and Medicaid reimbursement and appeals, privacy, litigation, and professional and third-party payor credentialing and reimbursement.
In addition, I also provide counseling and perform advisory work to help clients avoid having any regulatory problems by helping them to develop policies and procedures in order to train their employees in the requirements of the law.
When conducting business, health care providers must navigate many complicated regulations, such as the federal physician self-referral prohibition (commonly known as the Stark law), the federal Anti-Kickback Statute, and myriad state fraud and abuse statutes that may or may not mirror the federal rules. I have completed numerous Stark and other regulatory analyses for many types of providers, such as group practices, hospitals, physician-hospital organizations, physician organizations, physician owned distributorships, equipment leasing companies and diagnostic testing facilities to name a few. Whatever your healthcare business venture may be, the McBrayer Healthcare attorneys can help you recognize the potential regulatory pitfalls so that you can plan and conduct your business in compliance with health care fraud and abuse laws such as the Stark regulations and the Anti-Kickback statute.
Professional Activities
Professional Activities
American Health Lawyers Association, Member, 1995-Present
Kentucky Bar Association, Member, 1990-Present
Fayette County Bar Association, Member, 1990-Present
News & Insights
News
Business Lexington, November 2019

,

November 1, 2019

U.S. News – Best Lawyers® in America

,

September 4, 2019

Medical News

,

June 12, 2019

Attorneys from McBrayer law offices in Lexington and Louisville achieved a 2018 listing in U.S. News Best Lawyers in America
Seminars & Speaking Engagements
"Compliance Issues for Rural Health Clinics"

London, Kentucky

,

September 14, 2018

McBrayer Webinar

,

May 25, 2016

McBrayer Webinar

,

May 24, 2016

Employment Policies and Procedures: A Critical Legal Update for Employers, McBrayer law, 2009

Healthcare Regulatory Medicine, DeBusk College of Osteopathic Medicine, 2008 - Present
Multimedia
Multimedia
Christopher J. Shaughnessy - Attorney Biography

Webinar - What Health Providers Should Know: Overpayments and the False Claims Act
Stark Law
The physician self-referral prohibition, commonly known as the Stark law, is a complex set of regulations that has constantly expanded since its initial publication in 1995. At that time, Stark only applied to clinical laboratory services. Now, Stark applies to a large number of services (referred to as the "Designated Health Services" or "DHS") as well as virtually any financial relationship between a physician and the entity performing or billing for the DHS. In short, physicians are prohibited from referring DHS payable by Medicare or Medicaid to any entity with which the physician (or an immediate family member) has a financial relationship unless an exception is met. If no exception exists, severe penalties accrue, including denial of payment, refund of payment, imposition of a $15,000 per service civil monetary penalty and imposition of a $100,000 civil monetary penalty for each arrangement considered to be a circumvention scheme.
I can help you analyze whether the Stark law applies to your relationships and whether there is an exception available. If there is an exception available, I can help you structure your contracts, procedures and policies to comply with Stark. I recommend that you revisit this analysis on at least a yearly basis (if not more frequently) to make sure that your relationships, the DHS you perform, and the law have not changed in a way that has rendered you out of compliance.
Anti-Kickback Statute
Most situations that potentially implicate the Stark law must also be analyzed under the Anti-Kickback Statute and other health care regulations. The Anti-Kickback Statute provides criminal penalties for individuals or entities who knowingly and willfully offer, pay, solicit, or receive remuneration in order to induce business payable by Medicare or Medicaid. A violation of the Anti-Kickback Statute could result in fines of up to $25,000, imprisonment of up to five years, or both. In addition, a violation could result in exclusion from the Medicare program.
There are many other laws, both federal and state, which create potential liability for providers and other health care businesses, including state anti-kickback statutes, state self-referral prohibitions (similar to the federal Stark regulations, but often applicable to all forms of payors). Health care businesses and providers also must be aware of the corporate practice of medicine prohibitions that exist in many states and specific Medicare rules that apply to different types of providers. Some examples of Medicare rules that can cause problems for health care businesses include the Anti-Markup Rule, conditions of participation for various entities, and performance, licensure or certification standards.
Whether you are addressing these issues during business planning or you have a specific concern, I can help you understand and comply with these many complicated health care regulations.