From Our Video Series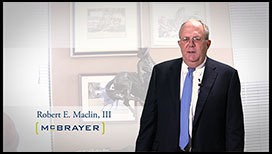 Honors & Awards
Kentucky Super Lawyers®, 2013-2022 (General Litigation)

The Best Lawyers in America®, 2020, 2022 (Litigation - Banking & Finance)
The Best Lawyers in America®, 2013-2022 (Litigation - Trusts and Estates)
The Best Lawyers in America®, 2021, 2022 (Litigation - Insurance)

A. M. Best Client Recommended, 2018

AV Peer Review Rated by Martindale-Hubbell®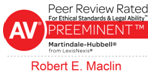 Admissions
Kentucky, 1984
Texas, 1991
U.S. District Court Eastern District of Kentucky, 1985
U.S. District Court Western District of Kentucky, 1991
U.S. District Court Central District of Illinois, 2003
U.S. District Court Southern District of Texas, 2003
U.S. Court of Appeals 6th Circuit, 1988
Education
University of Kentucky College of Law, Lexington, Kentucky, J.D., 1984
University of Kentucky, Lexington, Kentucky
Masters in Agricultural Economics, 1979
University of Kentucky, Lexington, Kentucky, B.S., 1977
Major: Agricultural Economics
Overview
Through over 30 years of practice, I have developed a broad range of legal experience and strong knowledge of the Commonwealth of Kentucky's legal systems and those other states where my clients conduct business, including the state of Texas, where I am also licensed. I regularly appear in state and federal courts on behalf of my clients and have brought numerous cases to favorable verdicts and judgments. My long list of notable cases demonstrates my ability to succeed in even the most challenging matters. I try cases before judges, juries, and arbitrators, and have argued/appeared before state courts such as the Kentucky Court of Appeals and the Kentucky Supreme Court, the Montana Supreme Court and the state courts of Texas. I have also practiced in federal courts such as the U.S. District Courts for the Eastern and Western District of Kentucky, U.S. District Court for the Central District of Illinois, U.S. District Court for the Southern District of Texas, and the U.S. Court of Appeals for the Sixth Circuit.
My practice is concentrated in the following areas:
Insurance litigation/defense. I represent insurance clients in bad faith claims, insurance claims, general insurance defense, insurance coverage issues, regulatory matters and other litigation and transactional matters.
Commercial and banking litigation, matters and transactions (including real estate title insurance matters). I represent banking clients in lender liability claims, insurance claims and coverage issues, secured transactions, leasing disputes, regulatory matters and other litigation and transactional matters.
Equine litigation and transactions
Trust and estate litigation
I represent businesses and individuals in business disputes, litigation, transactions, insurance coverage matters and regulatory matters.
Our founding member, Terry McBrayer, has instilled in all our attorneys that it is imperative that the client be kept abreast of developments and be kept involved in the case. This is a commitment that I take great ownership in and a value I bring over my competitors. We are a medium sized firm with small firm attention and large firm capability. We do not distance ourselves from our clients, even when there is no current legal action pending. We will always maintain our relationship with our clients, our involvement with our clients, and above all else, our communication with our clients.
Primary Practice
Additional Practice Experience
Professional Activities
Professional Activities
American Bar Association, Business Law Section, Member, 2010
American Quarter Horse Association, Member
Fayette County Bar Association, Business Law Section, Chairman, 1992-1994
State Bar of Texas, Member
Thoroughbred Owners & Breeders Association, Member
United States Polo Association, Member
News & Insights
News
Super Lawyers

,

December 10, 2020

Super Lawyers

,

December 2, 2019

U.S. News – Best Lawyers® in America

,

September 4, 2019

Attorneys from McBrayer law offices in Lexington and Louisville achieved a 2018 listing in U.S. News Best Lawyers in America

Commonwealth of Kentucky, Court of Appeals

,

May 20, 2016
Articles
Second Edition

University of Kentucky Office of Continuing Legal Education

,

February 17, 2015

Effectiveness of Burley Tobacco Poundage Quotas in Kentucky Production and Supply, Tobacco Science, Vol. XXIV: pg. 73-76, 1979

Effectiveness of Burley Tobacco Poundage Quotas in Kentucky Production and Supply, Tobacco International, Vol. 182, No. 13, pg. 85-88, 1979

Burley Tobacco Costs, Now and Next Year, Progressive Farmer, December 1980, 1980
Multimedia
Multimedia
Robert E. Maclin, III - Attorney Biography
Insurance Litigation/Defense/Coverage
McBrayer is comprised of an experienced team of litigators that is capable of handling all aspects of insurance litigation, defense and coverage matters from start to finish. While I have extensive trial experience, I also understand how important it is to endeavor to work towards a resolution through a combination of aggressive defense and alternative dispute resolution. We are experienced negotiators and can assist in the prompt resolution of claims. However, for those cases that merit litigation, we will see to it that every legal defense available to you and your insured's is utilized. From discovery, to disposing of matters on summary judgment, to taking a case through trial, and on through the appeals process, I and the McBrayer team have the skill, knowledge and experience to win at every level. I am ready to assist you from initial pre-litigation assessment and evaluation to representation before the highest courts throughout Kentucky on the many wide and varied areas where insurance applies while always ensuring that your costs are kept in mind and never compromising exceptional service and representation.
Experience within insurance litigation/defense/coverage includes:
Automobile liability
Premises liability
Products liability
Municipal liability
Public sector liability
Section 1983 litigation
Civil rights liability
Professional liability
Employment matters
Construction defects
Coverage and bad faith
And can assist in:
Pre-litigation assessment
Coverage Opinions
Mediation
Arbitration
Administrative hearings
Mock trials
Litigation and jury trials throughout Kentucky, and before the Western and Eastern Districts of Kentucky and the Southern District of Indiana
Appeals practice before the Kentucky Court of Appeals, Supreme Court of Kentucky, the 6th and 7th Circuit Court of Appeals and the United States Supreme Court
Bank Litigation & Transactions
I provide comprehensive legal services to financial institutions and private lenders. My practice ranges from transactional due diligence and proactive compliance with federal and state lending laws to representation in adverse regulatory actions, bankruptcy proceedings, and commercial and civil litigation. I currently serve state chartered and national chartered banks, credit unions and savings institutions, mezzanine lenders and private equity lenders, mortgage originators, credit card issuers and niche finance companies.
I serve as special counsel or general counsel to lenders and financial institutions, bringing sophisticated capabilities for all facets of lending law:
Regulatory compliance with federal and state laws
Commercial lending and litigation
Private lending
Real estate and development financing
Capital raising (equity financing or debt financing)
Banking litigation (defense against claims)
Creditors' rights in bankruptcy
Loan workouts
In addition, I have experience defending banks and finance companies in a wide range of litigated matters, including regulatory actions, Uniform Commercial Code (UCC) litigation, title insurance claims, lender liability in foreclosure, usury claims, and other lawsuits and counterclaims. I have defended clients against individual or class-action claims under the Reform Act (Dodd-Frank), Truth in Lending Act (TILA), RESPA and other consumer protection legislation.
Commercial Litigation & Transactions
My experience in commercial litigation and transactions includes:
Shareholder/member rights and issues
Contract rights and claims
Employment Practices liability and claims
Automobile dealer franchise rights and liabilities
UCC rights and claims
Professional liability
Employment matters
Construction defects
Commercial Real Estate
Business Asset Sales
I believe my experience in putting a transaction together provides a unique benefit and perspective when evaluating and pursuing available rights and remedies when a transaction fails. By the same token, I believe my experience in pursuing available rights and remedies when a transaction fails provides a strong and unique perspective in putting a transaction together and avoiding pitfalls.
Equine Transactions & Litigation
My equine law practice is devoted to representing owners, breeders and trainers with respect to issues revolving around the equine industry. Equine law is held in especially high esteem at our firm because many of our attorneys not only practice equine law, but they participate in the equine industry on a personal level as race horse owners, breeders, sport horse owners and participants, and farm owners. As a horse owner and farm owner myself, and former instructor in Farm Management at the College of Agriculture of the University of Kentucky, I have the unique firsthand knowledge necessary to provide clients with the finest and most comprehensive representation available. My legal practice is centered on assistance to owners with establishing their racing stables and matters related to licensing.
Among my services to the equine field are:
Owners:
Formation of stable
State Licensing issues
Syndications
Co-Ownerships
Private Sales Agreements
Security Interests and liens
Trainers:
State Licensing
Establishing business entity
License revocation and suspension
Collection and Liens
Breeders:
Entity formation
Syndication Agreements
Breeding Rights Agreements
Leases
Security Interests and Liens
Foal Sharing Agreements
Trust & Estate Litigation
McBrayer's Trust and Estate Litigation practice offers clients a team of attorneys widely recognized as being among the most distinguished, experienced and successful litigators in the field of trusts, estates and conservatorships. Many law firms involved in trust and estate litigation assign these cases to attorneys who are fundamentally estate planners with limited or no experience handling a major contested matter in the probate courts. McBrayer is unique because we offer seasoned trial attorneys with many years of experience in the probate courts and in-depth knowledge of the substantive law and unique procedures applicable to probate and trust disputes. For that reason, McBrayer is often the firm, and I am often the attorney, called upon to represent corporate fiduciaries (including large financial institutions), charitable beneficiaries, and individual fiduciaries and beneficiaries in the most significant disputes involving trusts, estates and conservatorships.
I represent beneficiaries of the estate in protecting their inheritance. I also represent excluded heirs or prior beneficiaries, such as a sibling or spouse who was unfairly slighted or cut out of the will entirely. I have initiated and defended many will contest scenarios:
Wills not properly witnessed, signed or submitted to probate
Lack of testamentary capacity (dementia)
Undue influence or fraud
Missing or misappropriated assets
Claims against the estate by creditors
Breach of fiduciary duty
Renunciation of interests or electing statutory share
Increasingly, probate litigation involves disputes between the named beneficiaries of the estate. I routinely handle scenarios of family members pitted against each other, whether because of allegations of dishonest behavior or merely disputes over how to divide or value the estate fairly. I also handle breach of fiduciary duty litigation in which the personal representative or trustee is accused of wrongdoing.
Real Estate Litigation
My real estate litigation practice represents a broad array of clients in complex disputes involving real property in the courts of Kentucky, as well as in arbitration proceedings and other forums located throughout the United States. I combine deep knowledge of all aspects of the real estate industry with expertise as a skilled and experienced trial attorney to handle a wide variety of real estate-related litigation and arbitration, including disputes involving title claims and title insurance, mortgage actions, foreclosures, lender liability, zoning and entitlements, environmental claims, commercial leases and related agreements, fraud, and breach of contract. My client list boasts title companies and their insureds, lenders, investors, owners, developers, landlords, tenants, mortgage bankers, real estate investment trusts, and other participants in the real estate industry.