From Our Video Series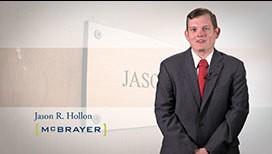 Admissions
Kentucky, 2014
U.S. District Court for the Eastern District of Kentucky, 2016
U.S. District Court for the Western District of Kentucky, 2016
U.S. Court of Appeals 6th Circuit, 2016
Clerkships
Hon. Judge Hanly A. Ingram,
United States Magistrate Judge for the Eastern District of Kentucky
Term Law Clerk, September 2014-August 2016
Education
University of Kentucky College of Law, Lexington, KY, J.D., May 2014
Order of the Coif
Kentucky Law Journal, Staff Editor

Published Works: Tweets from the Grave: Social Media Life After Death

Moot Court, Ethics Board
Thomas P. Bell Scholarship
Central Kentucky Inn of Court, Pupil
Eastern District of Kentucky Judicial Fellows Program
University of Kentucky, Lexington, KY, B.A. Political Science, May 2011, Summa Cum Laude
Overview
I became a lawyer because it is a career that requires you to know a little something about everything. Very few careers offer the ability both to help people, and to learn something new every day. In the practice of law, you could spend one day analyzing the correct complex medical procedure, and the next evaluating whether the proper procedure was followed during a traffic stop; the practice of law is exciting in that regard. I practice in general litigation, so every day is something different, from government investigations to employment law to estate litigation.
The best way to approach a legal issue is to think of it as a complex box or puzzle. Each piece fits a certain way, but how you put the pieces together, and in what order, will affect the outcome. Therefore, you must first take apart the box, look at all the pieces in a broad sense to fully evaluate and appreciate each piece's importance to the issue as a whole, then work to put it back together again.
I believe that in order to be a successful attorney you must zealously advocate for your clients in every stage of their cases. I want to work every day for my clients to ensure that in every stage of any proceeding they get a fair opportunity to protect and assert their rights. I understand that each client's issue is unique, and many times it is one of the most important things going on in his or her life at the time. I go the extra mile for them by being available at any time, day or night, to talk about their case in an honest and productive manner. I want them to feel that their needs are being met at all times, and that I appreciate the seriousness of their concerns and issues.
BEFORE MCBRAYER
I spent two years as a law clerk to the Honorable Hanly A. Ingram, United States Magistrate Judge for the Eastern District of Kentucky. Through this experience I gained the ability to analyze and understand complex legal issues, and garnered valuable skills in criminal and civil pretrial process. Moreover, my experience as a law clerk further developed my capabilities as a legal researcher and writer, and expanded my ability to communicate effectively. This experience was invaluable, and has allowed me to become a more efficient and effective attorney.
Kentucky Leader
Community/Civic Leadership
My wife and I are involved in our local church. We enjoy the sense of community there and the opportunity to interact with other families and members of the community.
News & Insights
News
The Court's rulings regarding the enforceability of these statues will likely have far-reaching effects on how construction defect and design cases are litigated in Kentucky in the future.
Multimedia
Multimedia
Jason R. Hollon - Attorney Biography
Professional Activities
Kentucky Bar Association, member, 2014-present
American Bar Association, member