Honors & Awards
The Best Lawyers in America®, 2016-2024 (Litigation - Labor & Employment)
A. M. Best Client Recommended, 2018

Kentucky Super Lawyers®, 2019-2023 (Employment & Labor)
AV Peer Review Rated by Martindale-Hubbell®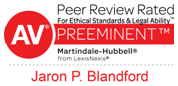 Admissions
Kentucky, 1998
Tennessee, 2009
U.S. District Court Eastern District of Kentucky, 1998
U.S. District Court Western District of Kentucky, 1998
U.S. Court of Appeals 6th Circuit, 1998
U.S. Supreme Court, 2007
U.S. District Court Eastern District of Tennessee, 2020
U.S. District Court Western District of Tennessee, 2020
Education
University of Kentucky College of Law, Lexington, Kentucky, J.D., 1998
Honors: Member, Moot Court Board
Law Journal: Kentucky Law Journal, Associate Editor, 1997 - 1998
Western Kentucky University, Bowling Green, Kentucky, B.A., 1995
Overview
Jaron Blandford considers it a privilege to have served the clients of McBrayer since 1998. Since that time, he has been a part of the positive growth of McBrayer and the expanding practice area departments the firm has developed as it has worked to better serve all clients' legal issues and needs. While the firm practices in virtually all areas of the law, Jaron's practice focuses on civil litigation with an emphasis in all areas of employment law and business litigation. Jaron also has more than twenty years of experience handling criminal defense work and advising clients on matters involving regulatory compliance, whistleblower complaints, professional licensing and criminal investigations. He has advised clients regarding federal grand jury investigations, investigations by the FBI, ATF, DEA, FDA, the Office of the Attorney General, Office of Inspector General, Immigration and Customs Enforcement, the Secret Service, Federal Trade Commission, U.S. Department of Labor and many other state and federal agencies.
Jaron started his career with McBrayer as a student attending the University of Kentucky College of Law. He is unique in that he started his legal career at the same firm where he currently practices. One of the reasons Jaron started with McBrayer and has always remained is the firm's overriding philosophy of client service and success. He sees the firm's culture as one of a strong work ethic, providing responsiveness and results to our clients. Jaron is proud to go the extra mile for all of his clients, and understands that resolving legal and business issues takes our constant time, attention and dedication. Jaron assures his clients that they will always have a way to contact him – any day and any time. Clients have his personal commitment that he and his team will always provide prompt service, advice and timely solutions in their time of need.
MORE THAN MCBRAYER
One of Jaron's enjoyable experiences in the legal community was his participation as a key member of the planning committee that hosted the first Kentucky Federal Bench and Bar Conference. The conference was held in Lexington, Kentucky on May 13-14, 2013 to a crowd of 200-plus attendees. The conference hosted a number of top-notch presenters, including United States District Court Judges, United State Magistrate Judges, a Circuit Judge for the United States Court of Appeals for the Sixth Circuit, a United States Bankruptcy Judge, former law school deans, law school professors, nationally known speakers and attorneys from around the region. Jaron served as an Organizing Committee Member, assisting with the establishment of an American Inn of Court for the Central Kentucky region. The first association meeting was held on November 14, 2013. At this inaugural meeting of the Central Kentucky American Inn of Court, along with several McBrayer associates, the Chief Judge of the Kentucky Court of Appeals, the United States Attorney for the Eastern District of Kentucky, an Assistant United States Attorney for the Eastern District of Kentucky, and a handful of other attorneys from the region, Jaron presented "Wait, Wait...Don't Tell Me: Civility Matters" to colleagues from the entire Central Kentucky region. In addition, he serves as a member of the Employment Law Committee of the Defense Research Institute ("DRI"), an international organization of attorneys defending the interests of businesses and individuals in civil litigation. In cooperation with another Lexington lawyer, he authored the Kentucky chapter of the DRI Defense Library Series Employment Law, A State-by-State Compendium.
Jaron is also the Kentucky representative for a national Employment Practices Liability Insurance (EPLI) carrier, for purposes of giving advice on avoiding employment claims.
Primary Practice
Additional Practice Experience
Professional Activities
Professional Activities
Sixth Circuit Judicial Conference, Delegate, 2006
Federal Bar Association Kentucky Chapter, President, 2005-2007
Defense Research Institute, Member, 2004-Present
Federal Bar Association Kentucky Chapter, Member, 2002-Present
Fayette County Bar Association, Member, 1998-Present
News & Insights
News
Super Lawyers

,

December 10, 2020

Business Lexington

,

May 19, 2020

Super Lawyers

,

December 2, 2019

U.S. News – Best Lawyers® in America

,

September 4, 2019

Attorneys from McBrayer law offices in Lexington and Louisville achieved a 2018 listing in U.S. News Best Lawyers in America
Seminars & Speaking Engagements
A Seminar for Employers

The Mane on Main, 201 East Main Street, 15th Floor, Lexington, Kentucky

,

March 22, 2023

A Seminar for Employers

500W Training Center, 500 West Jefferson Street, 4th Floor, Louisville, Kentucky

,

March 21, 2023

More Advice for the Continuing Workplace Challenges of COVID-19

Webinar

,

September 15, 2021

Cutting Loose: Issues in Firing and Severance

Lexington, KY

,

January 26, 2017

Wage and Hour Update: Brace Yourselves, the New Overtime Regulations are Coming

Lexington, KY

,

November 5, 2015

Lexington, KY

,

May 28, 2015

Building Reputation Resilience

Lexington, KY

,

March 17, 2015

Getting It "Write": A McBrayer Employment Law Seminar, Louisville, KY

Getting It "Write": A McBrayer Employment Law Seminar, Lexington, KY

Wait, Wait...Don't Tell Me: Civility Matters, Central Kentucky American Inns of Court

Employment Policies and Procedures: A Critical Legal Update for Employers, McBrayer law, 2012, 2009

Participated on a panel at the Federal Practice Seminar speaking on the topic "Practicing Civil Cases" sponsored by the U.S. District Court for the Eastern District of Kentucky and the Federal Bar Association - Kentucky Chapter

Introduction to Practice Before the U.S. District Court for Eastern District of Kentucky, Kentucky Chapter of the Federal Bar Association

Avoid Mistakes: Hot Topics in Employment and Labor Law for 2009, Kentucky Association of Homes and Services for the Aging Annual Conference
Articles
Kentucky Chapter of the DRI Defense Library Series Employment Law, A State-by-State Compendium, DRI, 2006
Multimedia
Multimedia
Employment Law - Keep Your Terminations from Being Terminal
Employment
Our litigation department is currently involved in a substantial amount of employment related work, including representing clients in state and federal court and before the EEOC and various Human Rights Commissions. I have represented a variety of clients in all state and federal administrative agencies, and in state and federal courts under the FMLA, ADEA, Title VII, and numerous state civil rights acts. We represent employers undergoing both United States and State Labor Department investigations. In addition, we regularly represent and advise business clients in preparation of employment policies, employment manuals and general personnel matters, including hiring and firing. I have extensive experience in initiating lawsuits on behalf of employers to enforce non-compete agreements and to protect against and recover for misappropriations of trade secrets. My clients maintain employees from as small as a handful to thousands, which has allowed me to see almost every potential issue an employer may face during the course of their business.
Educating our clients is part and parcel of our philosophy at McBrayer. Along with various other members of our employment law department, I routinely speak on employment issues and work directly with our clients on preventive strategies to avoid discrimination, retaliation and other employment claims. As a McBrayer client, you can always rely upon us for employment training of your managers, executive level staff and various other leadership staff members to educate your team on the proper policies and procedures that will help you as the employer potentially avoid litigation down the road. Also, we are committed to keeping our clients advised of the latest employment law trends through authorship on the McBrayer Employment Law Blog.
Government Investigations
People who are under investigation by federal and state agencies for possible criminal violations often make the mistake of waiting too long before obtaining the services and advice of a defense attorney.
Individuals often think that the investigation will not result in action against them, or that by cooperating with the investigation, they can avert further legal entanglement. Individuals sometimes believe that they only need an attorney if or when an indictment comes. This can be a grave mistake – one that may be irreversible.
As an experienced criminal defense attorney, I am skilled at representing clients facing government investigations, whether as a target, subject or witness. I will advise you as to possible courses of action and how to respond to requests for information without compromising potential defense strategies.
Government investigations represent a serious threat to those subject to them. Properly handled, they provide an opportunity to resolve the problem in a favorable manner. If you have reason to believe that you or your company is the subject of a criminal investigation or may become the subject of an investigation, I can evaluate your situation and recommend the optimal legal strategy.
Business & Commercial Litigation
As an experienced trial attorney, I have wide-ranging and considerable experience in all aspects of litigation before both federal and state courts. In close coordination with the other practice areas of the firm, I handle a vast array of contested matters on behalf of large, medium and small businesses and individuals throughout the Commonwealth.
I work closely with my clients to identify their goals and map a strategy to achieve their defined objectives. Sometimes that strategy will involve litigating a vital business or personal interest. Other times, the right strategy will be to negotiate, to mediate or to arbitrate. After carefully researching and identifying key issues, I provide candid dispute assessments and risk/benefit analyses that are critical to pursuing the right strategy for the client.
The key to success in all settings is my careful and tireless preparation, and effective presentation of my client's position. I employ advanced electronic research methodologies, together with cutting-edge information management tools, for efficient and cost-effective pre-trial investigation, case management and discovery. Information is developed and presented using the latest trial knowledge and technology in order to deliver a powerful and persuasive presentation for my clients.
My experience in handling complex litigation matters related to all types of business disputes includes:
Shareholder Disputes
Trade Secrets
Non-Compete and Non-Solicitation Agreements
Business Torts
Contract Disputes
Corporate Finance
Insurance