From Our Video Series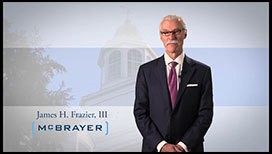 Honors & Awards
The Best Lawyers in America®, 2012 - 2019 (Litigation - Real Estate, Real Estate Law) The Best Lawyers in America®, 2019 (Litigation - Real Estate)
Kentucky Super Lawyers®, 2013 - 2019 (Real Estate)



Chambers USA, "Leaders in their Field", 2016 (Real Estate: Zoning/Land Use Kentucky)
2012 Top Rated Corporate Real Estate Lawyer
Best Lawyers' 2012 Lexington Real Estate Law Lawyer of the Year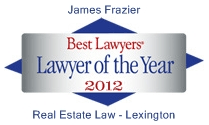 AV® Preeminent Peer Review Rated by Martindale-Hubbell®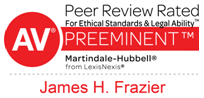 Top Attorney in Kentucky, 2009
Admissions
Kentucky, 1979
Florida, 2007
Texas, 1997
U.S. District Court Eastern District of Kentucky, 1980
U.S. District Court Western District of Kentucky, 1996
U.S. Court of Appeals 6th Circuit, 1992
U.S. Supreme Court, 2007
Education
University of Kentucky College of Law, Lexington, Kentucky, J.D., 1979
Honors: Phi Delta Phi
Honors: Phi Alpha Theta, President, 1976
Honors: Member, Moot Court Board
Transylvania University, Lexington, Kentucky, B.A., 1976
Overview
It is my privilege to serve as Managing Member of McBrayer, a position I have held since 1993. When I joined the firm, there were only five attorneys. Today, McBrayer has nearly 50 attorneys practicing throughout Kentucky as well as in Washington, D.C. Size, demographics, additional offices and diversity have all transformed this once small firm into a regional powerhouse. With law offices in Lexington, Louisville, Greenup and Ashland, plus a Government Relations office (MML&K Government Solutions) in Frankfort, and a presence in Washington, D.C. we are able to better serve our clients on a wide spectrum of matters.
The culture of McBrayer is unique in many ways. Even though we are currently considered a regional firm due to our size and demographics, as lawyers we still act very much like that small firm I joined over 30 years ago. Our lawyers are collegial, teamwork-oriented and singularly focused on our clients' needs. It is this culture, along with the informality we possess, that allows us to deliver quality legal services to our clients in a very unique and satisfying way.
In addition to our legal work, we are also passionate about community service. All of our lawyers serve on multiple civic community boards. The McBrayer firm believes in giving back. We have always been much more than just billable hours. We possess a sense of social conscience that other firms have lost sight of in today's fast paced world. That social consciousness is what I think ultimately sets us apart from our colleagues, and, in my opinion, is the backbone of our firm.
Assuredly the McBrayer law firm will continue to grow in numbers, practice areas and diversity, and continue to successfully serve our ever-changing constituency.
My practice focuses on real estate, bankruptcy, mergers and acquisitions, and general corporate practice with special emphasis on mineral and energy law. Also, I have extensive experience in coal transactions (including leases, permitting, coal sales contracts, asset purchases, equity interest transactions, transportation agreements, overriding royalty agreements, consulting contracts, and contract mining agreements).
MORE THAN MCBRAYER
In addition to my law practice, I serve as the Master Commissioner of the Fayette Circuit Court. Prior to being appointed Master Commissioner in 2008, I held the office of Chief Deputy Master Commissioner of the Fayette Circuit Court from 1992-2008.
Kentucky Leader
Community/Civic Leadership
As a firm we are passionate about community service. All of our lawyers sit on multiple civic community boards. The McBrayer firm believes in giving back and has always been much more than just billable hours. We possess a sense of social conscience that other law firms lose sight of in today's fast paced world. That social consciousness is what I think ultimately sets us apart from our other colleagues and, in my opinion, is the backbone of our firm.
My current passions are Transylvania University, Lexington Parking Authority, and the Downtown Lexington Management District. I have served on the Transylvania University Board of Trustees since 2000 and chair numerous committees. I was elected to Chairman of the Lexington-Fayette Urban County Government Parking Authority in 2011. We take a great deal of pride in the work our team at the Lexington-Fayette Urban County Government Parking Authority has accomplished, and I have been proud to serve alongside them. During my service, we have worked diligently to take over all of the operations for the city's parking structures and refurbish them to today's standards and uses. The team of the Lexington-Fayette Urban County Government Parking Authority has won several awards for the refurbishment of the Helix Garage located on Main Street. It has aided the city greatly, enhancing the ability of people to frequent downtown and easily locate parking, which the local businesses seem to greatly appreciate.
Lastly, I serve as Chair of the Downtown Lexington Management District, an organization that uses collected property taxes to foster economic development to create a flourishing downtown for both visitors and locals to enjoy. Daily operations of the District include downtown ambassadors, friendly faces who will ensure that public areas are clean and well maintained, provide directions to shoppers, and maintain enhanced landscaping, in addition to improving safety and security in the District.
News & Insights
News
The Lane Report

,

February 6, 2019

Attorneys from McBrayer law offices in Lexington and Louisville achieved a 2018 listing in U.S. News Best Lawyers in America

Under Main

,

February 9, 2017

Chambers USA 2016 recognizes McBrayer attorneys as 'Leaders in their Field'

Chambers USA

,

March 29, 2016

McBrayer's 2016 Best Lawyers in America

U.S. News

,

September 1, 2015

McBrayer's 2015 Best Lawyers in America

U.S. News

,

September 1, 2014
Seminars & Speaking Engagements
13th Biennial Real Estate Law & Practice Institute

Foreclosures & Insolvency Issues

Lexington, Kentucky

,

February 2, 2016
Articles
Firms that are keeping up with growing demand in a fast-changing economy expect a prosperous year
Multimedia
Multimedia
James H. Frazier, III - Attorney Biography
Bankruptcy
Through my other practice areas, such as real estate and business law, I seamlessly assist my clients when a bankruptcy interrupts, or threatens to interrupt, the progress of litigation, commercial transactions, or the collection and enforcement of contract rights. I frequently and successfully assist acquisition purchasers or liquidation sellers with the special problems and bankruptcy considerations inherent in distressed asset sales and purchases, and in the assumption and assignment of contracts or leases, both inside and outside of bankruptcy or other insolvency proceedings.
In 2009, I was appointed as Assignee/Trustee for the Benefit of Creditors (ABC) of a large multi-company coal corporation. The ABC was subsequently converted to a Chapter 11 Bankruptcy proceeding, and I was appointed by the Court to serve as Chief Liquidation Officer on behalf of the Debtor in that action. We were successful in the disposal of the majority of the Debtor's assets, as well as significantly reducing the Debtor's reclamation liabilities in excess of $50,000,000 associated with its coal mining activities in two states.
Real Estate
One key to successful personal or business financial management is the timely acquisition and disposition of property. Within my real estate practice I manage varied types of property transactions from the individual house purchase to commercial, industrial and residential development projects.
My law practice affords me the opportunity to provide direction in structuring development agreements, joint ventures, zoning matters, leases and construction contracts, and advice on landlord and tenant matters. Also, I am extensively involved in structuring financing for real estate acquisition and development.
Residential
Buying or selling a home can be the largest transaction that many people ever enter into. I understand the emotion and stress that can be involved. That's why communication and consultation with my clients is so important. I can assist in this process by reviewing the terms of your offer and drafting conditions, representations and warranties where appropriate to protect your interests. I will also discuss how you would like to take title to the property and the title insurance options available to you. I take pride in helping my clients through the transaction and into their new home as smoothly as possible.
Commercial
My real estate practice specializes in the purchase and sale of residential and commercial real estate, construction liens, and mortgages and financing, as well as condominium and commercial development projects. I act as approved counsel to several of Kentucky's major banks and lending institutions in a variety of secured lending transactions and assist clients in sourcing and negotiating appropriate financing terms.
Alongside the firm's planning and zoning department, I have represented several national student housing developers in the acquisition and development of real estate for projects located in Lexington, Louisville and Richmond, Kentucky, as well as in West Virginia and South Carolina. I was involved in these projects from the beginning with acquisition of real estate, re-zoning of property, and development plan approval through the successful lease negotiations with railroad companies, allowing the developers to provide pedestrian bridge access across railroad property to college campuses from the student housing facilities.
NOTABLE SUCCESSES INCLUDE:
Eastern Kentucky University Student Housing Development - $75,000,000
Newtown Crossing Development - Phases I and II totaling $55,000,000
University of Louisville Student Housing Development - $40,000,000
Appointed as Assignee/Trustee in Assignment for Benefit of Creditors of large multi-company coal corporation; Court appointed Chief Liquidation Officer for Appalachian Holding Company, Inc., a Chapter 11 Bankruptcy liquidation of coal companies in two states.
Negotiated the acquisition and leasing of substantial properties with CSX and Northern Southern Corporation.
Represented Appalachian Fuels in connection with the sale of 14 coal mining companies.
Represented LDH Energy and affiliates in connection with the purchase of coal processing and loading facilities in Kentucky. Negotiated the acquisition of related railroad properties.
Represented a large regional coal mining company in connection with the sale of $50,000,000 in coal properties and related assets in multiple states.
Court appointed received for liquidation of coal properties in multiple counties in Kentucky.
Corporate Law
Client representation includes businesses of all sizes, from small, locally owned shops to Fortune 500 companies. I am particularly well-acquainted with the legal issues unique to the energy and coal industry, the hospitality and travel industry, and clients in commercial lending and commercial development.
I provide counsel and representation for all stages of business:
Business formation — entity selection, business planning, ownership agreements and other foundations for success
Entrepreneurial law — intellectual property, financing, regulatory compliance and other comprehensive considerations for startups
Business succession planning — transitioning a small or family-owned business to the next generation
Commercial real estate purchase or lease
Mergers and acquisitions — strategy, structuring and execution of friendly or contested transactions
Divestitures and spinoffs — legal and business considerations in carve-outs, split-ups, buyouts or recapitalizations
Sales and dissolutions — purchase or sale of business assets, partner/shareholder buyouts, disbanding a business
Throughout my legal career I have been very successful in navigating complex business transactions, from multimillion-dollar mergers to strategic acquisitions or downsizing. I can address the financial, legal and regulatory ramifications to consummate deals smoothly and avoid future legal disputes.
Professional Activities
Fayette Circuit Court, Master Commissioner, 2008 - Present
Florida Bar Association, Member, 2007 - Present
Louisville Bar Association, Member, 2006 - Present
Texas Bar Association, Member, 1997 - Present
Fayette Circuit Court, Deputy Master Commissioner, 1992 - 2008
Kentucky Bar Association, Member, 1979 - Present
Fayette County Bar Association, Member, 1979 - Present
Board of Governors, 1981-1986
President, 1992-1993
Board of Directors, 1992-1994
American Bar Association, Member, 1979 - Present