Honors & Awards
The Best Lawyers in America®, 2012-2019, 2021-2024 (Real Estate Law)
The Best Lawyers in America®, 2019-2024 (Litigation - Real Estate)
The Best Lawyers in America® "Lawyer of the Year", 2021 (Litigation - Real Estate)
Kentucky Super Lawyers®, 2013-2023 (Real Estate)



Chambers USA, "Leaders in their Field", 2016 (Real Estate: Zoning/Land Use Kentucky)
2012 Top Rated Corporate Real Estate Lawyer
Best Lawyers' 2012 Lexington Real Estate Law Lawyer of the Year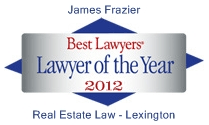 AV® Preeminent Peer Review Rated by Martindale-Hubbell®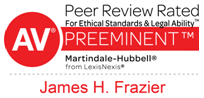 Top Attorney in Kentucky, 2009
Admissions
Kentucky, 1979
Florida, 2007
Texas, 1997
U.S. District Court Eastern District of Kentucky, 1980
U.S. District Court Western District of Kentucky, 1996
U.S. Court of Appeals 6th Circuit, 1992
U.S. Supreme Court, 2007
Education
University of Kentucky College of Law, Lexington, Kentucky, J.D., 1979
Honors: Phi Delta Phi
Honors: Phi Alpha Theta, President, 1976
Honors: Member, Moot Court Board
Transylvania University, Lexington, Kentucky, B.A., 1976
Overview
James H. Frazier, III, has served as the Managing Member of McBrayer since 1993. When he joined the firm, there were only five attorneys. Today, McBrayer has more 60 attorneys practicing throughout Kentucky as well as in Washington, D.C. Size, demographics, additional offices and diversity have all transformed this once small firm into a regional powerhouse, with law offices in Lexington and Louisville, plus a Government Relations office (MML&K Government Solutions) in Frankfort and a presence in Washington, D.C., allowing the firm to serve clients on a wide spectrum of matters.
Mr. Frazier's practice focuses on real estate, bankruptcy, mergers and acquisitions, and general corporate practice with special emphasis on mineral and energy law. Also, he has extensive experience in coal transactions (including leases, permitting, coal sales contracts, asset purchases, equity interest transactions, transportation agreements, overriding royalty agreements, consulting contracts, and contract mining agreements).
In addition to his law practice, Mr. Frazier serves as the Master Commissioner of the Fayette Circuit Court, as well as serving as the Chair of the Kentucky Master Commissioners Advisory Board. Prior to being appointed Master Commissioner in 2008, he held the office of Chief Deputy Master Commissioner of the Fayette Circuit Court from 1992-2008.
Mr. Frazier's current passions in the community are Transylvania University, Lexington Parking Authority, and the Downtown Lexington Management District. He served on the Transylvania University Board of Trustees from 2000 to 2020 and chair numerous committees. Mr. Frazier was elected to Chairman of the Lexington-Fayette Urban County Government Parking Authority in 2011. He and his team take a great deal of pride in the work they have accomplished, and he has been proud to serve alongside them. During his service, the Parking Authority has worked diligently to take over all of the operations for the city's parking structures and refurbish them to today's standards and uses. The team of the Lexington-Fayette Urban County Government Parking Authority has won several awards for the refurbishment of the Helix Garage located on Main Street. It has aided the city greatly, enhancing the ability of people to frequent downtown and easily locate parking, which the local businesses seem to greatly appreciate.
Lastly, Mr. Frazier serves as Chair of the Downtown Lexington Management District, an organization that uses collected property taxes to foster economic development to create a flourishing downtown for both visitors and locals to enjoy. Daily operations of the District include downtown ambassadors, friendly faces who will ensure that public areas are clean and well maintained, provide directions to shoppers, and maintain enhanced landscaping, in addition to improving safety and security in the District.
ABOUT MCBRAYER
"The culture of McBrayer is unique in many ways," says Mr. Frazier. "Even though we are currently considered a regional firm due to our size and demographics, as lawyers we still act very much like that small firm I joined over 30 years ago. Our lawyers are collegial, teamwork-oriented and singularly focused on our clients' needs. It is this culture, along with the informality we possess, that allows us to deliver quality legal services to our clients in a very unique and satisfying way.
"In addition to our legal work, we are also passionate about community service. All of our lawyers serve on multiple civic community boards. The McBrayer firm believes in giving back. We have always been much more than just billable hours. We possess a sense of social conscience that other firms have lost sight of in today's fast paced world. That social consciousness is what I think ultimately sets us apart from our colleagues, and, in my opinion, is the backbone of our firm."
Primary Practice
Additional Practice Experience
News & Insights
News
The Lane Report

,

February 2, 2021

Super Lawyers

,

December 10, 2020

The Lane Report

,

October 19, 2020

The Lane Report

,

September 23, 2020

Law Practice Today

,

June 19, 2020

The Lane Report

,

March 2, 2020

Super Lawyers

,

December 2, 2019

U.S. News – Best Lawyers® in America

,

September 4, 2019

The Lane Report

,

February 6, 2019

Attorneys from McBrayer law offices in Lexington and Louisville achieved a 2018 listing in U.S. News Best Lawyers in America

Under Main

,

February 9, 2017

Chambers USA 2016 recognizes McBrayer attorneys as 'Leaders in their Field'

Chambers USA

,

March 29, 2016
Seminars & Speaking Engagements
13th Biennial Real Estate Law & Practice Institute

Foreclosures & Insolvency Issues

Lexington, Kentucky

,

February 2, 2016
Articles
Firms that are keeping up with growing demand in a fast-changing economy expect a prosperous year
Professional Activities
Kentucky Master Commissioners Advisory Board, Chair, 2023-Present
Fayette Circuit Court, Master Commissioner, 2008-Present
Florida Bar Association, Member, 2007-Present
Louisville Bar Association, Member, 2006-Present
Texas Bar Association, Member, 1997-Present
Fayette Circuit Court, Deputy Master Commissioner, 1992-2008
Kentucky Bar Association, Member, 1979-Present
Fayette County Bar Association, Member, 1979-Present
Board of Governors, 1981-1986
President, 1992-1993
Board of Directors, 1992-1994
American Bar Association, Member, 1979-Present