From Our Video Series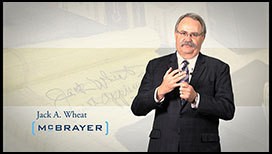 Honors & Awards
Kentucky Super Lawyers®, 2007-2020 (Intellectual Property Litigation)
Kentucky Super Lawyers® 2019: Recognized as Top 10 Attorney in Kentucky
Kentucky Super Lawyers® 2011-2015, 2017, 2020: Recognized as Top 50 Attorney in Kentucky
Named WIPR Leader (World Intellectual Property Review) 2017-2019

Martindale-Hubbell AV-Preeminent Peer Review Rated
Chambers USA, 'Leaders in their Field', 2016 (Intellectual Property Kentucky)
The Best Lawyers in America®, (Intellectual Property Litigation and Trademark Law, 2007-2020.)
The Best Lawyers in America®, Louisville Area Lawyer of the Year for Litigation-Intellectual Property, 2016
The Best Lawyers in America®, Louisville Area Lawyer of the Year for Trademark Law, 2015
Chambers USA: "America's Leading Lawyers for Business", Intellectual Property, 2013-Present
Who's Who, Trademarks, 2013-Present
Louisville Magazine's "Top Lawyers" for Copyright Law, 2013-2014
Managing Intellectual Property, IP Stars, 2013-Present
Best for Copyright Infringement Litigation - Kentucky
Best for IP Litigation - Southern USA, 2017-2018
Admissions
Kentucky
U.S. Supreme Court
U.S. Court of Appeals for the Federal Circuit
U.S. Court of Appeals 2nd Circuit
U.S. Court of Appeals 5th Circuit
U.S. Court of Appeals 6th Circuit
U.S. Court of Appeals 8th Circuit
U.S. Court of Appeals 10th Circuit
U.S. Court of Appeals 11th Circuit
U.S. District Court for the Eastern District of Kentucky
U.S. District Court for the Western District of Kentucky
U.S. District Court for Arizona
U.S. District Court for the District of Colorado
U.S. District Court for the Central District of Illinois
U.S. District Court for the Northern District of Illinois
U.S. District Court for the Southern District of Indiana
U.S. District Court for the Eastern District of Texas
Education
University of Louisville Louis D. Brandeis School of Law, Louisville, Kentucky, J.D., 1979
Hanover College, Hanover, Indiana, B.A., 1976
Overview
For over 30 years, I have concentrated my practice in the area of intellectual property, primarily dealing with patent, trademark, and copyright infringement litigation, and services such as trademark and copyright registration. I was the founder of the well-respected intellectual property boutique firm of Wheat, Smith & Beres, which merged into Stites & Harbison effective January 1, 2000. I was the Service Group Leader of that firm's Intellectual Property & Technology Services Group from 2000 until into 2012. From 2011 through 2015 and for 2017, & 2019, Super Lawyers® ranked me as one of the "Top 50" attorneys in Kentucky and in 2019, I ranked at one of the "Top 10" in Kentucky and The Best Lawyers in America recognizes me as the Louisville, Kentucky, Area "Intellectual Property Litigation Lawyer of the Year" for 2016 and previously recognized me as the "Trademark Lawyer of the Year" for the Louisville area for 2015.
My practice is national; I regularly litigate across the United States and have served as lead counsel in infringement litigation in over 30 states and in seven of the United States Circuit Courts of Appeal as well as in the United States Supreme Court. Nelson v. Adams USA Inc., 529 U.S. 460 (2000).
BEFORE MCBRAYER
I was the founder of the largest intellectual property boutique law firm in Kentucky, Wheat, Smith & Beres, which merged into Stites & Harbison on January 1, 2000. While at Stites & Harbison (2000-2015) I was the Service Group Leader of the firm's Intellectual Property & Technology Services Group from 2000 until into 2012.
MORE THAN MCBRAYER
Since 1984, I have had the privilege to serve as an Adjunct Professor of Intellectual Property at the University of Louisville Brandeis School of Law and as the coach of the school's Lefkowitz Trademark Law Moot Court Teams. One of these teams was the National Champion for 2011, another placed third nationally in 2010, and advanced to Nationals again in March 2019.
Additional Practice Experience
Kentucky Leader
Community/Civic Leadership
For the Presbyterian Church U.S.A., I am an Ordained Elder, a former Commissioner and Moderator (Chief Judge) of the Permanent Judicial Commission of the Presbytery of Mid-Kentucky (the presbytery's ecclesiastical court) and a former Commissioner of the Synod of the Living Waters Permanent Judicial Commission. Also, I am a member of the Order of Constantine of the Sigma Chi Fraternity, and Legal Counsel to the fraternity's Licensing Committee. Previously, I served as Grand Praetor (regional supervisor) of the fraternity's Kentucky Province.
News & Insights
News
Super Lawyers

,

December 2, 2019

Business Lexington, October 2019

,

September 26, 2019

U.S. News – Best Lawyers® in America

,

September 4, 2019

Louisville Business First

,

December 29, 2017

Attorneys from McBrayer law offices in Lexington and Louisville achieved a 2018 listing in U.S. News Best Lawyers in America

World Intellectual Property Review

,

October 25, 2016

Chambers USA 2016 recognizes McBrayer attorneys as 'Leaders in their Field'

Chambers USA

,

March 29, 2016

Jack A. Wheat joins the firm's Louisville Office
Seminars & Speaking Engagements
Louisville, Kentucky

,

May 15, 2017

Patchworks and Pitfalls: Server Training and State Laws and Regulations

New Orleans, LA

,

October 5, 2016

IP 101: A Non-Specialist's Guide to the Basics of Intellectual Property Law

Kentucky Bar Association Annual Convention

,

June 16, 2010

Ethical Considerations in Intellectual Property Law

Louisville Bar Association Continuing Legal Education Program

Louisville, KY

,

June 19, 2003

Supreme IP

On experience arguing at United States Supreme Court

Louisville Bar Association Continuing Legal Education Program

,

February 19, 2003
Articles
They're Coming to Steal Your Ideas

Louisville Business First

,

March 18, 2016

Business First of Louisville

,

January 22, 2016

IP Practices Growing

Lane Report

,

February 1, 2010

Intellectual Property audits can identify assets to be protected

Business First of Louisville

,

August 21, 2009

All in the name

Thoroughbred Times

,

February 29, 2008

Protect yourself from competition by former employees

Business First of Louisville

,

May 1, 2005

To franchise or not is a big question

Business First of Louisville

,

August 6, 2004
Multimedia
Multimedia
Jack A. Wheat - Attorney Biography
Trademarks
I place high importance on the value of communication and networking. With that said, I am an active member in a number of trademark organizations, including the International Trademark Association. These memberships enable me to advocate for trademark issues, allow me to maintain connections with trademark counsel around the world, and help keep my clients at the forefront of emerging and significant issues facing trademark owners today.
I have developed extensive experience helping clients secure and protect their trademarks.
Services I provide include:
Conducting clearance searches to select protectable marks
Prosecuting trademark applications with the United States Patent and Trademark Office (USPTO) as well as with state trademark offices
Facilitating the registration of trademarks abroad
Maintaining and renewing trademark registrations in the U.S. and abroad
Negotiating and documenting transfers and licenses of trademarks
Recording trademarks with Customs to help prevent the importation of counterfeit goods
Protecting our clients' marks on the Internet
Resolving trademark disputes through litigation, including practice before the Trademark Trial and Appeals Board of the USPTO.
Copyright
Copyrights are the lynchpin of many businesses. With the growth of the worldwide Internet and some popular views currently shifting against copyright owners, copyright protection has become even more critical. Technological advances also have led to important and ongoing changes in copyright law.
I have developed a dedicated and seasoned copyright practice, with experience in district courts across the country. I work with my clients to evaluate strengths and weaknesses and to develop the most enduring and comprehensive method of protecting their valuable works. I help clients avoid trial when prudent; however, I also aggressively litigate when copyrights are threatened or questioned.
My copyright experience is broad, including various types of media such as entertainment, literary works, software, toys, and sculptures.
Intellectual Property Litigation
Within intellectual property litigation, I handle patent infringement litigation, trademark infringement litigation, and copyright infringement litigation. Infringement litigation consists of about two-thirds of my practice. My clients range from trailblazing start-ups to Fortune 500 companies, all of which benefit from my unique, business-focused approach to developing litigation strategies tailored to each client's definition of success. I invest the time and resources to developing a value-driven relationship with my clients to produce better results, reduce costs, drive increased productivity, and improve the quality of legal services provided. I take pride in understanding my clients' businesses and the critical role that IP plays in a highly competitive landscape. It is this business sense, combined with my ability to handle the complicated technical issues that are often intertwined with IP disputes, which separates my legal experience from my competitors. Additionally, through representation of both plaintiffs and defendants, I have an expertise in remedies and damages that better positions my clients to achieve the best possible outcomes.
Representative Successes:
Churchill Downs Inc. v. Commemorative Derby Promotions, Inc., 2013 U.S. Dist. LEXIS 135350 (N.D. Ga. Sept. 23, 2013)
Abraham v. Alpha Chi Omega, et al, 781F.Supp.2d 396 (N.D. Tx 2011), affd 708 F.3d 614 (5th Cir. 2013)
Winchester Federal Savings Bank v. Winchester Bank, 359 F.Supp.2d 561 (E.D.Ky. 2004)
Pure Country Inc. v. Sigma Chi Fraternity, 312 F.3d 952 (8th Cir. 2002)
Sigma Chi Fraternity v. Sethscot Collection, 2000 U.S. Dist. LEXIS 6332 (S.D. Fla. April 7, 2000) affd 2002 U.S. App. LEXIS 22234 (11th Cir August 28, 2002)
Professional Activities
Board of Directors of the Christian Care Communities Foundation
American Bar Association, Intellectual Property Section; Co-Chair, Dilution Law Subcommittee, 1999; Chair, Right of Publicity Subcommittee, 2004-06
Sigma Chi Fraternity Licensing Committee, Legal Counsel, 1991 - present
Kentucky Bar Association
International Trademark Association
Louisville Bar Association, Intellectual Property Section, Chair, 1989, 1990 and 1994
Litigation Counsel of America, Fellow