Contact Us
Stay Connected

Subscribe to this blog via RSS

Join us on LinkedIn
Facebook
Archives
Law Firm Management: Principles Should Determine Our Methods
Much ink has been spilled over the various alleged evils attributed to the legal profession. One such evil is the adequacy of the methods by which lawyers do business. There seems to be continual debate over every single facet of the law practice, from client billing methods to the working conditions of attorneys in firms. This focus on only the methods by which we do business is a bottom-up approach, centered on technique and form over substance. Such an approach ignores and therefore fails focus on the values the firm has chosen to embody.
In a modern law firm, the mantra should be "principles before method" and "substance over form." The methods by which we practice in our communities must be secondary to and consistent with the principles we embody, and our methods should serve and reinforce those principles. In other words, we determine the core principles of our firm, and only if our methods serve those ends with integrity are they correct.
While the idea of principles may sound like a lofty concept, principles are instead concrete fundamentals around which law firms can coalesce and actually obtain a return on investment once the principles are put in place and acted upon. For instance, one of the core principles of the McBrayer firm is service to the community. Our attorneys are expected to and do give back, volunteering with nonprofits, holding positions on various boards and generally working to improve the community at large. These connections benefit our community and its citizens while concurrently increasing our contact with individuals and organizations, expanding our brand and giving witness to our guiding principles. Additionally, by giving back, we then build a stronger and more vital community, one that prospers and grows, thus providing our firm with more business opportunities as a result.
Principles serve as guideposts; a defined set of core principles are a firm's internal rules. Two key principles of the McBrayer firm are community service, as addressed above, and responsiveness to clients. Therefore, lawyers who join this firm are expected to adopt those internal rules and follow them. If they do not, they are not meeting the expectations of the firm and are not performing at the level expected of a McBrayer attorney. The firm, the community and the individual clients all suffer if these core principles are not followed. Therefore, once a firm adopts such principles, its mandate must be to enforce those principles.
Our principles inform our methods at the McBrayer firm. While we continually reevaluate our methods and assess the strengths and weaknesses of our business conduct, it is always done with a focus on the firm's core principles and values, as one must always remember it is not how we do things that ultimately matters, but rather why we do them.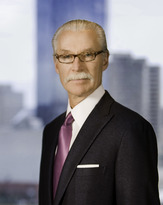 James H. Frazier, III is the Managing Member of the firm, a position he has held for over 18 years. Mr. Frazier's practice focuses on real estate, bankruptcy, mergers and acquisitions and general corporate practice with special emphasis on mineral and energy law. He can be reached at jfrazier@mcbrayerfirm.com or (859) 231-8780, ext. 1303.
Services may be performed by others.
This article does not constitute legal advice.