From Our Video Series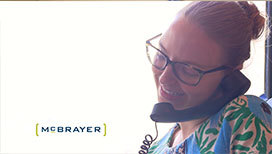 Honors & Awards
American Enterprise Institute 2018 Fall Summit - Tie for First place in 60-second "elevator pitch" competition
Kentucky Super Lawyers®, Rising Star, 2022 (Health Care)
Admissions
Kentucky, 2011
U.S. District Court Eastern District of Kentucky, 2014
Education
DePaul University College of Law, Chicago, IL, J.D., 2010
Member, Phi Alpha Delta, International Law Society, and Society of Asylum and Immigration Law
University College Dublin, Dublin, Ireland, 2010
Concentrations: International Human Rights and Law of Armed Conflict
Universidad Nacional, Heredia, Costa Rica, 2009
Concentration: International Human Rights
Transylvania University, Lexington, KY, Double-Major and Double-Minor, B.A., 2008
Majors: Political Science and French
Minors: Music and Economics
Kentucky Institute of International Studies, Paris, France, 2007
Concentrations: French Language and Literature
Overview
As a strong believer in the intersection of community, politics, and the law, I am proud to offer my clients a well-rounded approach to their legal needs. Clients' goals do not take a 'one-size-fits-all' form, and while one client may require complex litigation assistance, another may be best helped through a series of phone calls to state regulators in Frankfort. As an experienced attorney and state policymaker, I am uniquely situated to advocate for clients in whichever forum is suited to their circumstances and provides the most effective and efficient solution to their concerns. My active involvement in the healthcare industry, state government circles, and Kentucky business community will ensure you the experience of your own in-house counsel and the best possible return on investment for your legal budget. Give me a call today - I would be honored to work with you.
During my time at McBrayer, I have represented institutions such as health benefit firms, hospitals and state regulatory agencies, including but not limited to the Kentucky House of Representatives, the Kentucky Department for Medicaid Services, the Kentucky Board of EMS, the Kentucky Fire Commission, and the Kentucky Board of Architects. Commonly provided services include: regulatory compliance; transactional healthcare; health benefit planning and compliance; non-profit entity and Board guidance, and statutory and regulatory drafting and tracking. I also frequently assist clients with legal issues related to campaign finance, elections, and Political Action Committees.
BEFORE MCBRAYER
Before beginning private practice in 2013, I led the compliance department of a Fortune 500 managed care organization, where I served as a liaison between the corporation's statewide health plan and the Kentucky Cabinet for Health and Family Services; led the preparation of materials for internal and external audits; researched legal and contractual issues that arose in the course of health plan operations; and facilitated the compilation, submission, and approval of statutory reports and communication materials. My experience in the corporate environment has provided me with a uniquely operational perspective and allows me to provide you with advice that is not only legally compliant, but is financially feasible for your company. I have spent a great deal of time 'at the table' with our Commonwealth's lawmakers and regulatory leaders and know who to call to ensure your company's success in compliance with applicable requirements.
From 2017-2018, I served the Commonwealth of Kentucky in a number of leadership roles, including as Senior Policy Advisor, Deputy General Counsel, and healthcare lead for the Kentucky House of Representatives; Deputy Commissioner for the Kentucky Department for Medicaid Services; and finally as Senior Advisor to the Secretary of the Kentucky Cabinet for Health and Family Services. My experience and relationships within the Commonwealth's primary healthcare agencies are vital to my clients' success in navigating the often complex regulatory framework within which they operate.
Primary Practice
Additional Practice Experience
Kentucky Leader
Community/Civic Leadership
I feel very fortunate to be a native Central Kentuckian and a member of our growing Lexington business community. Our city has much to offer, not the least of which is the hospitality and civic support of our citizens. I currently serve as a member of the Lexington-Fayette Urban County Government's Economic Development Investment Board, which helps to administer our local government's Jobs Fund and works closely with Commerce Lexington to encourage growing companies make Lexington their home. I also serve on the Board of Directors of Legal Aid of the Bluegrass and on the Advisory Board of Kentucky Refugee Ministries, which implements the U.S. Secretary of State's requirements for the transition of new Lexingtonians to our warm and welcoming community.
To contribute to the continued improvement of our Commonwealth's healthcare system and outcomes, I am honored to serve on the Kentucky Chamber Healthcare Policy Council and as the Healthcare Fellow for the Pegasus Institute. As a proud Kentuckian, I also welcome the opportunity to support and represent strong Kentucky industry leaders, including through my work with the Kentucky Coal Association.
An attorney's work does not end in the office, and I believe strongly in the development of a close-knit legal community to provide lawyers with the skill and resources necessary to effectively represent our clients. To that end, I have served as a member of the Executive Committee of the Kentucky Bar Association's Young Lawyers Division since 2013 and as a member of the leadership of the American Bar Association's Young Lawyers Division since 2012. I am proud to have been honored as one of twelve lawyers in the nation named by the American Bar Association as a "Young Lawyers Division Scholar" for 2013 to 2014, and I look forward to continuing to support our legal community and its clients in the years to come.
Professional Activities
Advisory Council for Medical Assistance, 2019
Advocate for CASA, Court Appointed Special Advocates, 2019
Lexington-Fayette Urban County Council Economic Development Investment, Board Member, 2012-present
Legal Aid of the Bluegrass, Board of Directors, 2016-present
Kentucky Refugee Ministries, Advisory Board Member, 2015-present
Kentucky Chamber Healthcare Policy Council, Member, 2018-present
Pegasus Institute, Senior Healthcare Fellow, 2018-present
American Enterprise Institute, Leadership Network Member, 2018-present
American Bar Association
- National Conferences Team Member, 2014-2015
- Young Lawyers Division Scholar, 2013-2014
- Corporate Counsel Committee Vice-Chair, 2013-2014
Kentucky Bar Association
- Executive Committee Member, Young Lawyers Division, 2013-2015
- Chair, Convention Committee, 2014-2015
- Chair, Law Student Outreach Committee, 2013-2014
Junior League of Lexington, 2013-2015; Secretary, 2014-2015
Downtown Development Authority, Committee Member, 2012-2013
ONE Campaign, Chicago and Central Kentucky Congressional District Leader, 2010-2013
Lexington Young Professionals Association, Member, 2011-2014
News & Insights
News
Business Lexington, November 2019

,

November 1, 2019
Seminars & Speaking Engagements
Healthcare Policy Updates from 2020 General Assembly Session and Beyond

Lexington, KY

,

August 5, 2020

Mental Health Issues in the Workplace: Don't Let Them Drive You Crazy

Lexington, KY

,

November 5, 2015

Mental Health Issues in the Workplace, and Possible Effects of Expanded Insurance Coverage for Mental Health Treatment

Louisville, KY

,

September 23, 2015

137th Kentucky Pharmacists Association Annual Meeting & Convention

Bowling Green, KY

,

June 25, 2015

7th Annual Kentucky Worksite Wellness Conference

The Final Rule: A Check-Up for Wellness Plans, Central Kentucky Health Underwriters (CKAHU), October 14, 2014

Getting It "Write": A McBrayer Employment Law Seminar, Louisville, KY

Getting It "Write": A McBrayer Employment Law Seminar, Lexington, KY

HIPAA: What Lawyers Need to Know, Fayette County Bar Association, Bench & Bar Conference, June 25, 2014

Is All Well with Your Wellness Plan?, McBrayer webinar, April 22, 2014

The Final Rule: A Check-up for Wellness Plans, 6th Annual Kentucky Worksite Wellness Management Conference, February 19, 2014

Navigating the Affordable Health Care Act: Making it work for your small business, Business Lexington, February 4, 2014

Hot Topics in Health Care, Greater Lexington Paralegals Association, October 15, 2013
Articles
Co-Author, The Disarmament, Demobilization and Reintegration of Former Child Soldiers, 2009 (Published 2011, Library of Congress CIP No. 20540-4320)
Multimedia
Multimedia
What's Next? A conversation on federal and state response to COVID-19

Anne-Tyler Morgan - Attorney Biography

Webinar - The Employee Mandate and You: How the ACA Will Affect Your Business in 2016
Healthcare
Much of my legal practice focuses on the healthcare community, from individual providers looking to expand their small businesses to larger hospitals, insurance companies, and non-profit organizations. Healthcare is a dynamic industry, and part of my job is to keep you up-to-date on any changes that may affect your particular business or organization. After all, your job is to practice medicine or run a business, not to spend your days reading legal journals or complex regulations! Allow me to ensure your compliance with the ever-growing legal and regulatory requirements to which your entity is subject. Whether you would like to grow your practice, develop policies and procedures for your company, respond to a subpoena or an audit request, defend an action in court, or anything in between – I possess the skill set, experience, and relationships in Kentucky's healthcare community to get the job done.
Kentucky's healthcare outcomes are dependent upon the provision of innovative quality healthcare solutions. The pressing concern of Kentucky's opioid crisis will only be solved through effective healthcare community connections and teamwork, and my extensive experience working with stakeholders from local pharmacies to rehabilitation centers for pregnant women to the state's own Justice Cabinet ensures that I can provide the insight and form the relationships necessary for my clients to effectively transform our state from a sick one to a thriving one.
I have served at the front line of many of Kentucky's emerging healthcare issues and practices, including those pertaining to independent pharmacies and pharmacy benefit managers, Supports for Community Living providers, child care facilities, and managed care organizations. I welcome the opportunity to keep you abreast of upcoming changes to the systems that affect you most and to assist in your path forward.
Employment Benefits
Having grown up in a family of small business owners and having started my career in house for a Fortune 500 corporation, I know the struggles facing businesses of all sizes in our current regulatory environment. I consider it my job as your attorney to not only inform you about the legalities of the issues that you face, but also how to effectively comply with the law in a manner that is functional for your particular company or organization. Businesses and organizations do not come in 'one size fits all', and having served as a decision-maker for both, I know the detailed cost and benefit analysis that goes into each and every choice that you make throughout the daily life of your entity. I look forward to working with you to ensure that the law provides opportunity, rather than burden, for your company or organization.
In our current regulatory landscape, employee benefits are increasingly complex. I work frequently with various benefit managers and insurance providers to ensure that your business' benefit decisions comply with applicable law. The cost-effective combination of a benefit manager, whether internal or external, and an attorney experienced in the field of healthcare and employment benefits provides you and your entity with the highest level of legal protection and the lowest risk of costly reviews, penalties, and litigation. I look forward to answering your questions regarding the Affordable Care Act, healthcare benefits, wellness programs, 401(k) and defined benefit plans, employee stock ownership plans, HIPAA compliance, COBRA notices, risk management and ERISA litigation, and any other employee benefit matters which may affect you and your company. Benefit administration is often time-sensitive, and I am only a phone call away!
Non-Profit Institutions
Non-profit organizations are the heartbeat of our community, and I am proud to work with a variety of non-profit entities – some as a legal advocate, and some as a volunteer Board member. Non-profit entities face a variety of unique organizational, operational, and financial challenges. Each and every legal need of a non-profit entity must be carefully analyzed with the organization's mission, vision, and values in mind. I am committed to helping your organization overcome any obstacles to the fulfillment of its mission, whether by answering a simple operational question, drafting an agreement, developing policies and procedures, working with your Board of Directors, or representing you in court. I look forward to ensuring that your non-profit entity continues to serve its beneficiaries and our community.
Regulatory Work
As the point counsel for and experienced agency leader within a number of statewide regulatory agencies, I work daily with our state's lawmakers to ensure that the rules that govern our Commonwealth are clear and consistent. Regulatory agencies encounter a myriad of legal issues in the course of a day, from the approval of licensure applications, to the development of new policies, to administrative hearings and litigation. I work on 'speed dial' with my agency clients to ensure that no question goes unanswered, and our frequent communication lends to a strong familiarity with each agency's policy goals and positions, Board members and staff, and current statutory and regulatory scheme. I attend Board and committee meetings, draft and implement administrative regulations, and speak personally with regulated individuals and entities to ensure that our Commonwealth's regulatory agencies act in a manner consistent with existing law and implement policies that will benefit our state as a whole. For clients transacting with regulatory agencies, whether through an administrative hearing or through a routine regulatory application or decision, my relationships and extensive knowledge of Kentucky's legal and regulatory scheme proves invaluable.
Foster Care and Adoption
As a lead policy maker for the 2017-2018 House of Representatives Adoption Work Group, I have been closely involved in the drafting and implementation of 2018's "HB 1", considered a monumental transformation of Kentucky's foster care and adoption systems. Both my head and my heart are dedicated to ensuring stakeholders - be they foster and/or adoptive parents, foster care agencies, social workers, or foster youth - the ability to navigate the current legal and regulatory landscape in the Cabinet for Health and Family Services and in the courtroom in a way that ensures both efficiency and dignity. Additionally, I maintain a close working knowledge of foster care and adoption trends nationwide and ensure clients the appropriate seat at the table as changes continue to be made to Kentucky's foster care and adoption framework.
Politics, Elections, and Campaign Finance
The ever-evolving world of campaign finance and election law provides both opportunities and challenges to associations wishing to establish and grow Political Action Committees, candidates and party organizations facing an upcoming campaign season, and institutional stakeholders requiring additional ethical and procedural guidance. I maintain up-to-date knowledge and hands-on experience with the legal issues affecting the political system and will ensure that your i's are dotted and your t's are crossed. I welcome the opportunity to work directly with and/or serve on the boards of Political Action Committees and similar fundraising organizations in order to provide immediate solutions to your organization.