Contact Us
Stay Connected

Subscribe to this blog via RSS

Join us on LinkedIn
Facebook
Updated & Enhanced EEOC Enforcement Guidance – What Does it Mean for Employers and Pregnant Employees?
Posted In
EEOC
,
Employee Benefits
,
Employee Handbook
,
Employee Hazards
,
Employment Law
,
Employment Non-Discrimination Act ("ENDA")
,
Human Resource Department
,
Job Requirement
,
Maternity Leave
,
Pregnancy Discrimination Act
,
Young v. UPS
In 2013 alone, 5,342 discrimination claims were filed alleging pregnancy discrimination. The result – employers paid out over $17 million in monetary benefits last year. In fact, the EEOC's statistics do not include monetary benefits obtained through litigation; thus, employers likely paid out a significant amount more than $17 million. To avoid adding to this figure, employers must pay particular attention to pregnancy discrimination in the workplace, be mindful of what is required to comply with federal and state law, and take precautions to ensure that no discriminatory practices exist in the workplace.
In 1978, Congress passed the Pregnancy Discrimination Act, providing protection for pregnant workers in hiring, firing, promotions, and fringe benefits. Specifically, the Pregnancy Discrimination Act provides that the prohibition against discrimination "because of sex" or "on the basis of sex" in Title VII of the Civil Rights Act of 1964 includes discrimination "because of or on the basis of pregnancy, childbirth, or related medical conditions." Furthermore, the Pregnancy Discrimination Act requires that "women affected by pregnancy, childbirth, or related medical conditions shall be treated the same for all employment-related benefits, including receipt of benefits under fringe benefit programs, as other persons not so affected but similar in their inability to work."
Recently, the EEOC has breathed new life into the Pregnancy Discrimination Act. In July of this year, the EEOC released updated enforcement guidance on pregnancy discrimination, which suggests protection for pregnant workers has increased. While EEOC Enforcement Guidance is simply "guidance" and does not establish law which courts are required to follow, these guidance documents do detail the EEOC's interpretation of the Pregnancy Discrimination Act and are highly suggestive of how the EEOC would rule in discrimination charges pending before the agency.
The EEOC's Enforcement Guidance offers insight into the EEOC's interpretation of five important issues. First, the EEOC explains that the Pregnancy Discrimination Act's protection extends beyond workers who are currently pregnant, and also covers workers discriminated against because of a past pregnancy or because of their potential or intention to become pregnant. Second, the EEOC directs that an employer cannot "force pregnant workers to take leave" or reassign or take adverse employment action against a pregnant worker, even if the employer believes such changes are in the best interest of the employee. In addition, the EEOC states that although "employers may claim that excluding pregnant or fertile women from certain jobs is lawful because non-pregnancy is a bona fide occupational qualification," the defense is "an extremely narrow exception … and must be based on objective, verifiable skills required by the job, rather than vague, subjective standards." Furthermore, the EEOC establishes that lactation is a medical condition related to pregnancy, and thus, "less favorable treatment of a lactating employee may raise an inference of unlawful discrimination." Lastly, and perhaps most importantly, the EEOC's Enforcement Guidance provides that even in healthy, uncomplicated pregnancies, employers must provide accommodations equivalent to those provided to non-pregnant employees who are similarly unable to perform their jobs, even if those other accommodations are provided pursuant to the Americans with Disabilities Act, workers' compensation, or work-related injuries.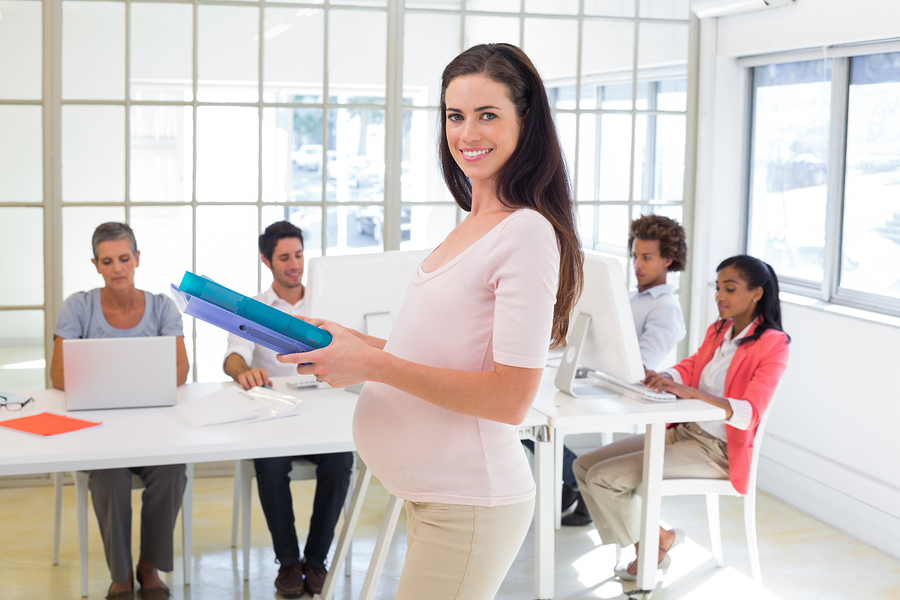 The last of the EEOC's pronouncements discussed above is at issue in a case currently before the United States Supreme Court. In Young v. United Parcel Service, the Supreme Court will consider the EEOC's interpretation of the Pregnancy Discrimination Act and determine whether, and in what circumstances, the Pregnancy Discrimination Act requires an employer that provides work accommodations to non-pregnant employees with work limitations, to provide work accommodations to pregnant employees who are "similar in their ability or inability to work." For an in-depth discussion of Young v. UPS, click here.
Services may be performed by others.
This article does not constitute legal advice.